Phil Tanner, 1862-1950
This article, by Roy Harris, was one of two on Phil Tanner which appeared in the February/March 2000 edition of Taplas, the Voice of Folk in Wales. To access the other, by Doug Fraser, and the 1949 Picture Post article by John Ormond Thomas, go to the end of this page.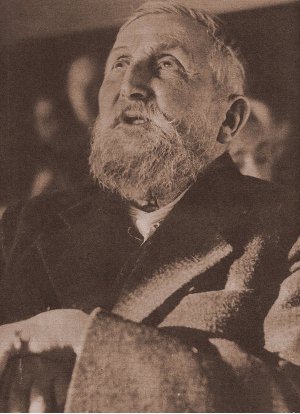 AS I WRITE, I have Phil Tanner's LP playing 'for inspiration' in the background. A mistake - this man refuses to remain in the background. His ringing voice and zestful delivery draw me from my task to such an extent that this first paragraph has taken 35 minutes to complete.

It's no surprise. Tanner has been a source of enchantment to me since I first heard of him, over 50 years ago. I'm old enough to have seen that famous 1949 Picture Post article. I was 16 years old then, keenly into jazz, blues, country and folk music. American folk music, that is. English folk music? Well, obviously there wasn't any. We'd done Blow The Man Down and Dashing Away With The Smoothing Iron at school, but that was 'school stuff' - no connection with real life, surely?

Suddenly, here was a story about a man who sang. Here were pictures of him singing, his face alight with pleasure, his eyes sparkling, vigorous and lively in his eighties. The song titles quoted, Young Henry Martin, Banks of Sweet Dundee, Fair Phoebe and the Dark Eyed Sailor, were unknown to me then and, disappointingly, unknown to my parents and grandparents, regular singers though most of them were. But this article, these pictures, told me there was an English folk song tradition, even though (as it seemed to me) there was only one man left alive to sing it. It was a revelation. How I wished I could hear him, meet him - but in those days, the Gower coast was as remote from a boy in Nottingham as was Cape Horn. It was to be ten years before I actually heard Phil Tanner's voice.

One day in 1959, Elaine and I were pottering about in the living room with the wireless playing. I hadn't been paying much attention until the announcer introduced a 'talk with music' about the 'Grand Old Man Of Gower'. Phil Tanner's voice rang out: "Oh, as I walked out one midsummer morning..." It was The Banks Of The Sweet Primroses, a song I'd seen in the books I'd bee scouring ever since that revelatory Picture Post, but had never heard.

The speaker - memory fails me here, but I'd guess it was Wynford Vaughan Thomas - praised Tanner eloquently, but the songs he played said so much more than his words. It was an old man's voice, but it had a good tone. It was flexible and rangy, hitting the high spots when required in a remarkable way. But it was more than just the vocal tone which made him so memorable. It was his attack, the way he threw himself into songs with unquenchable vitality. He lived the song's story and made every word tell. Just wonderful! The programme was all too short. The show went by, but the memory remained.

Two years later, we were living in Cardiff. I'd started the Cardiff Folksong Club and was trying to learn more about Tanner. Enquiries at Glan-y-Môr proved fruitless but I was able, courtesy of D. Roy Saer, to listen to the BBC recordings of Tanner held at St Fagans Folk Museum. What a privilege. To hear Young Henry Martin, a masterpiece of ballad singing, and The Parson and The Clerk so jubilantly cheeky. Sheer magic and an object lesson for the would-be folk singer.

How do I feel now, so many years later? I feel that Phil Tanner, albeit a Welshman (that fact plainly clear from his accent, even if you didn't already know) is the greatest singer in the English traditional style. I've ever heard. Some will claim that title for Joseph Taylor, Harry Cox, Walter Pardon, and with good reason - but, for me, Phil Tanner is the boss. Listen to his record - the proof is there. What a voice! What style! What a zest for life! I find something tremendously moving in the thought of this man carrying the songs of his youth through to the full extent of his age and so obviously relishing doing it.

In this 50th anniversary year of his death, I'd like to see Phil Tanner's album reissued, with modern sound technology applied, re-edited and the notes rewritten in the light of present day scholarship. I'd like to see a plaque commemorating him in Llangennith, perhaps a reproduction of the Picture Post article and a Phil Tanner exhibition mounted in the Museum of Welsh Life. I'd like to see Gower's own Halfpenny Folk Club hold an annual Phil Tanner Day. He was a true folk singer, a true artist and a national treasure. Let that be recognised.

Return to Top

Return to Archive Home Page

Return to Gower Archive Home Page

The Doug Fraser article on Phil Tanner

John Ormond Thomas's 1949 Picture Post article

Phil Tanner's known repertoire

Last updated March 08, 2010.
Copyright © 1999 Celfyddydau Mari Arts.