UPDATES FROM FOLKWALES...
Bookmark this page and look in from time to time. We'll put all the latest news and views here first - even before it hits the press.

Bill Caddick and Baggyrinkle herald the final Halfpenny Folk Club - or IS it the last?
After more than 30 years of inspiring organising, warm memories, musical highlights, fabulous local beers from the pub micro-brewery and sheer artistic brilliance, the Halfpenny Folk Club closed its doors with a final flourish, delivered by the wonderful Bill Caddick and the stentorian voices of Swansea-based shantymen Baggyrinkle. The club used to use the restaurant at The Greyhound - located in the North Gower hamlet of Oldwalls, near Llanrhydian - every other Sunday night. But for now, booker and door-person Joy Toole and her husband, compére Tony, had decided that it was time to move on.

Baggyrinkle started off the night and hit the audience full-on with their powerful harmonising. Only three stalwarts remain from the group, which was founded by Dave Robinson, who ran the defunct Swansea Folk Club; but octogenarian Dave is still singing and Baggyrinkle have recruited new members. 'Old boy' Tony Beddow enhanced the sound with his spot-on tenor, and Dave James (from Llandeilo) delighted the club with his soulful interpretation of 'The Little Pot Stove'. Dave Robinson and the guys sang together on one of his well-known and well-loved compositions, 'A Pound And A Pint'. Baggyrinkle have spent years singing salty songs at clubs, concerts and maritime festivals all over Britain and Europe, and here's some good advice to some solitary hermits who, unbelievably, haven't heard them: Just go and hear!

I first saw Bill Caddick in Swansea University Folk Club in the 1970s, when he joined the Taffy Thomas-inspired innovative shadow puppet and street theatre group Magic Lantern - described by the BBC as "legendary". He left Magic Lantern to concentrate on his solo career, and he joined the Albion Band in the National Theatre productions of 'Lark Rise' and 'The Passion'. He later collaborated with Tim Laycock and Peter Bond in a stage show and album about circus life, called 'A Duck on his Head'. He wrote songs for radio and TV, and sang his own songs in a film about the Tolpuddle Martyrs. For seven years during the 1980s, Bill was a member of the brilliant band Home Service. He continued to write and perform at clubs and festivals, as well as continuing his involvement with the National Theatre, writing and appearing in several plays which included 'Don Quixote' and 'The Mysteries'.

His hallmarks include his 12-string guitar, his famous one-liner quips, and the strange mandolin instrument he bought for a song - two songs, to be precise. 'Waiting For The Lark' is one of his most famous successes, but that was even topped by his wonderful composition 'John O' Dreams' - a lovely, timeless song, which is based on Tchaikovsky's La Pathetique Symphony and which has been covered by folk artists from all over the world, including Christy Moore, Gordon Bok, Jean Redpath, The Clancy Brothers and The Dubliners. That mandolin-shaped instrument is, in fact, a very rare French 18th-century piece, which Bill showed his enterprising genius by playing it with a bottleneck.

Talking of the bottleneck, it was a shame that Bill did not bring his steel dobro; he's a pretty accomplished blues guitarist. But the songs just flooded out, including the clever 'Writing Of Tipperary', which Bill described the inevitable turn of events leading to World War One, and how an insignificant music-hall showman called Jack Judge won his drinking bet by writing the soldiers' wartime anthem 'It's A Long Way To Tipperary' in a day; 'I'm In Love With A Gibson Girl'; the poetic and mysterious 'She Moves Among Men'; and the wild and utterly beautiful 'Unicorns'.

Bill is a magnetic storyteller and a thoroughly unique songwriter; he entrances and hooks his audience with his many fine songs, all blessed with the Caddick touch. For the inevitable encore, he closed the show with the memorable 'John O' Dreams', and the Halfpenny Folk Club all raised their voices in harmony and ended The Halfpenny Folk Club on a high. There is a video of this never-to-be-forgotten occasion.

But is it end of folk music on North Gower? Tony said to me that, while the rigid programme has finished, both he and Joy are thinking about putting on the occasional artists if the mood takes them - and the next Gower Folk Festival is already planned at The Greyhound. Let's sincerely hope so...

Obituary: Keith Hudson: June 27, 2015
Lucy Whitfield, former editor of Taplas, posted this obituary:
"The former editorial board of Taplas magazine are saddened to announce the death of editor Keith Hudson on June 27, 2015. Keith had been in ill-health for many years, and had spent time in and out of hospital.

"He founded Taplas – billed as the Voice of Folk In Wales and the Borders – in 1982 to replace the defunct South Wales Folk News. The magazine ran bi-monthly for 32 years, initially on paper and in the last two years as a pdf, and was regarded as a powerhouse of information. Keith held the post of editor from 1982 to 2007, when ill-health intervened, and took up the reigns again in 2011. He was also an accomplished photographer, illustrating many Taplas articles with his own pictures.

"The former editorial board would like to express our sympathy with his family at his loss. While we are unaware of any official charity nominated in his memory, should anyone wish to make a donation, we would suggest Diabetes UK. For further information and obituary information for the folk music scene, please contact Iain Campbell on Iain.campbell@ntlworld.com ."

News about Keith's death came just on the eve of FolkWales Online Magazine's launch. He lived in Broadway, in Cardiff's Roath area, and was in his seventies. Because of his advancing years, the very sad fact was that he had become detached from the folk scene; It has taken this time to confirm that he had died. As long as we can write a fuller obituary, this will be done.

Encores, applause and cheers for Harpeth Rising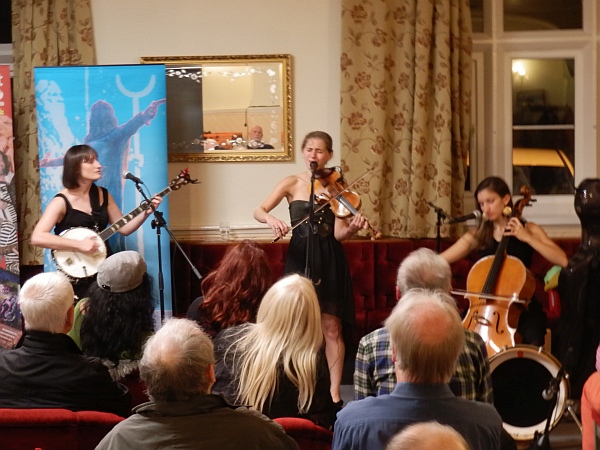 Harpeth Rising at Llantrisant Folk Club, Pontyclun Institute Athletic Club: From left, Rebecca Reed-Lunn, Jordana Greenberg, Maria di Meglio.
Photo: Mick Tems
Harpeth Rising - three young women musicians from all over the American Continent - brought the house down at Llantrisant Folk Club
with a stunning array of cracking songs, intelligent humour, breathtaking arrangements and harmonies to die for. Violinist Jordana Greenberg really stood out with her sweet and strong voice, banjo picker Rebecca-Reed-Lunn filled out the instrumentation with a solid, chunky sweetness and Maria di Meglio delivered shivery and absolutely beautiful sounds from her 'cello. The percussive beat of kick-drums and cow-bells just added to the party. Together, Harpeth Rising were fabulous, nourishing mental soul food.
The name Harpeth Rising has nothing to do with harps - although, according to Jordana's introduction, quite a few people were hoping for just one harp. They came away impressed, delighted and full of admiration for Jordana's, Rebecca's and Maria's sparkling innovation. The name comes from the Harpeth River in Tennessee; Jordana, Rebecca and Maria used to be based in Nashville, but now they have moved to Louisville, Kentucky.
The roots for the trio go back to when they were classical music students at Indiana University, coming together to play bluegrass at the many sessions. They 'came of age' when they decided to form a trio. Canadian songwriter David Greenberg is Jordana's father, and Harpeth Rising's set used to be centred on his material; and it was David's songwriting that really influenced them. They started writing their own songs, and David had to take a back seat in their programme; however, they save their new albums for one or two of his best songs - such as 'The Raid', which they were playing on the tour promoting their latest CD, Shifted.
Harpeth Rising's two sets are a whirlwind of musical delights, and their repertoire reflected just how they came together. Jordana was born in the Canadian province of Ontario, and she began her violin studies when she was just eight years old in Indiana University. She toured the US, Canada, South and Central America, France and Japan as a 17-year-old solo violinist with the University's symphony orchestra. Her classical training, mixed with many bluegrass sessions in rural Indiana, have shaped her playing into a unique style. Rebecca comes from the Californian town of Davis and grew up listening to Mahler, Edith Piaf and Bob Dylan. She taught herself banjo from Pete Seeger videos while studying viola in graduate school in Indiana University - and she was even Miss February in the 2012 Women Of Banjo calendar. 'Cello teacher Maria comes from the Italian community in Brooklyn, New York City, and has recently completed her Master's Degree at Indiana University; she told the audience that the ultimate hero is Frank Sinatra, and the trio obliged with an audacious hit song by Frank's daughter, Nancy Sinatra, 'These Boots Were Made For Walking', which was chock-full of fun-filled and gleeful arrangements.
Harpeth Rising mix a heady blend of folk, newgrass, rock and classical into a brilliant fusion that can't be beat. Tender virtuoso violin solos rise above Andrews Sisters-like voices, and they break new ground every time when they explore those classically-influenced riffs.
There's a Shifted critique in CD Reviews in this edition of FolkWales Online Magazine.

MARTIN CARTHY & DAVE SWARBRICK
Roots Unearthed, Lefel 3 Lounge, St David's Hall, Cardiff: September 1, 2015
The Prince Of Folk and The Demon Fiddler utterly mesmerised a delighted Roots Unearthed audience with a banquet of jaw-dropping airs, tunes, wonderful ballads and hypnotic songs which seemed to jump out and seize the packed rows by the imagination and their very souls. Carthy and Swarb played a riveting concert which lasted just a tad under three hours, but nobody noticed; the time seemed to melt away. These master musicians deserve total respect, awe and love; their ages add up to an amazing 148 years, years which have finely honed and strengthened their vast experience, virtuosity and a lifelong fascination and study for traditional music.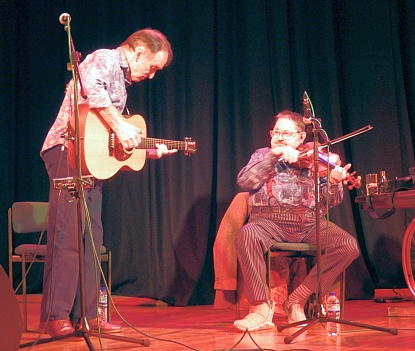 The Prince and the Demon - Martin Carthy and Dave Swarbrick. Photo: Mick Tems
They opened the concert with two well-known and well-loved folk songs, 'Sovay' and 'The Death Of Queen Jane'. Martin told the audience that he used to delete the old songs from his ever-expanding performance, but recently he took it upon himself to revisit his repertoire. Their inspiring inventiveness was astounding; the two songs, and 'John Barleycorn', 'Brave Admiral Cole', 'High Germany' and traveller Wiggy Smith's version of 'The Deserter', were given a fantastic restoration as Carthy and Swarb explored and perfected new guitar chords and brilliant fiddle arrangements. Swarb, in a wheelchair following a toe fracture and other foot problems, held the audience's attention with his dry mischievous backchat, embellished by many stories; he told with glee of his Fairport Convention touring days, and how an American business conference was startled to see a stark-naked Swarbrick holding a massive unlit joint, enquiring if anybody had a match. Introducing a self-composed air describing the most northerly Shetland island of Unst, he said: "I've had all me teeth out, but I can still say it - Unst... Unst!" The prolific writer of many tunes, he called one melody 'New South Wales': "The most beautiful scenery in all Australia. I was very sad to leave it - but that's deportation for you..."

Despite their strong reputation as gurus of the tradition, Carthy and Swarbrick are busy reshaping the proud, ancient songs and writing new tunes; Martin, in particular, recontextualised the Napoleonic broadside 'My Son John' into a new song commenting on the Afghanistan conflict. His unique percussive minimal style is a source of wonder and a textbook bible for all aspiring guitarists. Swarb has abandoned that wild, ululating violin trademark, but he is still truly amazing on the fiddle. Long may they reign...


9bach triumph, Meręd honoured in Radio 2 Folk Awards
Bethesda-based band 9bach have triumphed with their four-star album Tincian, carrying off the Album Of The Year prize at the 2015 BBC Radio 2 Folk Awards, which was held in the Wales Millennium Centre in Cardiff Bay.
They were the first Welsh band to win an award in the competition's 15-year history, and they capped their night with a performance at the ceremony in the Donald Gordon Theatre. Welsh-speaking actress and singer Lisa Jen Brown, who set up the band with her husband, guitarist Martin Hoyland, thanked everyone connected in 9bach's circle: "Especially everyone at Real World - they really are a most amazing record company."
9bach held the vast stage with a stunning version of 'Ffarwęl', taken from a North Wales historian and poet's collection of villagers' writings from down the ages, magnificently filled out by the 50-strong Penrhyn Male Voice Choir; this poem tells of a quarryman's last day at the slate workings.
There was also a Good Tradition Award for folk historian, former head of the BBC's light entertainment department and well-loved icon Dr Meredydd Evans, known to all as Meręd, who died aged 95 in February. Editor Mick Tems has written an obituary on Meręd, which can be seen in this issue of FolkWales Online Magazine.
Meręd's widow, Phyllis Kinney, could not be there for this prestigious occasion - however, his daughter Eluned accepted the posthumous award, and called for Wales to create a digital archive of folk music, arranged by the National Library of Wales, St Fagans Museum and Welsh politicians. She said that setting up the archive by July 2017 was "perfectly achievable", and added: "I'm not my father's daughter for nothing."
There was also a tribute by Cerys Matthews; she outlined Meręd's achievements, including his rich collection of folk songs, his inspiration in producing the BBC Wales Welsh folk progammes, including the series Hob Y Deri Dando, and his passionate lifelong campaign to preserve and promote yr iaith Cymraeg, the Welsh language. She revealed: "I've got to let you in on a little secret - before his death, he had been told about the award, and he was over the moon about it."
The awards ceremony saw a host of folk music stars come together for an evening of recognition and performances. Catrin Finch, who has released the new Tides album, praised the innovation in traditional music, and 10 Mewn Bws - ten Welsh musicians selected by Welsh traditions organisation trac and their projects officer, Angharad Jenkins - created an old recording of Meręd singing 'Bachgen Ifanc Ydwyf', with singer Gwilym Bowen Rhys (of rock/pop band Y Bandana and alt-folk brother/sisters trio Plu) taking the lead in a new traditional arrangement.
The 16th annual ceremony was presented by Radio 2 Folk Show host, Mark Radcliffe, and Gaelic singer Julie Fowlis. A Lifetime Achievement Award went to folk music legend Cat Stevens, also known as Yusuf Islam. Singer David Gray presented him with his award, and he performed his new song, 'Cat and The Dog Trap', and his 1970 classic, 'Moonshadow'.
Songwriter Loudon Wainwright III, who performed 'I Knew Your Mother' and 'Double Lifetime', was also presented with a Lifetime Achievement Award by BBC 6 Music presenter Tom Robinson. There were a host of celebrities and musicians handing out the awards, including Gavin And Stacey star and scriptwriter Ruth Jones. Ruth presented Nancy Kerr with the Folk Singer Of The Year award, and singer-songwriter Billy Bragg presented Peggy Seeger and Calum MacColl with the Best Original Song award.
The evening also saw the late singer Ewan MacColl inducted into the Radio 2 Folk Awards Hall of Fame. After the presentation ceremony, Cerys Matthews said that this year Wales had turned the corner when it came to recognition: "I sincerely hope that this isn't going to be a one-off."
BBC Radio 2 controller Bob Shennan said: "The Radio 2 Folk Awards is an annual celebration of the nation's longstanding devotion to the folk music scene. It is wonderful to be able to bring together such a high calibre line-up of artists and recognise their achievements over the past 12 months."
Full list of winners and nominees:
BEST ALBUM: Tincian - 9Bach (runners-up: Fair Warning (The Rails), Nothing Can Bring Back The Hour (Josienne Clarke and Ben Walker), Sweet Visitor (Nancy Kerr), The Moral Of The Elephant (Martin and Eliza Carthy)
BEST GROUP: The Young'uns (Runners-up: Bellowhead, The Furrow Collective, The Gloaming)
FOLK SINGER OF THE YEAR: Nancy Kerr (Runners-up: Cara Dillon, Julie Fowlis, Jez Lowe)
BEST DUO: Josienne Clarke and Ben Walker (Runners-up: O'Hooley and Tidow, Greg Russell and Ciaran Algar, Chris While and Julie Matthews)
BEST TRADITIONAL TRACK - Samhradh Samhradh - The Gloaming (Runners-up: Bedlam - Stick In The Wheel; Handsome Molly - The Furrow Collective; Manus Mo Růin - Cruinn).
HORIZON AWARD - The Rails (Runners-up: Ange Hardy, Maz O'Connor, Stick In The Wheel)
BEST ORIGINAL SONG - Swim To The Star - Peggy Seeger/ Calum MacColl (Runners-up: The Necklace Of Wrens - The Gloaming; The Pitmen Poets - Jez Lowe; The Spider And The Wolf - Naomi Bedford)
BBC RADIO 2 YOUNG FOLK AWARD - Talisk (Runners-up: Cup O'Joe; Roseanne Reid; Wildwood Kin)
MUSICIAN OF THE YEAR WINNER - Sam Sweeney (Runners-up: Martin Green;
Will Pound; Kathryn Tickell)
LIFETIME ACHIEVEMENT - Cat Stevens / Loudon Wainwright III
GOOD TRADITION AWARD - Meredydd Evans
HALL OF FAME - Ewan MacColl

MERĘD: LET'S CELEBRATE THE LEGACY THAT HE LEFT
Meredydd Evans, born December 9, 1919, died February 21, 2015
The great Welsh icon Dr Meredydd Evans - masterful folk singer, Welsh language activist who campaigned for non-violent and peaceful protests, Doctor of Philosophy, folksong collector, head of the BBC's Welsh light entertainments, writer, editor, historian - died on February 21, 2015 after a short illness at the age of 95. The Sain record company and trac (the all-Wales folk development organisation) both said that Wales had lost the mainspring of the nation's folk tradition.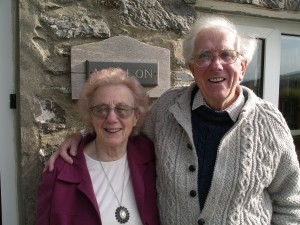 Flashback to 2004: Phyllis and Meręd outside their cottage, Afallon, celebrating the release of Sain's double-CD.
Photo: Mick Tems
Known to everybody as Meręd, he was a notable performer of the rich treasure trove of folk music written in the Welsh language. His award-winning recordings of his own unaccompanied folk songs and his published editions in collaboration with his American-born wife and professional singer, Phyllis Kinney, have helped to preserve Welsh musical legacy and promote it world-wide. In 2004, Sain released a double-CD tribute compilation of Meręd delivering 50 folk songs, including the 1962 Delyse recording of A Concert Of Welsh Folk Songs, with Phyllis and Russian harpist Maria Korchinska ("Tradition dressed up to suit the audience", according to Phyllis), four tracks previously recorded on the Sain album Canu Werin, and the landmark collection, 28 folksongs which were first released in 1977 on Sain C756. In addition, trac published a book and accompanying CD of 23 traditional folksongs entitled Ffylantin-tw!, taken from the Meręd and Phyllis collection and edited by Robin Huw Bowen. The CD featured many well-known traditional artists, including Arfon Gwilym, Dafydd Idris, Greg Lynn, Gwenan Gibbard, Huw Roberts, Linda Griffiths, Lynne Denman, Siân James and Stephen Rees. The book and CD were launched to a full house at the Vale Of Glamorgan National Eisteddfod, with Robin and all the musicians singing live.
Phyllis said: "The traditional songs of Wales have been very important to him - in singing them, in hearing others sing them, and in talking about them in lecture halls, on the radio, or in small groups of other folksong enthusiasts."
Meręd was born in the village of Llanegryn, near the coast in southern Merionethshire, the 11th child in the family. His love of Welsh folk song can be attributed to three women - his mother, who always sang and was a rich tradition-bearer; Mrs Enid Parry, who aroused Meręd's interest in folksong when he was a student at the University College of North Wales; and Phyllis, who passed on to Meręd her knowledge of folk songs from many different countries.
His mother learned folksongs from a foreman farmer and passed them down to Meręd. In an interview with the Smithsonian Institution, He said: "My mother sang constantly - it was the thing to do, to sit around the table, in front of the fire, and sing. My sister had a lovely voice - she was terrific. All my four sisters went to London to work as cooks, as maids and so on, and they were all lost to Wales. Four people from one small village, and we were just one family - but it was very common."
When Meręd was three or four years old, he heard his mother singing 'Si Hwi Hwi', a slave-mother's lullaby which came from the pen of a Welshman from Ffestiniog, who lived in the 19th century. The poet emigrated to the States, went to work in the slate quarries in Vermont and became involved in the anti-slavery campaign. As a revered and respected folk-singer and collector of Welsh songs, Meręd sang it on stage at the Smithsonian Institution in Washington; the song's message rang down through the ages to the 20th-century American audience, just as alive and vibrant as it used to be.
When Meręd was young, the whole family moved north to Tanygrisiau to work in the quarries at Blaenau Ffestiniog. "My father would have killed me rather than let me work in the quarries - but I wanted to work in the quarries," he said. "All my friends were working in the quarries - it was natural, you know." A school-leaver at 14, he started preparing for the Calvinistic Methodist ministry. When Mered was just 17, his father died of 'the dust'.
Meręd was brought up speaking Welsh, a Cymro Cymraeg, with the proud and strong culture of the Welsh language thriving in him. However, he said: "In the 1930s, in the Great Depression in America and over here, I didn't worry about the Welsh language, because it was okay in my community. I didn't see the threatening forces, which were there; the influences here were primarily English, but naturally, why not? We had been living right next to the most powerful language in the world. The political power of one language is frightening.
"Once I left my home community, going outside and so on, I had to take a look back at myself; and you began to realise that there were pressures that threatened your very existence. You had to struggle consciously for your identity - not because your culture is better than anyone else's, or that your culture is any greater. That's not it. It just happens to be yours. You make sense of your life in terms of that culture, and it is that basic.
"I think the idea that speaking one language will solve problems is baloney. People quarrel in one language. We can be just as stupid in one language as we are in many, and we can be just as aggressive, just as selfish - we can also be just as kind. We should celebrate the success of a huge variety of cultures."
A convinced pacifist, Meręd faced a military tribunal in World War II. He was registered as a conscientious objector and was granted unconditional exemption by a tribunal early in 1940, on the grounds of his religious beliefs. He said in 2009: "I maintain my Christian beliefs more than ever with these wars which occur today. The creation of the atomic bomb and weapons like that mean you wouldn't have a world war, but global destruction. There's nothing that could justify that.
"I know there are people who believe in war as a way to sort out problems, that it's the best choice of a bad lot, and I respect their opinion. They have the right to believe it, but I can't agree."
The war years saw him gaining a First in Philosophy, and he was appointed Tutor in Philosophy and Political Theory at Coleg Harlech in 1947 and worked there until the 1950s, following up as assistant editor of the Welsh newspaper Y Cymro. When Phyllis was a musical student, her imagination was fired by her brilliant teacher, a Welshman called Gomer Llewelyn Jones. "I'm from Pontiac, Detroit," she said. "I'd never heard of Wales." Phyllis learned to love the Welsh language. She came to Wales when she was in an opera company, met Meręd, who was by now working for the BBC, and subsequently married. Their daughter, Eluned, was born a year later.
Phyllis was getting a lot of work from the BBC, but America still beckoned. The family went to the States, where Mered entered Princeton University, graduated with a Ph.D in Philosophy and got a job as an Instructor in Philosophy at Boston. Meręd loved folksong and was always singing at parties. He and Phyllis were inseparable – they often performed together at events. By now, Meręd had a considerable reputation, and Mo Asch recorded him for Smithsonian Folkways (the great Mo said: "I can't understand a word, but I like it.") The New York Times awarded Meręd's LP, Welsh Folk Songs, in the top ten of the year. Much later, when Meręd and Phyllis had settled in Anglesey, the legendary US radio presenter Studs Terkel, an avid fan, rang. He had journeyed to Britain to interview two famous people – Meręd and Bertrand Russell!
Meręd got a job as a TV producer in BBC Wales, and he later progressed to the post of head of light entertainment. His inspirational leadership saw the birth of a Welsh-language folk series, Hob Y Deri Dando, the Ryan A Ronnie comedy series and others - but he foresaw a Welsh-language TV channel as the only solution, and he resigned his post. He was a senior figure in Cymdeithas yr Iaith Gymraeg (the Welsh Language Society) and a life-long advocate of non-violent revolutionary means to promote the interests of Welsh speakers. In 1979, Meręd along with two fellow academics, Ned Thomas and Pennar Davies, was sentenced by the Carmarthen assizes for breaking into the Pencarreg television transmitter in the campaign which would lead to the establishment of the Welsh language broadcasting channel, S4C. Meręd was again in court again in 1999, after refusing to pay his TV licence, stating there had been a decrease in the amount of Welsh-language broadcasting in the last ten years. In March, 2014, he backed further peaceful demonstrations by Cymdeithas yr Iaith Gymraeg following protests in Aberystwyth.
In April, 2007, the University of Wales published a volume for Meręd and Phyllis, "a fully bilingual collection of critical essays on various aspects of Welsh song and traditional music by Wales' leading experts and musicologists to celebrate their contribution not only to Welsh traditional music but to the very culture and language of Wales."
In 2012, Meręd appeared on Gai Toms' album, Bethel, on which he sang 'Cân y Dewis'.
In 2013, he was awarded 'Tywysydd' ('Guide') in the first ever Paręd Gwyl Dewi Aberystwyth (St David's Day Parade) for his services to Wales and the Welsh language.
Meręd and Phyllis settled in the remote village of Cwmystwyth, Ceredigion in a cottage named Afallon. S4C Authority Chairman Huw Jones paid him this tribute: "Meręd was probably the first Welsh language pop star. With his velvety voice, his catchy songs and good looks, he charmed a generation in the 40s and 50s as a member of Triawd y Coleg. But he was much more than that. As a TV producer and then head of entertainment at BBC Wales, he felt passionately the need for popular programmes which would appeal across the nation, and he knew what was needed to make them happen.
"Later, as a tireless campaigner, he provided inspiration and leadership in the campaign which led to the setting up of S4C, and he was a firm but courteous critic of the subsequent efforts of Welsh broadcasters to reach their goals. With his ground-breaking work, alongside his wife Phyllis, in popularising Welsh folk-songs and as a respected academic philosopher and teacher, he was a unique, significant and much-loved figure in the cultural life of Wales."
Mick Tems

TRIO TRIUMPH! FOXGLOVES DELIVER A WELSH/ENGLISH MUSICAL DELIGHT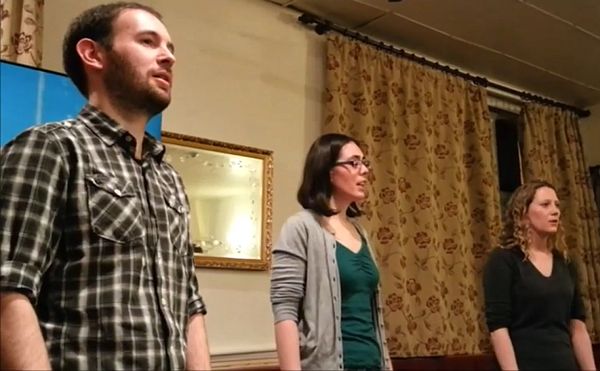 April 1, 2015: The Foxglove Trio are unique and a revelation; Mid-Wales singer Ffion Mair, Swansea-born spectacular 'cellist and guitar player Cathy Mason and Patrick Dean, melodeon player and 'cello player from Yorkshire, stirred up a bubbling cauldron of inspiring and exhilarating songs, tunes and absolutely lovely arrangements that had the audience on the edge of their seats, grinning broadly and shouting for more - in fact, the cheering hordes demanded a double encore. It was a great night!
For their first set, The Foxgloves exploded into 'The Owlesbury Lads', the lyrics and melody written and composed by Cathy and taken from a traditional song found in a book called Folk Songs Of Hampshire. Cathy lives in Hampshire now and is currently employed as Assistant Musical Director at Lord Wandsworth College, and Ffion and Patrick live in Hertfordshire; but the rich and vibrant Welsh tradition and the overflowing library of English folklore proved a fertile hunting ground for the Foxgloves' repertoire. The striking, most satisfying element is the way The Foxgloves mine Welsh and English tradition, and really enhance the programme by adding in snatches and tasty spices of other songs and tunes. Their brilliant arrangements and shimmering harmonies are just the icing on the cake.
Highlights were 'Selar Hill', by Valley Folk Club organiser Huw Pudner and Chris Hastings; 'James Snooks', written by Hamish Currie, Cardiff-based Scottish songwriter who was unfortunately whisked away by his job; 'Colli Llanwddyn', poet Harri Webb's lament about the drowning of Welsh villages to create reservoirs for the benefit of England, adapted
for three of Mair's verses; and 'The Three Huntsmen', a humorous song about three foolish Welshmen found in a book belonging to Patrick's granny, influenced by the singing of Welsh romanies Hywel and Manfri Wood. The Trio were promoting their new album, These Gathered Branches; there's a FolkWales CD review on this.
Paul Seligman shot a video on The Foxglove Trio's performance.

BANJOMONIUM! AND DAN'S THE MAN TO THRILL THE CROWDS
"For someone who doesn't like banjos - well, it's not really your night, is it?" Dan's Walsh's one-liners come as thick and fast as his firework virtuosity and eye-popping playing, singing and songwriting. Dan doesn't just play his beloved banjo - he lives it, tortured face and voice underlining the hard-hitting lyrics, first attacking and then caressing his instrument. The banjo responds to all this hard love, hitting impossible notes, runs, and a myriad shower of sounds that knock you over like an exhilarating waterfall. The whole show is totally magnificent, and Dan's whirlwind performance just leaves you breathless.
His cartwheeling banjo antics are what draws the crowds, but Dan is a pretty outstanding guitarist, too; 'The Song Always Stays' is one highlight. But Dan turns the tables on his set, and very soon he's taking the whole Club on a totally amazing composition called 'Switchback Reel', influenced by his tour in India and packed with Far-eastern classical elements. It's a night to remember - Mick Tems took the image and shot the video (available soon).

DELYTH AND ANGHARAD SERVE UP A DELICATE, LOVELY FEAST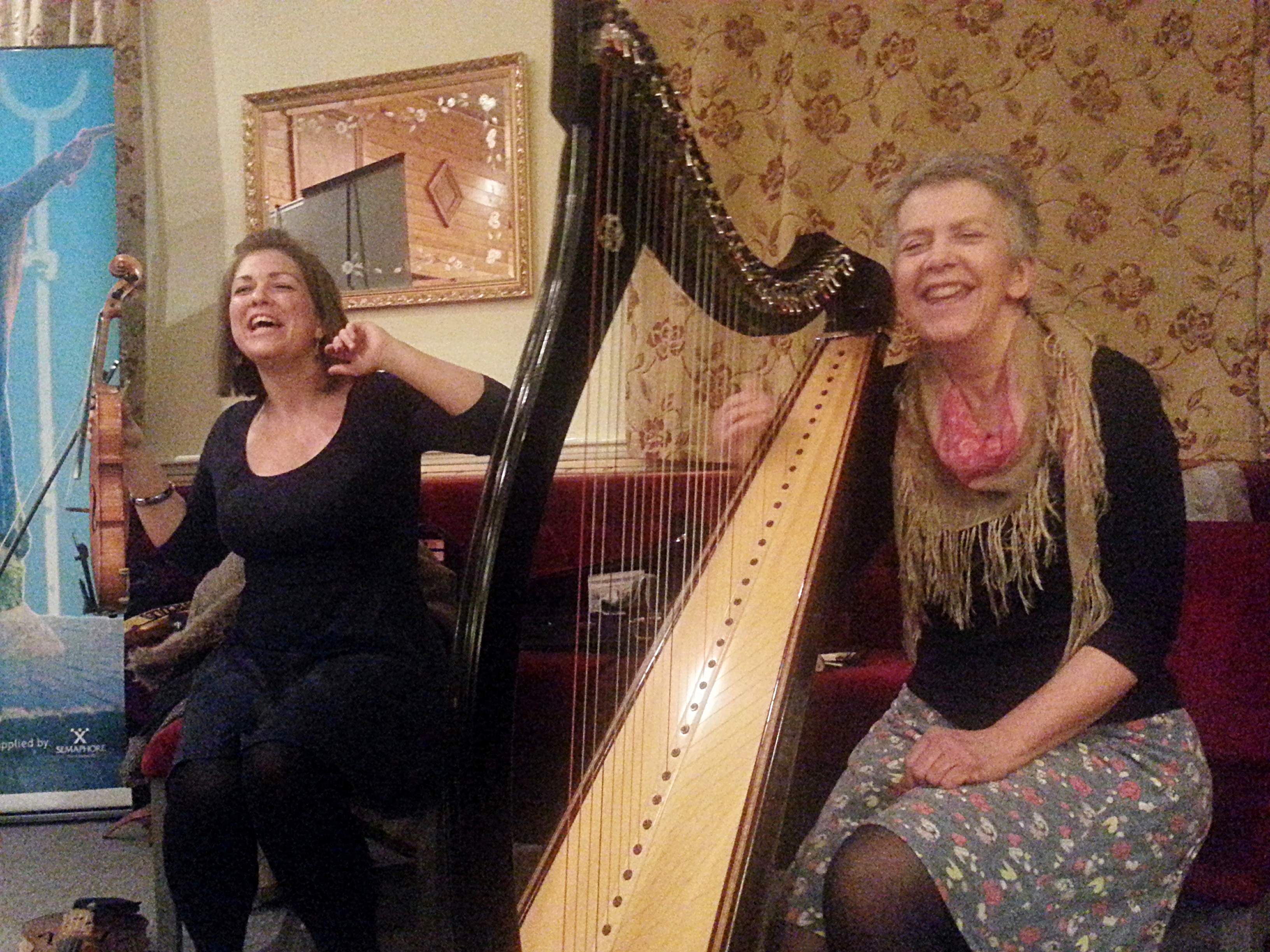 February 25, 2015: Angharad Jenkins was born with Welsh music in her ears - and her harp-playing mother Delyth made quite sure of that. The pregnant Delyth played with Peter Stacey and Stevie Wishart in the excellent trio Aberjaber, and the "bump" was baby Angharad - and now she has grown into an impressive fiddler, with several musical projects including the sizzling Calan, Adran D, and accompanist to Brigyn and Blair Dunlop under her belt. Both mother and daughter go by the attractive name of DnA, and they have released a four-star debut album; this was their first concert at Llantrisant Folk Club, and members and guests revelled in the satisfying and wonderful sound these two generated. DnA's unique music is completely peaceful and satisfying, feeding on their rich tradition and, in turn, spectacularly nourishing it.
Llantrisant Folk Club member Paul Seligman shot these two videos of DnA performing a medley of tunes, starting with Angharad's composition 'Gan Bwyll Jo!', and their take on the famous Llanelli song, 'Sospan Fach'. Paul also took the picture of DnA (above left).

FOLK CLUB MEMBERSHIPS READY NOW - OLLY WANTS YOUR Ł7
Llantrisant Folk Club memberships are due now, and Membership Secretary Olly Price reminds members that she will be collecting Ł7 on Wednesday, January 7, 2014.

FESTIVAL OFFER AND INVITE: ARE YOU INTERESTED?
The Upton-Upon-Severn Festival committee has invited Llantrisant Folk Club to join the festival as one of the Festival Clubs, providing them with an afternoon or evening "Club Night" (emails Ned Clamp.) The terms and conditions will be very similar to previous years (prices are estimates as at 1/11/14).
Club membership of the Festival, costing Ł50, offers:
• Two free tickets and camping passes for the club leaders;
• Adult club members - Ł15 per head;
• Adult Camping - Ł15 per head;
• Accompanied Juniors (under 18): free admission and camping.
These prices are in comparison with a weekend ticket price in excess of Ł50 plus camping.
Final prices have yet to be decided - the above are guidelines.

If the Folk Club was to buy membership of Upton Upon Severn Folk Festival, would you as a member be interested in taking up the offer of cheap festival tickets?

The festival runs from the 1st to the 4th of May. If we get enough interest, then we will go ahead with this. Please state your interest in principle by replying to me at the email address below.
Thanks all,
Ned Clamp
peter.clamp4@virgin.net

MARI LWYD WINTER SOLSTICE TOUR ON VIDEO - LIVE AND KICKING
The Llantrisant Mari Lwyd celebrated 34 years of welcoming the Winter Solstice on December 22, 2014 with visits to Llantrisant area pubs, the antics and the traditional singing and playing shot on video. The Mari Lwyd Party met in the car park of The Dynevor Arms, Groes Faen, where this video captured the festive atmosphere; then it was on to The Miskin Arms and Old Town pubs including The New Inn in Swan Street and The Bear in The Bullring. Norman Jenkins took the video in The Dynevor Arms and Mick Tems shot the footage in The Miskin Arms.

HO! HO! HO! CHRISTMAS PARTY CAPTURED ON CAMERA
Llantrisant Folk Club ended the Old Year with the Christmas Party, and Paul Seligman shot and edited this video to make a cameo of some of singers, musicians, poets and reciters who made the fabulous evening go with a swing. The video includes Meg Sykes, Donald Johnson, Gwyn Austin, Ray James, Julie Croad, Rob Bradshaw, Ned Clamp, Pat Smith, The Mari Lwyd and the Plygain singers, with a special spot by Chris Parkinson (melodeon) and Emily Sanders (fiddle).

ANDY AND JILLIE TIE THE KNOT - CONGRATULATIONS FRO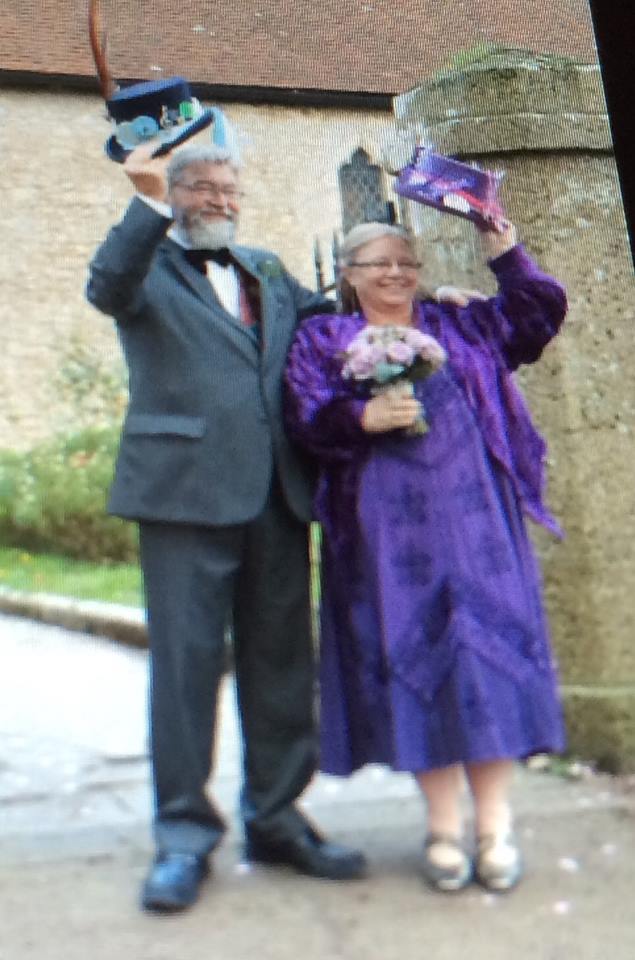 M ALL OF US!
Llantrisant Folk Club members Andy Jackson and Jillie Hambley celebrated their wedding in The Isle Of Wight on Friday, December 5, 2014. Andy was a retired sound engineer at BBC Wales in Llandaff, Cardiff, and he lived at Pontyclun; he was also acting secretary of the Club. They later moved to the beautiful tranquility of The Isle Of Wight, Jillie's home base, where they planned a quiet wedding.
And even though the many miles meant that we couldn't be there, the both of you will remain deep in our hearts. Llongyfarchiadau!

LIFE BEGINS AT EIGHTY - HAPPY BIRTHDAY, NORMAN!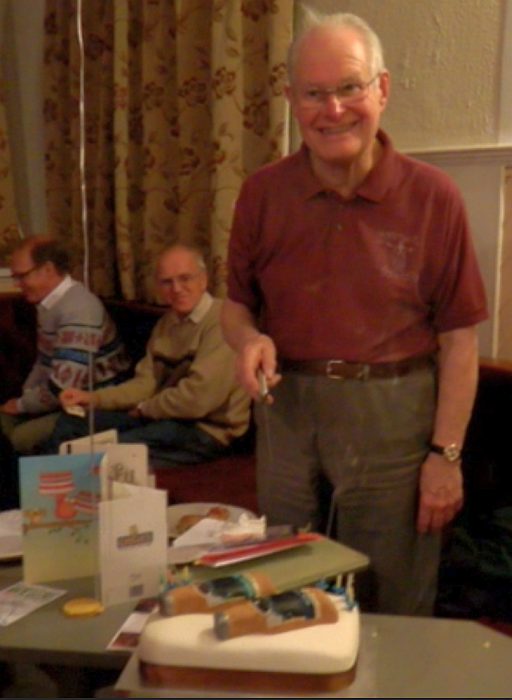 Llantrisant Folk Club member Norman Jenkins celebrated his eightieth birthday on November 26, with balloons and a big birthday cake, provided by Lindsay and Greg's son, Huw - and The Birthday Boy generously paid for a slap-up buffet for all the members to enjoy. Always a regular floor singer and reciter, Norman read the well-loved and artfully clever Jack 'The Bard' Sully poem, 'Life Begins At Eighty', followed at half-time by the cutting of the cake, the blowing-out of candles and all the Club members singing 'Happy Birthday
/Penblwydd Hapus'. An ardent member of the Llantrisant R.A.T.S. (Real Ale Tasting Society), Norman invents his witty parodies, his hilarious poems and his very funny songs - and the Folk Club really appreciate it.

TOM'S GONE TO HIGH-LOW - AND THE DELIGHTED CROWD LOVES IT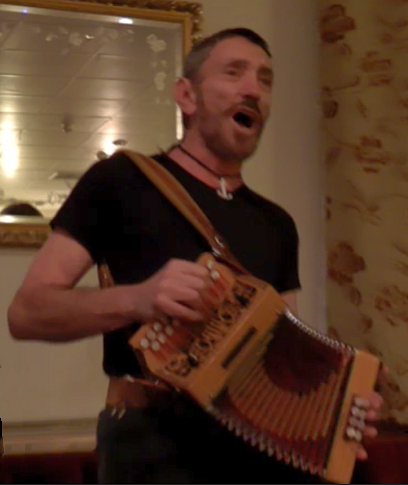 Tom Lewis, 24-year veteran of Her Majesty's diesel submarines, was on top form with his high-energy show consisting of sea songs, shanties and his own well-known and well-loved choruses including 'Marching Inland', 'The Last Shanty (A Sailor's Not A Sailor'), 'H.M.C.S. Sackville' and more. Tom's strong voice soared above the high notes and swooped among the low notes as he vividly told nautical stories in song. Paul Seligman shot this video of Tom singing 'The Sailor's Consolation' by Charles Dibdin, 'An Ex-Sailor's Life' and 'The Last Shanty' - with a fascinating tale of radar experiments aboard what he called the rustiest ship in the Royal Navy, H.M.S. Intrepid.

FOLK CLUB MARKS REMEMBRANCE DAY WITH SEEGER'S PEACE SONG
Llantrisant Folk Club marked Remembrance Day with the Pete Seeger classic, 'Where Have All The Flowers Gone?' on Wednesday, November 12. Mighty-voiced Jim Mageean and Graeme Knights sang up a stormer as part of their mini-tour of Wales, and they threw in a collection of WW1 soldiers' parodies (see the video here.) The anti-war Seeger anthem, with the help of commčre Pat Smith, was organised by the Armistice Pals website, which includes Peggy Seeger, the wonderful harp diva Sîan James, Dave Swarbrick, Judy Dyble, ex-Oysterband member Ray Cooper, Johnny Coppin, Gavin Davenport and many, many folk artists. Just for the record, you can see this video, shot by Mick Tems; another video, shot by DapperFM's Acoustic Routes presenter Dave Chamberlain and his children, should be uploaded soon.

MARI LWYD GOES OUT ON HER WINTER SOLSTICE TOUR
The Llantrisant Mari Lwyd will be doing her rounds and making merry on the Sunday before Christmas, December 21, 2014. The Mari Party will meet at 12 noon in The Dynevor Arms, Groes Faen, and the Mari's timetable (very approximately) will be:
| | |
| --- | --- |
| | 1pm: The Miskin Arms, Miskin; |
| | 1.45pm: The Penny Farthing, Southgate (where the new landlord/lady will welcome us); |
| | 2.30pm: Llantrisant Old Town, including The New Inn, The Bear and a private house - just come looking for us! |
| | 4.30pm: Cross Inn, in Cross Inn; |
| | 6.30pm (approx - this is an optional trip): The Boar's Head, Tyle Garw - Landlord Wayne Owen's charity do with choirs, real ales and Christmas merriment. The Mari will make an appearance and collect that evening for Wayne's charity. |
Donations and contributions (except for The Boar's Head) go to the Marie Curie Hospice, Cardiff And The Vale, Penarth.

REVIEW: MAGNIFICENT, LOVELY CALAN TOP A STUNNING EVENING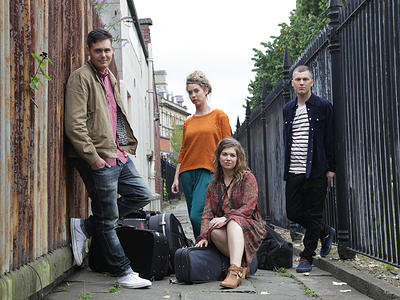 November 5, 2014: The Athletic Club Lounge Bar, home of Llantrisant Folk Club, was packed to the brim as the eager audience waited to see and hear the slimmed-down Ambassadors Of Welsh Cool on their Up Close And Personal tour in Wales - smaller, cosy venues, no PA, no costumes, just tunes, songs and spectacular clog-dancing, the way it all started. Calan exceed their expectations to an exhilarating degree with a whirlwind, carefree set that had the massed rows really gawping. That wasn't applause, but the collective sound of jaws dropping! The band absolutely sizzles as tune after tune spills and bubbles out like an erupting geyser. Patrick Rimes plays the Welsh pipes and fiddle with joyous expert precision, and his musical rapport with grinning, sparkling fiddler Angharad Sîan goes from strength to strength; guitarist Sam Humphries bolsters the band with a myriad of inspirational, percussive and totally powerful chords; while Bethan Rhiannon pouts beautifully, her fingers a blur on the accordion keyboards, her pretty voice holding its own with the crazy, sexy sound and her clogs resembling a machine-gun rattle as she dances triumphantly. Calan are on fire, and how.
Why smaller, cosy venues? The band have played many major festivals, from Cropredy to Glasgow's Celtic Connections, with many appearances at the gigantic Lorient Interceltique. They have been shocked by the amount of cash that is wasted in petrol, and they're cutting costs by buying a touring van - all contributions gratefully received. From the opening 'Slip Jigs' to 'The Dancing Stag', through manager and master songwriter Huw Williams' dreamy 'Jonah' to the heartachingly melodic 'Y Gwydr Glas', Calan hold the audience in the palms of their hands. There is so much good-natured and enthusiastic energy being generated that the band could light up the entire Athletic Club.
The long-awaited father-daughter clog-off between Huw and Bethan is the icing on the cake. With the rest of the band accompanying, long-time Eisteddfod champion Huw dances a blinder, only to be matched by Bethan; the audience just loves it. And as long as the crowds pour in to be entertained and entranced by Calan, the whole big wonderful wide world of the folk scene can only reap the benefits.
- Mick Tems
CALAN VIDEOS UPLOADED NOW - YOU CAN ALMOST TASTE THE VIBES!
Did you miss Calan? Do you long to see them? Video shots of the clog-off between Bethan and Huw have been uploaded and are available via this link - and Calan blast into their Slip Jigs opening set, on this captureama.

PAUL SHOOTS SNATCHES OF THE FOLK CLUB'S HISTORY
Want to watch the recent Ben Sands gig in glorious live colour? Llantrisant Folk Club member Paul Seligman has uploaded Ben's show in video, with the music and the atmosphere captured for all to see. Paul has released a number of videos from the Folk Club's glorious history, including Llantrisant Folk Club's steam weekend in Gwynedd, Fiona Hunter and Mike Vass, Tylwyth Teg, Roy Harris (and Damien Clarke),
O'Hooley and Tidow, A Fanfare Of Strumpets, Christmas Party No 2 (2012), The Harry Browns Christmas Party 2012, Pilgrims' Way and The Village Quire. Thanks to Paul for spending many hours editing the videos; we're thinking of a proper videos website page, but that's definitely a future work-in-progress project.

REVIEW: YEE-HAW! GOOD-TIME GARTHIES MAKE IT A PARTY NIGHT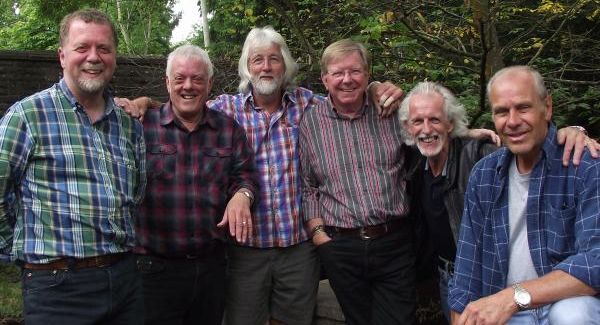 October 28, 2014: The six South Wales musicians who make up the Garth Mountain Boys are neighbours and long-standing good friends of Llantrisant Folk Club, and the Pontyclun Institute Athletic Club's lounge bar was packed as the grinning Garthies gave us their mixture of good-time Americana with some old-time bluegrass fare, sprinkled with dashes of Steve Earle's 'Galway Girl', the traditional 'Man Of Constant Sorrow', from the smash-hit movie Oh Brother Where Art Thou?, The Eagles' 'Peaceful Easy Feeling' and even John Lennon's 'Norwegian Wood' thrown in. Ulsterman Chris Tweed, playing the dobro, had joined Blind River Scare for a while; but now he was back permanently, and his warm smile made it plain that he was glad to be gigging. The Garthies gave it their all, from Richard 'Rich Pickings' Smith on the banjo right through to Alan Kramer on the guitar, and the audience loved it.
The band name comes from the Garth Mountain, with the village of Gwaelod-y-Garth nestling in its shadow, made famous in the Chris Monger film The Englishman Who Went Up A Hill But Came Down A Mountain, starring Hugh Grant and Tara Fitzgerald. No doubt about it - The Garth Mountain Boys definitely are a loveable fun combo, and they're old mates as well!
- Mick Tems

REVIEW: BEVERLY & JOHN SPIRIT US AWAY TO OLD-TIME APPALACHIA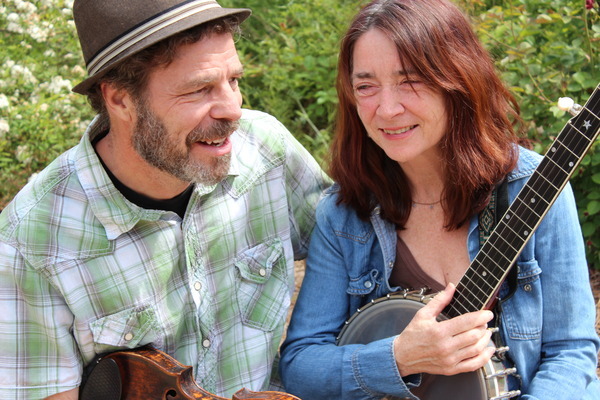 October 22, 2014: Beverly Smith and John Grimm are based in the beautiful little town of Dahlonega in North Georgia's Lumpkin County, with the Appalachian foothills just rising and the Smokey Mountains National Park on the horizon. They were on an extended European tour, and their showcase night coincided with the Pontyclun Arts Council festival - and Llantrisant Folk Club threw in a free evening to their support for the council and to show their appreciation and thanks for Pontyclun Institute Athletic Club.
John is owner of the Vintage Music store in Dahlonega and an award-winning fiddler and guitar player; Beverly is one of the most respected guitar players in old-time music, and she is also in demand as a singer, a fiddler, a banjo player and a dance caller as well. She plays in a duo with Alice Gerrard, the undisputed queen of old-time music, and her playing can be heard on several well-known artists' CDs, including Bruce Molsky and Mick Moloney, and Garrison Keillor's radio show The Prairie Home Companion. Together, John and Beverly harmonise perfectly and brilliantly; their guitar playing and fiddle duets seem to merge into one big marvellous mountain tradition. It's as if the Club members had been transported back to a timeless age where John and Beverly could be still quite content just picking on the front porch, and never seem to be out of place. Their love and fascination for rural American folk music has got to the point where their research and performance hones and polishes this pristine and absolutely unforgettable musical branch; a branch where it still flourishes, and you can thank several gods for that.
- Mick Tems

REVIEW: BEN SINGS A SIMPLE SONG, AND THE CROWD LOVED YOUR MAN
October 8, 2014: Ben Sands, like his brothers Tommy and Colum, was a member of the famous catholic musical clan and one of the most influential folk groups from the North of Ireland, The Sands Family.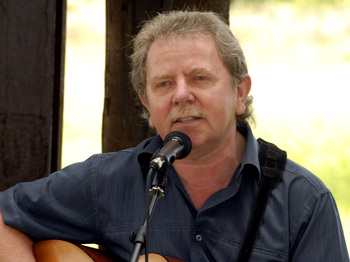 His father and mother were Mick, a fiddler known as The Chief, and Bridie, who played the accordion. All of Ben's six uncles were fiddlers, and Mick and Bridie's farm in the townland of Ryan, in the foothills of the Mourne Mountains in County Down, was a 'ceili house', where catholics and protestants could gather and enjoy Irish music.
Like Tommy and Colum, Ben is a writer of songs; he explores the wistfulness and nostalgia of days gone by, the precious, lost hours which could so easily slip through Ireland's fingers. But unlike Tommy ('There Were Roses') and Colum ('Whatever You Say, Say Nothing'), who wrote such magnificent and witty songs, Ben glosses over the recent Troubles; he presents an easy, calm aura, his quiet, deep-brown voice complementing his gentle work and the simple playing of his guitar. But Ben's writing is deceptively carefree, and he dresses each song with some well-chosen lyrics. Above all, his soft banter, coated with witty barbs, are the icing on the cake. Club members and guests didn't need any encouragement when he finished his set, clapping and shouting for an encore. Ben really made the night.
- Mick Tems
Quicksilver shines on - and Hilary gets her life membership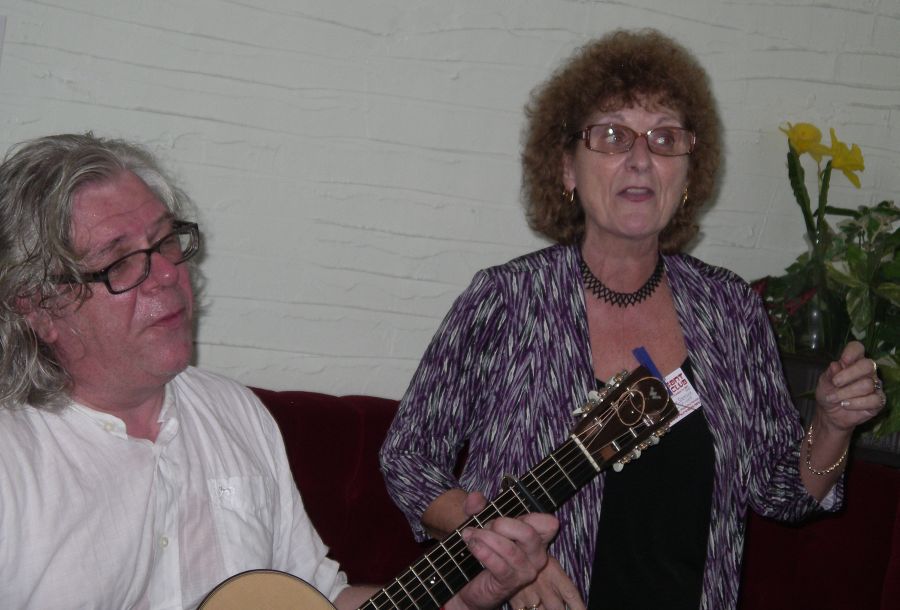 Photo: Mick Tems
A last-minute hurried rehearsal between TV writer-star and guitar virtuoso Grant Bayhnam and classically-trained vocalist Hilary Spencer blossomed into a magical duo called Quicksilver – and Llantrisant Folk Club welcomed the two when they made ease of the musical acrobatics in an Arts Council of Wales Night Out Scheme at the Windsor Hotel, Pontyclun.
The birth of Quicksilver came about because Hilary, who was The Voice leading the successful a cappella trio Artisan, was hosting a reception to launch her solo CD, After Image. Hilary's friend and guitarist, George Norris, had to drop out at the last minute, and Hilary started a desperate search for an accompanist.
Hilary said: "Grant was playing with jazz singer Marilyn Middleton Pollock in a duo called It's The Girl, and right out of the blue she offered him. We couldn't meet for a rehearsal because of pressure of work. I supplied Grant with recordings of the CD songs - in fact, the first time we met was for a rehearsal in the car park with the After Image party just happening."
The launch went very well, and suddenly Sheffield-based Hilary and Grant, who comes from the Midlands, realised they had that certain something. "We said: We could do that," said Hilary.
Ever since, they have been wowing critics, touring Britain and America and recording three CDs, including Make 'Em Laugh - a compendium of 100 years of comic writers, including Joyce Grenfell, Victoria Wood, Noel Coward, Tom Lehrer and the late, great Jake Thackray.
Hilary said: "We always enjoy playing at Llantrisant Folk Club – it's got such a marvellous and friendly atmosphere." In fact Hilary has beaten the Club's record, appearing solo and as a member of all her musical combinations on no less than 14 occasions. The Club awarded her life membership, and she took the stage proudly wearing her members' card.
Grant fondly remembers those heady four years when he appeared on Esther Rantzen's hit show That's Life – and he has to thank BBC comic writer and pianist Richard Stilgoe for recommending him. "Ex-Lifer" Grant explains: "I had been writing songs and appearing on the Radio 4 programme Start The Week. Jake Thackray was That's Life's writer and guitarist, and the BBC wanted to replace him. Richard pointed out me.
"I went for an audition with hundreds of others. Eventually they whittled it down to 14, then to two – and they picked me."


Sultan of Squeeze JK plays a blinder - and Llantrisant Folk Club roars its appreciation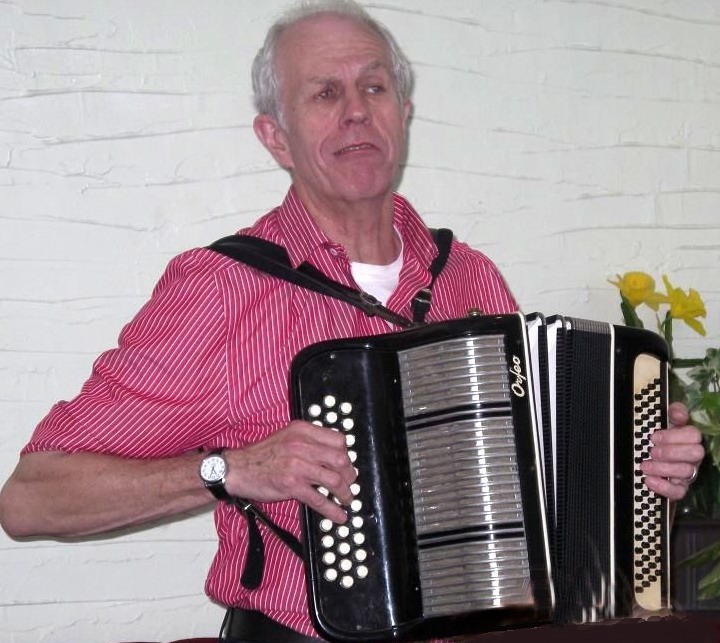 Photo: Mick Tems
Mighty squeezebox player John Kirkpatrick has toured with a plethora of high-profile outfits, including Steeleye Span, the Richard Thompson Band, Trans-Europe Diatonique, The Albion Band, Brass Monkey and family ceilidh combo Mr Gubbins' Bicycle – and Llantrisant Folk Club loved every minute of his impressive set on Wednesday, September 21.
Born in West London and relocated in the Welsh marches in south-west Shropshire, John has come a long way in the album stakes since making an appearance on the 1969 Festival At Towersey compilation and his first impressive solo Jump At The Sun 1972 offering. So far, he has recorded on over 200 albums, solo, as a band member or a session musician – but, as he admits: "I've never counted them."
The Club has seen him on a few occasions, including John as one-third of Trans-Europe Diatonique, when he played with the incredible Riccardo Tesi from Italy and France's Marc Perrone, and as an acoustic duo with master songwriter and guitarist Richard Thompson. This time, solo John amazed everybody with his magical agility on the anglo-concertina, the one-row melodeon and the button accordion, blending in his highly original songs with some proud folksongs which have withstood the test of time. After many jaw-dropping aerobatics on the button accordion, someone was heard to whisper admiringly: "Wow - button accordions just don't get played like that!" After John's closing set, the Club erupted with deafening roars, whoops and shouts of appreciation - encores don't get called like that!
Jon was in The National Theatre productions of Lark Rise and Candleford, and since 1980 has been contributing music and choreography to many of the productions at the New Victoria Theatre in North Staffordshire, as well as occasional work with The Orchard Theatre Company in Devon and The Crucible Theatre in Sheffield. He's an expert at dancing, and he formed the Border Morris team The Shropshire Bedlams, one of the most revolutionary teams of its day, which spawned a host of other groups.
He said: "In earlier days I knew quite a few Welsh folk dance tunes, as the dances to go with them were done now and again on the dance circuit where I cut my teeth. I love it, but to me it has nothing in common with the English stuff that I do. It's all to do with the style of dancing – that's what gives any kind of music its distinctive voice, and the galumphing and lolloping that I find so attractive in English dancing doesn't seem to exist in other cultures."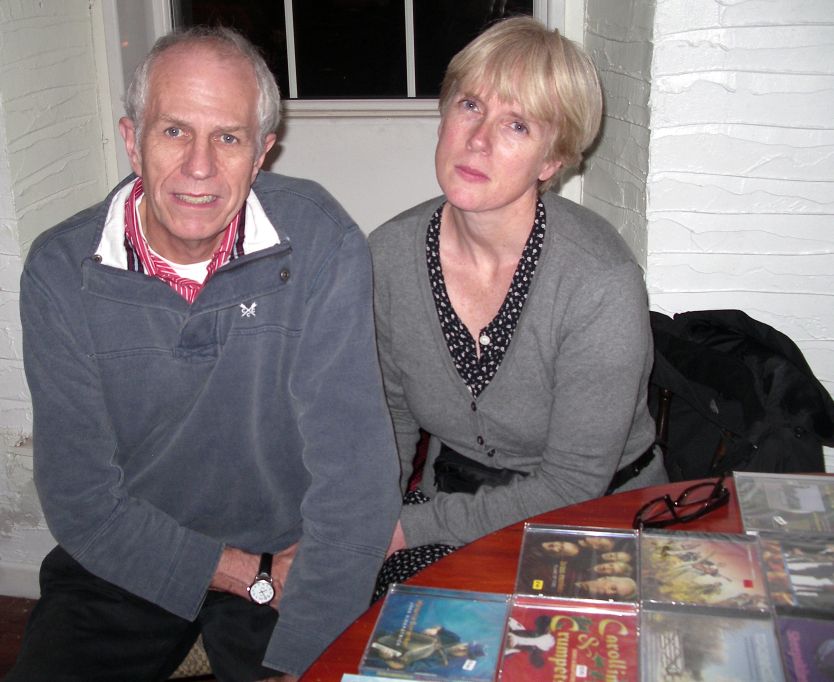 John and Sally with the CD shop
Photo: Mick Tems
These days, John plays in Mr Gubbins' Bicycle with wife Sally and two of his sons, including Benji – musician with sensational sell-out folk band Bellowhead. Sally was with John on his short journey to the Club, and kept her sparkling eye on all the goodies in the CD stall.


Steve's spine-shivering August Riots prophecy stuns Club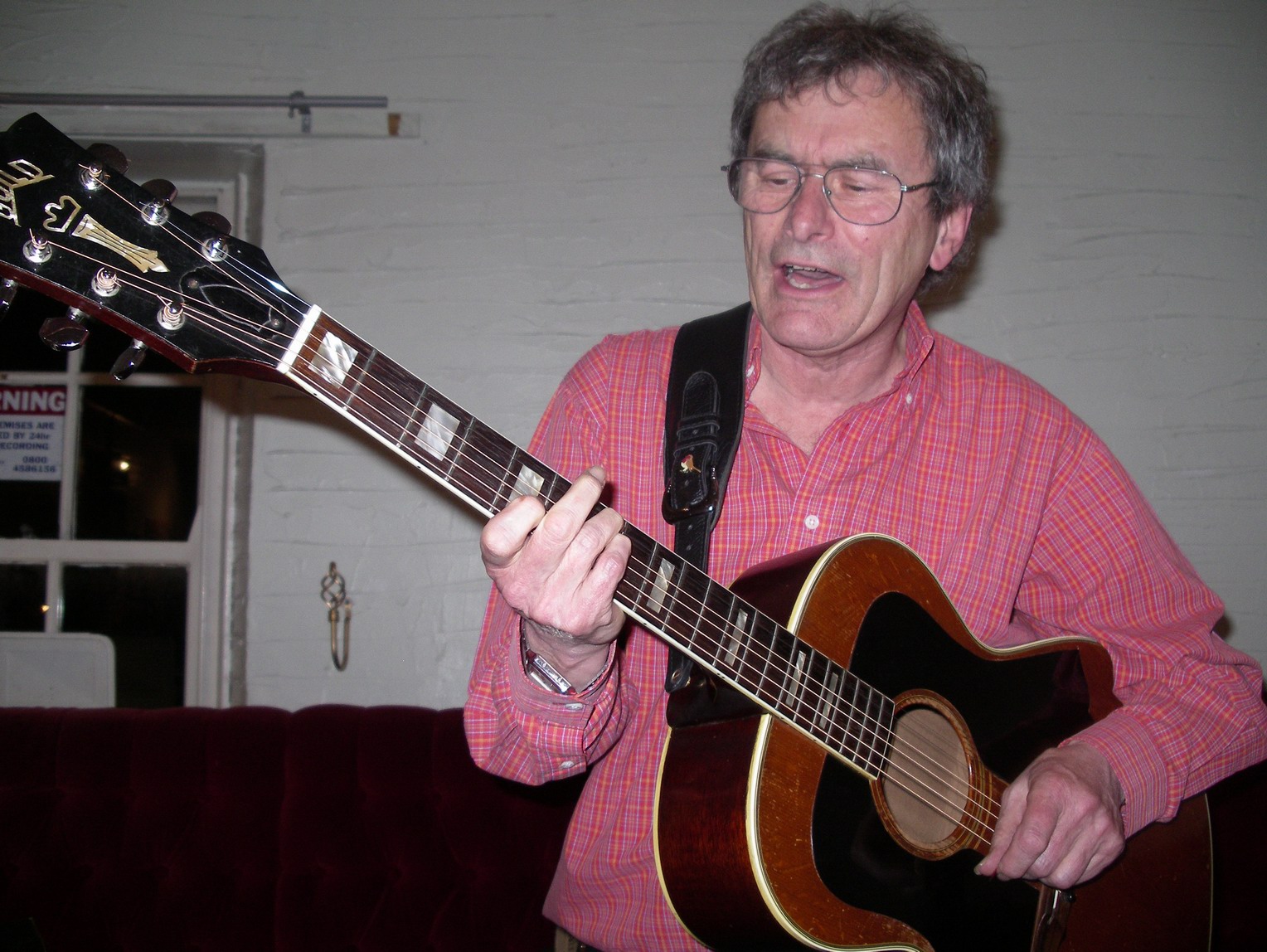 Photo: Mick Tems
The horror of the English August riots was accurately predicted by stunning songwriter and folk icon Steve Ashley, who guested at the Club in the Windsor Hotel on Wednesday. Steve, who performed as lead singer with The Albion Country Band and his own Ragged Robin, said: "A year ago, I was listening to Radio Four, to Any Questions, and a Tory was saying about all the cuts his party would make. He kept on saying: 'There will be pain.' So I wrote a song."
Steve put his Guild guitar down and, with his solo voice, sang There Will Be Pain – an uncanny insight into the future of swingeing cuts, huge unemployment and a depleted police force trying but failing to keep order. In his song, the rioters set fire to businesses and buildings, in an exact forecast of those terrible nights in the London suburbs of Tottenham, Croydon and Ealing, with public disorder spreading throughout the English cities of Leeds, Liverpool and Birmingham. The audience listened with a silence that could be cut with a knife.
Steve, who was born in London and settled in Cheltenham, Gloucestershire, is a supporter of the anti-nuclear campaign CND and Folk Against Fascism, a widespread movement which successfully counteracted the BNP's hijacking of folk culture. He recorded a series of songs for the UK Peace Movement called Demo Tapes. The instigator of two landmark albums, Stroll On and Speedy Return, who was arrested in a non-violent protest at Upper Heyford USAF base in Oxfordshire, sang his anti-Trident nuclear submarine fleet song, Ships Of Shame, to the Club.
Now Steve is a recording artist for the prestigious company Topic, which released his latest CD, Time And Tide, a remarkable collection of songs which has been uniformly hailed by the media everywhere. The well-known national folk magazine fRoots said: "If British singer-songwriterdom is to enjoy a renaissance, then it is right and proper that Steve Ashley should be at the forefront."


Silver-voiced Eileen: Llantrisant is like coming home to me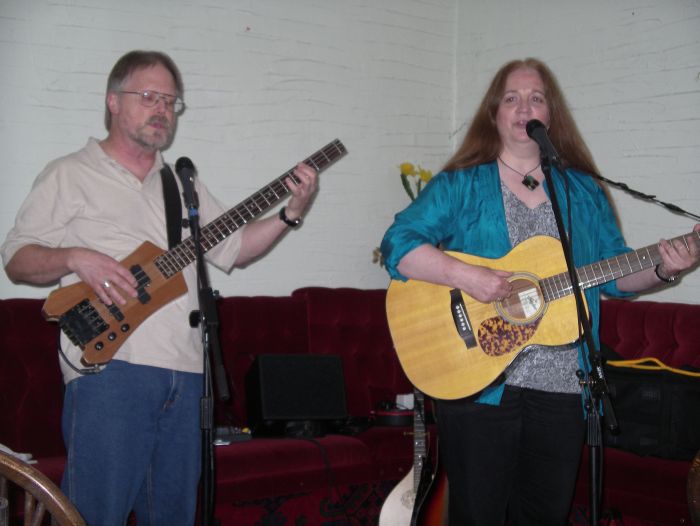 Photo: Mick Tems
Irish-Canadian Eileen McGann left Vancouver Island in British Columbia to play her first date at Llantrisant Folk Club on a two-week British tour – but she still calls South Wales her home. Her parents were of Irish stock – her father was a Dubliner, but her mother, who came from Cork, lived in Merthyr Tydfil. "Coming to Llantrisant is like coming home for me," she said. "I last played at the Club eight years ago, and I have such happy memories."
Eileen, who many critics have described as "one of folk music's most breathtaking voices" and "a gifted lyric poet and musical composer", has a new album out, after 10 years in the CD wilderness, called A Pocketful Of Rhymes.
Eileen's parents emigrated to Canada, and she was born in Toronto. "There were lots of Irish in my area, many of them storytellers and very fine singers," she said. "I guess it rubbed off in my songwriting." Eileen was touring with her partner, musician David K. She said: "We live on an island, with a mountain range – tour planning is always governed by the ferry times. We are an island climate, and we don't have such harsh winters like Canada does. A Canadian winter can send temperatures plunging to 40 degrees below, but on the island we have what I like to describe as a Welsh winter."
After their flying start at Llantrisant Folk Club, Eileen and David were taking in Bodmin Folk Club in Cornwall, Scotland and the Whitby Week Festival on the North Yorkshire Moors. Their last date was the busy Fylde Festival in Fleetwood, Lancashire.


Wizard guitarist Graham faces uncertain future after Christchurch earthquake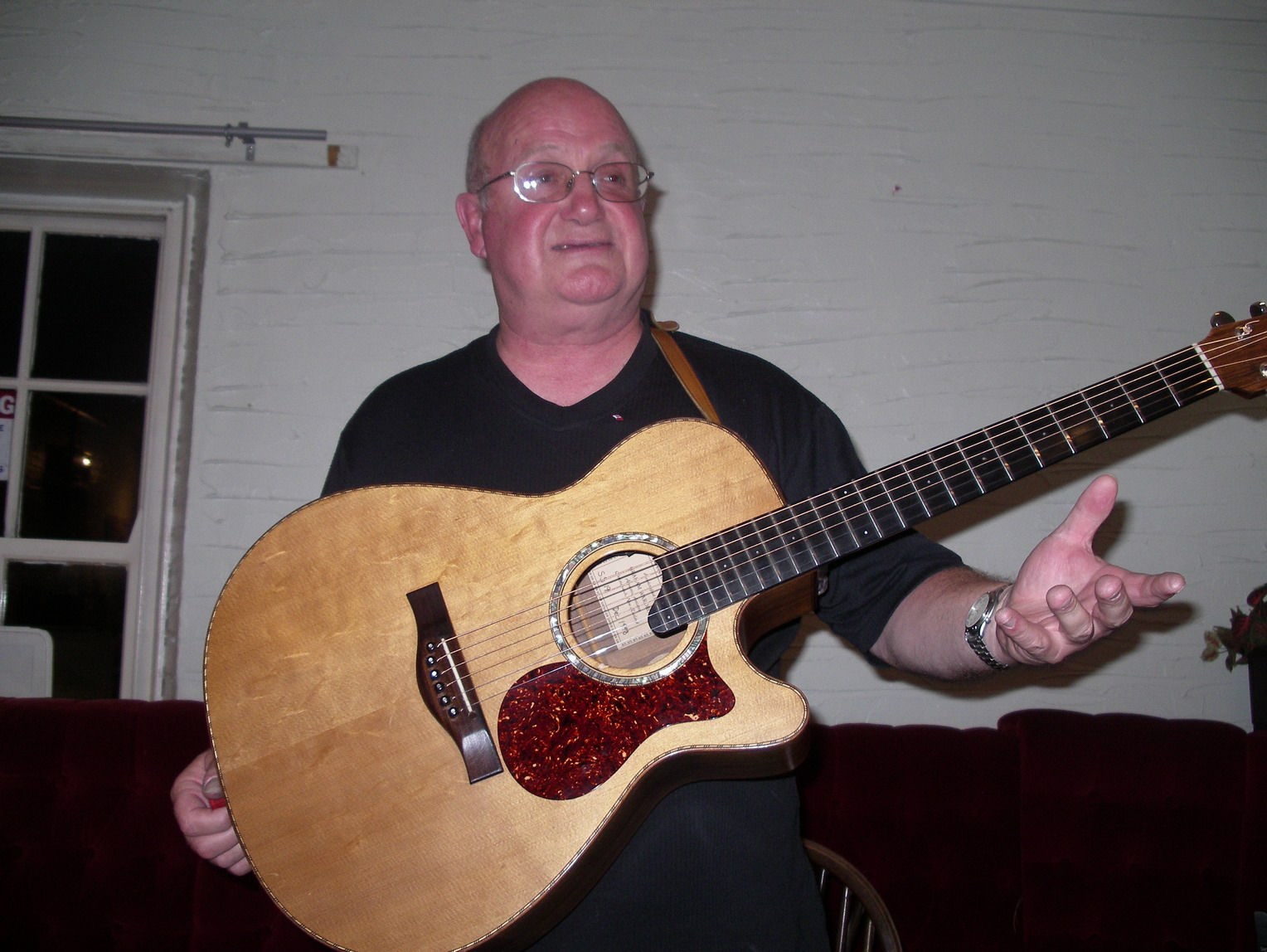 Graham and his guitar: he sold the last guitar for Ł3,500,
but this one is not for sale. Photo: Mick Tems
Graham Wardrop thoroughly deserved his encore when the New Zealand master guitarist and recording studio owner took in Llantrisant Folk Club in his world tour on Wednesday, July 27 – but when he flies back to his home in the city of Christchurch, he doesn't know where he is going to live. Graham joins thousands of Christchurch families whose houses have been condemned, following the disastrous earthquake right under Lyttelton harbour, the city's main lifeline, in February. His home in the seafront suburb of New Brighton sustained heavy damage, but, miraculously, his studio desk, his Martin guitar and the three valuable guitars which he fashioned survived without a scratch. Graham was working in the studio when he was thrown across the floor. The heavy desk threatened to crash down on him – but he was saved by the electric wires, which held it safe.
When the tour is over, Graham faces an uncertain future. "About 18,000 homes have been condemned, and my house is one of them," he said. "Local music venues have all been destroyed. There's no work in the city any more. The city centre is a total mess." You Tube viewers can see Graham's wizardry on CTV, Canterbury Television. The building which housed CTV collapsed, killing 100 staff – and among them was Graham's closest friend, CTV owner Murray Wood. Murray played keyboards on the title track of Graham's latest CD, The Speed Of Love. Every time Graham plays the song, it's his personal tribute to a dear colleague and musician. "The station is back on the air, but in a reduced format," he said. "The earthquake has left the city with a legacy of many tremors – There have been about 8,000 since February, some of them severe."
With all the uncertainty facing Graham, who has separated from his wife Fay after 33 years, something just had to click. While he was touring in Canada, he met his new love, a musician – and she was flying into Heathrow Airport to join him.
Among the precious instruments that Graham has carried halfway around the world to The Windsor Hotel at Pontyclun was the guitar which he designed and made. He said: "The last time I sold a guitar, the price was 7,000 New Zealand dollars – that's about Ł3,500. This time, though, this guitar is not for sale – there are too many memories stored up, and I couldn't bear to part with it."


Steamed up! Folk Club celebrate by riding the Dean Forest rails
Tanks for the memory - Llantrisant Folk Club celebrated 25 years of a successful Llantrisant to London walk with a weekend in The Forest Of Dean, culminating in riding the Dean Forest Railway rails behind pannier tank number 9681 (inset right, photo: Mick Tems), a 62-year-old steam engine which saw service in South Wales, including Tondu, Aberbeeg, Barry and Cardiff, before being withdrawn from the working list and sent to Woodham Brothers' Barry scrapyard in 1965. The 0-6-0 tank engine languished in Barry for ten years before being rescued by the Dean Forest preservation society. Nowadays, this gleaming engine works on the Dean Forest Railway where its whistle can be heard across the valley.
Twenty-five years ago, the Folk Club walked from its former base at The New Inn in Llantrisant to a Folk Against Famine festival, and they raised over Ł2,500 - quite a considerable sum in those days. The idea, and most of the organising, came from Beddau singer-songwriter and life president Jon Heslop, who now lives in Cornwall. One of the walkers was festival musician, Folk Club booker, founder and compere Pat Smith, who organised the celebration weekend. Among the five walkers were Folk Club chairman Mike Greenwood, accountant Pete Law and the late Siwsann George, singer and Sain recording artist.
The Folk Club stayed in the Fountain real ale pub in Parkend, the terminus of the Dean Forest Railway - most of them in the bunkhouse, with the 'posh' couples enjoying bed and breakfast. There was a singaround on the Friday and song session on the Saturday, and Club member Paul Seligman led a seven-mile nature walk which showed the sights and sounds of the Forest.


Smile, please! Sandy and Ewan play a blistering set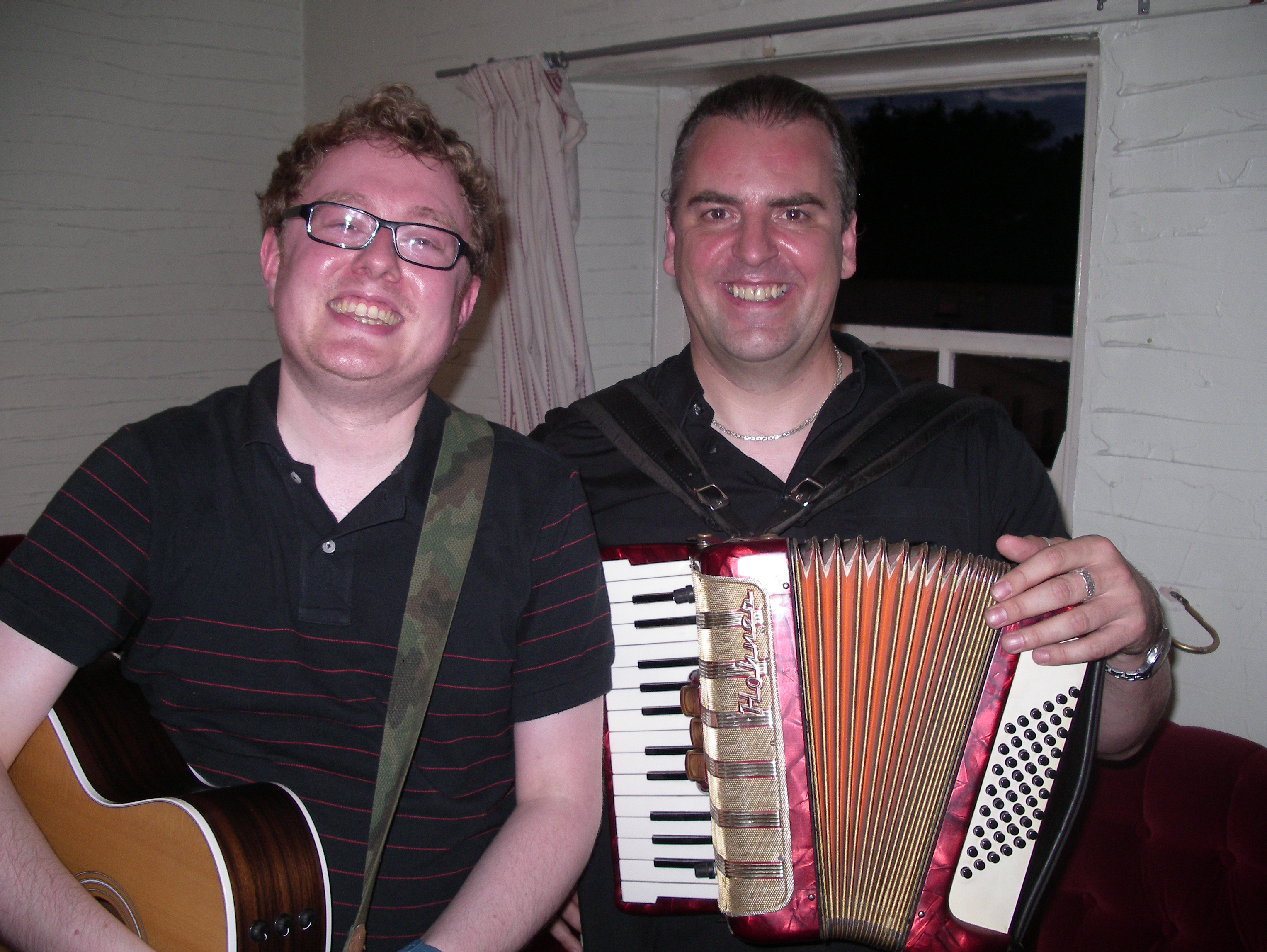 Photo: Mick Tems
Accordion wizard Sandy Brechin and young singer Ewan Wilkinson came, saw and conquered with two stunning sets on July 21 - and the Scottish duo looked pretty pleased with themselves. Sandy lives in Edinburgh, and he's a veteran of the Scottish bands Burach, Seelyhoo, The Sandy Brechin Band plus the incredibly popular ceilidh band The Sensational Jimi Shandrix Experience. Sandy, who owns the CD company Brechin All Records, teaches accordion at festival workshops as well. Ewan has released his debut CD, Lost In The Day, with Sandy among the accompanists.


Llantrisant Folk Club members Andy Jackson and Jillie Hambley are getting married, after Jillie used her Cornish folk festival singer's spot to propose to Andy – and Andy said Yes. Jillie was originally from the Isle Of Wight, and Andy recently sold his Pontyclun house and emigrated to the Island to be with her. They travelled to Bude Folk Festival, and Jillie took full advantage of a singers' session to pop the question to Andy. He said: "We still go back to Pontyclun – the island is a beautiful place, but I do miss the Club."


Paul plays fiddle lament for Malcolm - and the Club raises the roof
Bellowhead and Belshazzar's Feast musician Paul Sartin travelled up from Hampshire to play a Scottish air on his fiddle at the funeral of Llantrisant Folk Club singer and avid rugby spectator Malcolm Davies, which was held at Wenallt Chapel in Thornhill Crematorium. The Civil Celebrant, Claire Mountain, wore a red Cymru rugby shirt as she took the service, and Folk Club members wore coloured dress. Malcolm's three sons and his widow, Chris, invited everyone to The Church House Inn, Bedwas, where the Folk Club and Paul raised glasses to Malcolm and joined in with a mighty session for instruments and voices. Malcolm worked in the catering trade – including being the chef on BBC Wales' outside locations - and lived in Caerphilly.


John calls a do-it-yourself 60th Birthday bash
Club member and national ceilidh caller John Witcher wanted his 60th birthday party to be something special – so he and his partner Therese Evans booked Neuadd Dowlais community centre in Crown Hill, Llantwit Fardre, hired Newport friends and musicians The Dai Bach Band and threw a party-cum-ceilidh, with John compering and calling the dances. John and Therese invited friends, family and all the Folk Club, and plied them with free real ale and a slap-up buffet.


REVIEW: Chris picks a prize set

You've got to admire and respect Chris Moreton – this easy-going musician with the winning, likeable grin only has a sketchy plan, a vague idea, of what goes down well in his vast repertoire, and almost invariably asks the audience what they would like. It's his sheer guitar and banjo-picking mastery that saved a slightly shambolic set and brought it triumphantly to a glorious close, with the delighted crowd whooping with joy and shouting for an encore.
Chris, a much-travelled musician who lives in the Gwent town of Usk and loves bluegrass, made his gig at Llantrisant Folk Club a local celebration, with friends and band members turning out expectantly to see the great man. Chris expertly played that well-known Appalachian traditional tune, Angeline The Baker (or is it Angelina Baker? Chris tends to favour the first one) and it was the turn of fellow Roots And Galoots band member Roland Emmanuel, who fitted in with Chris like a satisfying glove.
Chris introduced double-bass player and partner Wendy Morgan, and with Roland supporting on vocals, mandolin and guitar (note: their rendition of Bob Dylan's classic I'll Keep It With Mine is a sure-fire heartstopping winner), the makeshift band just took off and went for gold.


Mari Winner

A worldwide website has picked the Llantrisant Mari Lwyd as one of the world's strangest Christmas and New Year pastimes – and photographer Paul Seligman, a Llantrisant Folk Club member, has negotiated at least Ł40 charity cash for Holme Towers cancer hospice. Paul snapped a mobile phone picture of the Llantrisant Mari and the Carmarthen Mari entering The New Inn in Swan Street, Llantrisant. The American website company Travel And Leisure picked Paul's picture, choosing it as equal to Father Christmas's devil partner Krampus (from Austria), Ganna, a highly dangerous Christmas hockey sticks and ball game with no known boundaries (Ethiopia) or Danes jumping off chairs to wish everybody a happy new year. Paul said: "As they are a commercial concern, I negotiated a fee of 75 dollars to be given to Holme Towers cancer hospice to help make up for the cancelled pre-Christmas tour."


REVIEW: Sara and Kieron hit it off in perfect harmony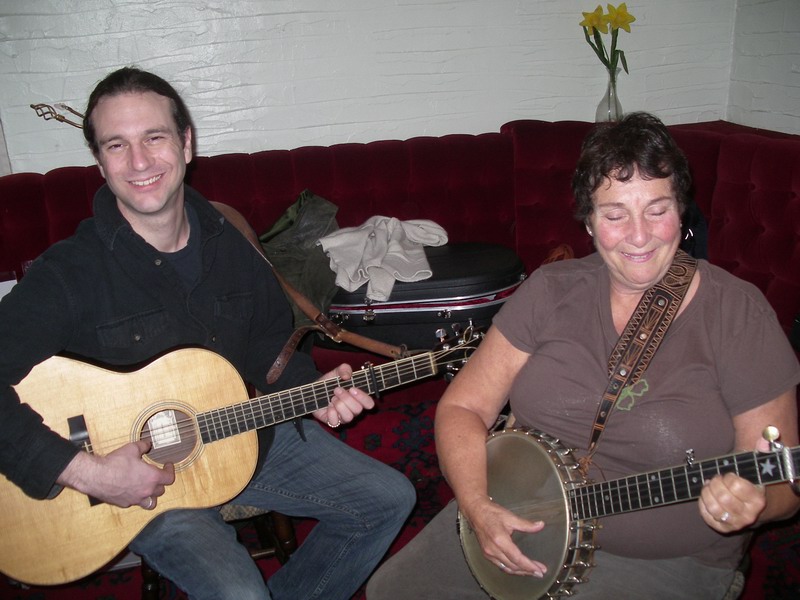 Sara Grey and her son Kieron Means have this delightful habit of turning a Llantrisant Folk Club set into an informal kitchen session of traditional Americana, and the audience just loved it. Sara, who celebrated her 70th birthday last year, was born in New England but spent her whole life living in many American states, and she has collected an entire range of music which reflects the American way of life. Some songs were composed by new and old writers – especially Sara and Kieron's personal favourite, Utah Phillips' classic Goodnight-Loving Trail, which paints a vivid picture of a harsh cowboy existence.
Sara's frailing banjo and her plaintive voice just get better and better. Kieron is the solid rock, his masterful musicianship
always understated and unhurried, his voice sure and steady. Sara says of her son: "Nothing gives me greater pleasure than to make music with him. He is truly the most sensitive and exciting musician I have ever worked with – he has pushed me far beyond where I ever thought I could go." Sara's lovely vibrato worked magic on Leavin' Cheyenne, Cherry River Line, Resurrection Day (learned from the writer, singer and great banjo player Joe Newberry), and a cracking gospel chorus from the Carolina Outer Banks: Sheep, Sheep, Don't You Know The Road. Veteran singer and Cardiff writer Roy Harris was there to watch Sara, and he was in fine voice, too. (MT - photo: Mick Tems)


REVIEW: Jonny and Vicki make it a Swedish Serenade
Jonny Dyer and Vicki Swan served up an entrancing set of stunning Swedish music, amazing jigs and reels and strong, memorable folksongs and ballads on Wednesday, November 3, and Club-goers gave them an uproarious encore – they richly deserved it.
Jonny and Vicki -

and the nyckelharpa

Photo:

Mick Tems
Vicki was spectacular on her wooden flute and the Scottish smallpipes, but pride of place went to her fascinating Swedish nyckelharpa, which translates as "keyed instrument". Vicki was strongly influenced by her Swedish mother, and Swedes have played the nyckelharpa for 600 years. She was inventive and ambitious in blending the nyckelharpa with British songs, but the instrument really came into its own when Vicki played a breathtakingly beautiful Swedish minor waltz which segued into a delicate Scandinavian song. Jonny was the perfect accompanist, his dancing guitar and mastery on the accordion complementing Vicki's sheer musicianship.
One of the many appealing factors about Jonny and Vicki is that the duo fashion an old song and mould it into a sleek and beautiful work of art - for instance, the old chestnut Billy Boy suddenly became polished and sparkling when touched with their quiet, confident magic. Full marks to them! (MT)


REVIEW: Bob plays it straight from the heart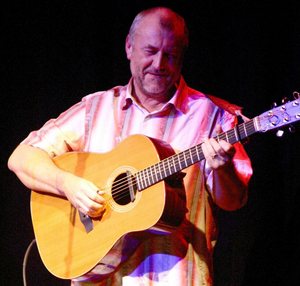 Bob Fox is quite happy with his busy touring life, championing his beloved industrial North-East through a bevy of sharp, strong songs – and Llantrisant Folk Club really showed their appreciation by giving him an uproarious encore when he played a stunning concert at the Windsor Hotel, Pontyclun, on Wednesday.
Bob was born in Seaham Harbour, County Durham, straight into a solid working-class culture of mines and sea-coal. He was the first in his family to break the tradition of a mining life and not go down the pit. He paints a vivid and compelling picture of what life was like before the momentous year of 1984, when Margaret Thatcher took on the nation's miners and shut down the coal industry, and the surreal and bleak landscape that emerged when the miners knew their cause was lost – as actor Jimmy Nail conveyed in his song about the Tyne, Big River, which Bob has recorded on CD.
Bob makes sure that the area's industrial past is not forgotten, but he celebrates hopes and ambitions of the future, too. His no-nonsense voice compliments the songs in his well-structured programme, and the Club audience gets tantalisingly hooked on by his obvious love for the history and the people. Bob is a fabulous and efficient musician on the acoustic guitar, but he prefers to let his songs do the talking – the guitar is just the icing on the cake, and he never puts a finger wrong.
Bob's set kicked off with the rumbustious North-Eastern tale of the sailor Jack Crawford, who made his name fighting the Dutch. Ever since Jack's day, the Union Flag has been called the Union Jack whenever a ship flies it. Bob paid a compliment to prolific songwriter and ballad singer Ewan McColl and BBC producer Charles Parker when he sang The Song Of The Iron Road, one of the series of famous Radio Ballads which the two had recorded – a
50-year-old masterpiece amazingly brought to life with Bob showing its true worth. Bob has the magician's knack of shaping and polishing a gamut of songs and making them his own; for instance, the Newcastle "dandling" lullaby Dance To Yer Daddy was beautifully transformed, and the well-known Andy M. Stewart feelgood jig-song The Ramblin' Rover (about the dangers of drinking too much, an affliction known to too many Celtic musicians) was just superb, with the audience eating out of Bob's hand as they belted out the chorus. Verdict? Stupendous. (MT)


The Listings - the comprehensive all-Wales folk events diary - are back! The Listings are really essential if you're stuck for a night out or you want to see your favourite artist. All you need to do is just click on Listings on the left of the screen; you can view concerts, clubs, twmpathau, ceilidhs, barn dances and all sorts of happenings - including sessions, dance organisations and workshops. Folk events across the borders in England are being added, too.


REVIEW: Trio triumph as Club celebrates 30th birthday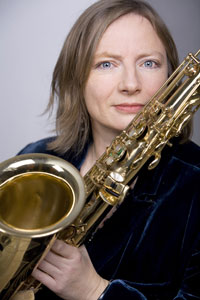 Jo Freya presented Llantrisant Folk Club with a marvellous 30th birthday present when she played at the The Windsor Hotel on Wednesday, 15 September. The singer, musician and composer gave her all, and the delighted audience showed their appreciation by roaring for an encore.
Jo (pictured left here) was promoting her new album, Female Smuggler, but she paid tribute to another songwriter who died of cancer at an early age – Lal Waterson, younger sister of the famous Waterson family. Lal wrote strange, beautiful songs until her death 10 years ago, and her timeless, unique work – with its intelligent, biting humour - lives on.
Jo, who was a session musician for two of Lal's albums, formed The Lal Waterson Project, which has recorded a CD which is a tribute to Lal. Jo's two accompanying musicians in her trio, brass player Jude Abbott and guitarist Neil Ferguson from the band Chumbawamba, supplied her with tight, startling harmonies and brilliant arrangements, Jude's trumpet and flugelhorn trading places and endlessly swapping riffs with Jo's clarinet and deep saxophone.
Not a song or a tune was wasted by the trio. Jo's sweet voice sang a gamut of songs, composed by herself or by Lal – the deliciously complicated title track of the CD, the bitter-sweet Roses, where Neil took the part of the lone pianist to perfection, Long Vacation, Wilson's Arms, Oh America - song after song just trotted out, but the hypnotic Breton andro Boit Portu, just about topped the lot. The trio ended with Lal's breathtaking Migrating Bird, a heart-stopping lullaby which had Lal's lovable stamp on it.
Of course, none of this would have been possible had it not have been for the Night Out scheme, the Arts Council Wales grants project aimed at getting music events in village halls, local pubs and community centres. The Club applied for the birthday grant, and ACW came up with the money. The Night Out scheme was the idea of now-retired Folk Club member John Prior, who worked for ACW and was awarded the MBE for his services to the arts. (MT)


Paul composes a birthday Ode To Joy

Paul Frowen, the Folk Club's vice-chairman, came up with a novel way for anyone who can't stand the simple words of Happy Birthday being sung again and again - he's composed a five-verse celebratory song, with chorus, and it all goes to the tune of Beethoven's triumphant Ode To Joy.

Paul, who used to be a trumpeter with the Welsh band Bando and does floor spots in Welsh and in English, tried the song out with the Folk Club – who voted it a hit. Here are the stirring verses and the wonderful chorus:
Happy Birthday, Penblwydd Hapus;

Llantrisant Folk Club is the best;

1,500 happy Wednesdays

Prove we've conquered time's tough test.

CHORUS:

Happy birthday to our Folk Club,

Thirty years all swiftly passed;

We are not the club that folk snub -

we're the club that's built to last.

Llantrisant's New Inn was our first home,

At Lionel's pub we gladly stayed;

Pints of Flowers with heads of foam on

Kept us happy while we played.

(CHORUS)

We've been nomadic, but survivors,

To many pubs we've had to roam;

Cross Keys, The Bear, The Bute, The Ivor,

But now The Windsor is our home.

(CHORUS)

We've some sad times but mostly glad times,

We've lost good friends but found many new;

Those who've gone we'll remember oftimes,

Tonight to them we'll sup a few.

(CHORUS)

Our raffle's brilliant, it is quite batty,

Its prizes renowned the whole world o'er;

To founder members, Mick and Pattie:

Many thanks, but we want more!

(CHORUS)

On Top Of The World! Club marks 30th birthday by Snowdon assault
Happy 30th birthday to us! Llantrisant Folk Club celebrated its 30th anniversary by ascending Snowdon (in Welsh, Yr Wyddfa, the highest mountain in Wales and England) on the Snowdon Mountain Railway train and then walking down from the summit. Twelve intrepid walkers started down the Snowdon Ranger track to the Snowdon Ranger station on the Welsh Highland Railway, and many more caught the train down on the mountain railway. It was a perfect summer's day, and you could see for miles. From Snowdon summit, six kingdoms could be seen; Wales, Ireland, Scotland, England, Mann and the Kingdom of Heaven.
The Club stayed at The Bunkhouse in The Glan Aber Hotel in Betws-y-Coed, about a half-hour's drive to Llanberis station on the Snowdon Mountain Railway, and ran a folk club-cum-session on the Friday and Saturday nights. Neil and Meg Browning and their daughter Kate, from North Wales family band Never Mind The Bocs, dropped in and played some beautiful Welsh songs and tunes - and NMTB had been hastily booked for a Wednesday, following Keith Kendrick's illness.
And... a very special Diolch yn Fawr to treasurer, compere and organiser Pattie Smith for booking the hotel and trains, being so efficient and making the Club's birthday go with a resounding bang.
Our trip to Snowdon in pictures

Page last updated 26 September 2015
Copyright © 1999 Mari Arts