Updates from Folkwales
Bookmark this page and look in from time to time. We'll put all the latest news and views here first - even before it hits the press.
REVIEW: Ben sings a simple song, and the crowd loved 'your man'
October 8, 2014: Ben Sands, like his brothers Tommy and Colum, was a member of the famous catholic musical clan and one of the most influential folk groups from the North of Ireland, The Sands Family.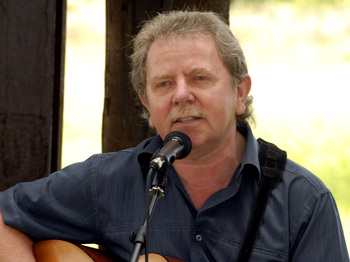 His father and mother were Mick, a fiddler known as The Chief, and Bridie, who played the accordion. All of Ben's six uncles were fiddlers, and Mick and Bridie's farm in the townland of Ryan, in the foothills of the Mourne Mountains in County Down, was a 'ceili house', where catholics and protestants could gather and enjoy Irish music.
Like Tommy and Colum, Ben is a writer of songs; he explores the wistfulness and nostalgia of days gone by, the precious, lost hours which could so easily slip through Ireland's fingers. But unlike Tommy ('There Were Roses') and Colum ('Whatever You Say, Say Nothing'), who wrote such magnificent and witty songs, Ben glosses over the recent Troubles; he presents an easy, calm aura, his quiet, deep-brown voice complementing his gentle work and the simple playing of his guitar. But Ben's writing is deceptively carefree, and he dresses each song with some well-chosen lyrics. Above all, his soft banter, coated with witty barbs, are the icing on the cake. Club members and guests didn't need any encouragement when he finished his set, clapping and shouting for an encore. Ben really made the night.
- Mick Tems
Quicksilver shines on - and Hilary gets her life membership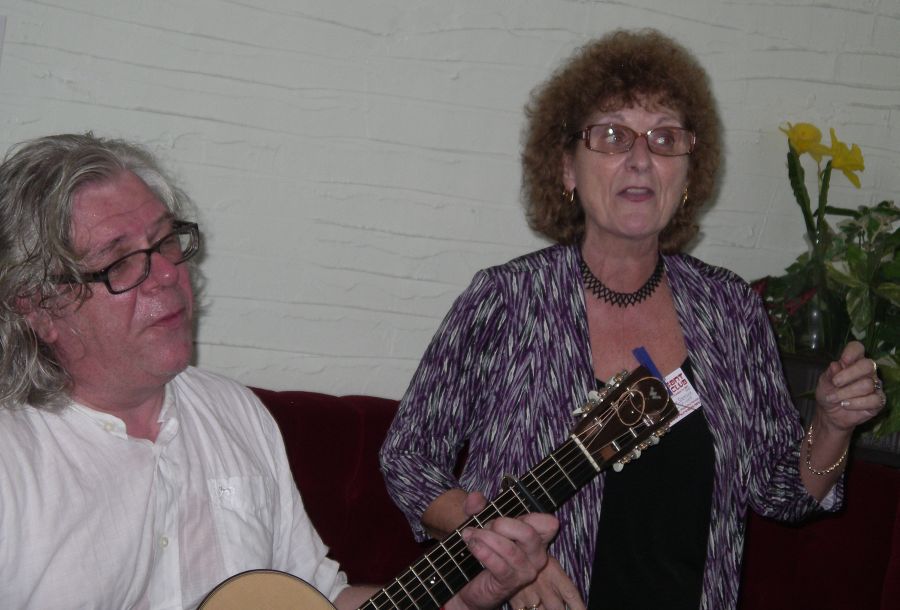 Photo: Mick Tems
A last-minute hurried rehearsal between TV writer-star and guitar virtuoso Grant Bayhnam and classically-trained vocalist Hilary Spencer blossomed into a magical duo called Quicksilver – and Llantrisant Folk Club welcomed the two when they made ease of the musical acrobatics in an Arts Council of Wales Night Out Scheme at the Windsor Hotel, Pontyclun.
The birth of Quicksilver came about because Hilary, who was The Voice leading the successful a cappella trio Artisan, was hosting a reception to launch her solo CD, After Image. Hilary's friend and guitarist, George Norris, had to drop out at the last minute, and Hilary started a desperate search for an accompanist.
Hilary said: "Grant was playing with jazz singer Marilyn Middleton Pollock in a duo called It's The Girl, and right out of the blue she offered him. We couldn't meet for a rehearsal because of pressure of work. I supplied Grant with recordings of the CD songs - in fact, the first time we met was for a rehearsal in the car park with the After Image party just happening."
The launch went very well, and suddenly Sheffield-based Hilary and Grant, who comes from the Midlands, realised they had that certain something. "We said: We could do that," said Hilary.
Ever since, they have been wowing critics, touring Britain and America and recording three CDs, including Make 'Em Laugh - a compendium of 100 years of comic writers, including Joyce Grenfell, Victoria Wood, Noel Coward, Tom Lehrer and the late, great Jake Thackray.
Hilary said: "We always enjoy playing at Llantrisant Folk Club – it's got such a marvellous and friendly atmosphere." In fact Hilary has beaten the Club's record, appearing solo and as a member of all her musical combinations on no less than 14 occasions. The Club awarded her life membership, and she took the stage proudly wearing her members' card.
Grant fondly remembers those heady four years when he appeared on Esther Rantzen's hit show That's Life – and he has to thank BBC comic writer and pianist Richard Stilgoe for recommending him. "Ex-Lifer" Grant explains: "I had been writing songs and appearing on the Radio 4 programme Start The Week. Jake Thackray was That's Life's writer and guitarist, and the BBC wanted to replace him. Richard pointed out me.
"I went for an audition with hundreds of others. Eventually they whittled it down to 14, then to two – and they picked me."


Sultan of Squeeze JK plays a blinder - and Llantrisant Folk Club roars its appreciation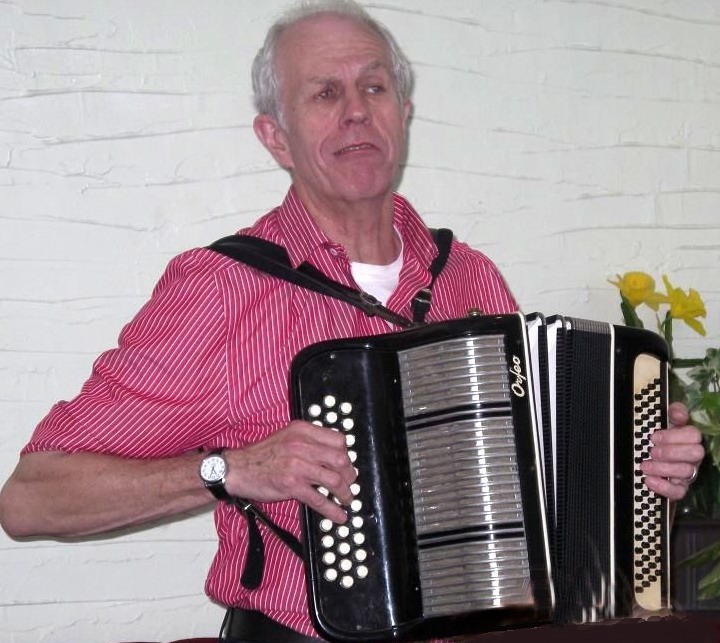 Photo: Mick Tems
Mighty squeezebox player John Kirkpatrick has toured with a plethora of high-profile outfits, including Steeleye Span, the Richard Thompson Band, Trans-Europe Diatonique, The Albion Band, Brass Monkey and family ceilidh combo Mr Gubbins' Bicycle – and Llantrisant Folk Club loved every minute of his impressive set on Wednesday, September 21.
Born in West London and relocated in the Welsh marches in south-west Shropshire, John has come a long way in the album stakes since making an appearance on the 1969 Festival At Towersey compilation and his first impressive solo Jump At The Sun 1972 offering. So far, he has recorded on over 200 albums, solo, as a band member or a session musician – but, as he admits: "I've never counted them."
The Club has seen him on a few occasions, including John as one-third of Trans-Europe Diatonique, when he played with the incredible Riccardo Tesi from Italy and France's Marc Perrone, and as an acoustic duo with master songwriter and guitarist Richard Thompson. This time, solo John amazed everybody with his magical agility on the anglo-concertina, the one-row melodeon and the button accordion, blending in his highly original songs with some proud folksongs which have withstood the test of time. After many jaw-dropping aerobatics on the button accordion, someone was heard to whisper admiringly: "Wow - button accordions just don't get played like that!" After John's closing set, the Club erupted with deafening roars, whoops and shouts of appreciation - encores don't get called like that!
Jon was in The National Theatre productions of Lark Rise and Candleford, and since 1980 has been contributing music and choreography to many of the productions at the New Victoria Theatre in North Staffordshire, as well as occasional work with The Orchard Theatre Company in Devon and The Crucible Theatre in Sheffield. He's an expert at dancing, and he formed the Border Morris team The Shropshire Bedlams, one of the most revolutionary teams of its day, which spawned a host of other groups.
He said: "In earlier days I knew quite a few Welsh folk dance tunes, as the dances to go with them were done now and again on the dance circuit where I cut my teeth. I love it, but to me it has nothing in common with the English stuff that I do. It's all to do with the style of dancing – that's what gives any kind of music its distinctive voice, and the galumphing and lolloping that I find so attractive in English dancing doesn't seem to exist in other cultures."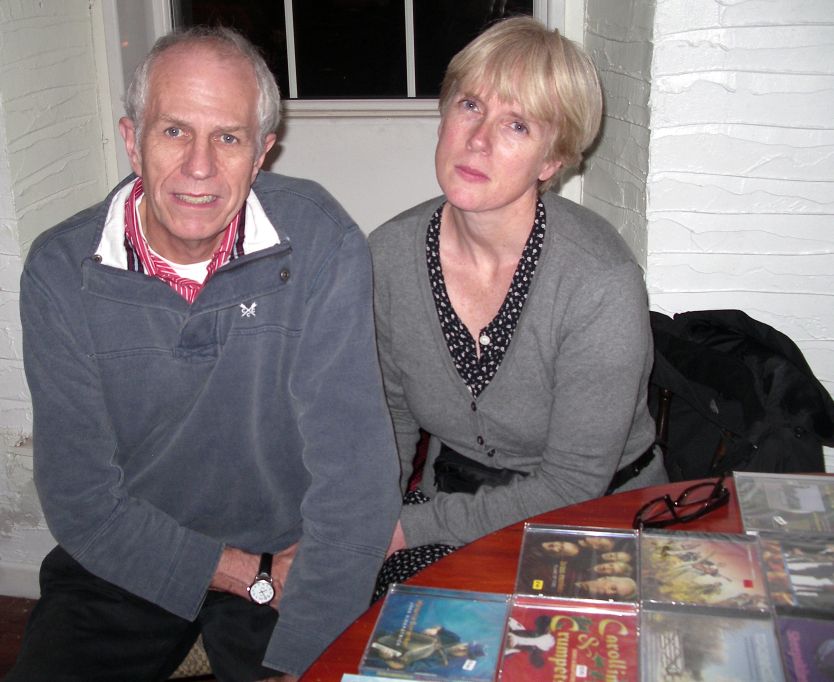 John and Sally with the CD shop
Photo: Mick Tems
These days, John plays in Mr Gubbins' Bicycle with wife Sally and two of his sons, including Benji – musician with sensational sell-out folk band Bellowhead. Sally was with John on his short journey to the Club, and kept her sparkling eye on all the goodies in the CD stall.


Steve's spine-shivering August Riots prophecy stuns Club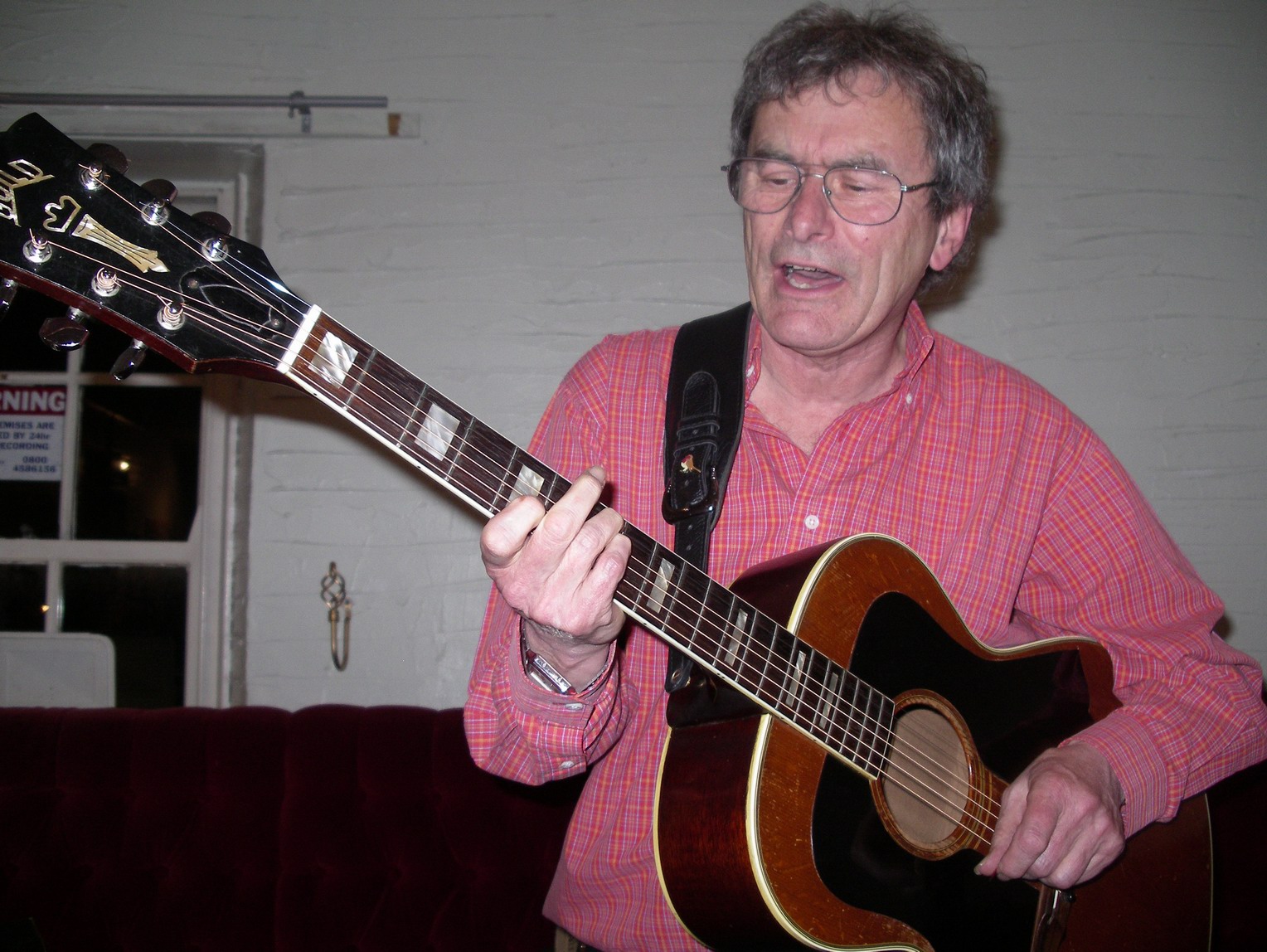 Photo: Mick Tems

The horror of the English August riots was accurately predicted by stunning songwriter and folk icon Steve Ashley, who guested at the Club in the Windsor Hotel on Wednesday. Steve, who performed as lead singer with The Albion Country Band and his own Ragged Robin, said: "A year ago, I was listening to Radio Four, to Any Questions, and a Tory was saying about all the cuts his party would make. He kept on saying: 'There will be pain.' So I wrote a song."

Steve put his Guild guitar down and, with his solo voice, sang There Will Be Pain – an uncanny insight into the future of swingeing cuts, huge unemployment and a depleted police force trying but failing to keep order. In his song, the rioters set fire to businesses and buildings, in an exact forecast of those terrible nights in the London suburbs of Tottenham, Croydon and Ealing, with public disorder spreading throughout the English cities of Leeds, Liverpool and Birmingham. The audience listened with a silence that could be cut with a knife.

Steve, who was born in London and settled in Cheltenham, Gloucestershire, is a supporter of the anti-nuclear campaign CND and Folk Against Fascism, a widespread movement which successfully counteracted the BNP's hijacking of folk culture. He recorded a series of songs for the UK Peace Movement called Demo Tapes. The instigator of two landmark albums, Stroll On and Speedy Return, who was arrested in a non-violent protest at Upper Heyford USAF base in Oxfordshire, sang his anti-Trident nuclear submarine fleet song, Ships Of Shame, to the Club.

Now Steve is a recording artist for the prestigious company Topic, which released his latest CD, Time And Tide, a remarkable collection of songs which has been uniformly hailed by the media everywhere. The well-known national folk magazine fRoots said: "If British singer-songwriterdom is to enjoy a renaissance, then it is right and proper that Steve Ashley should be at the forefront."


Silver-voiced Eileen: Llantrisant is like coming home to me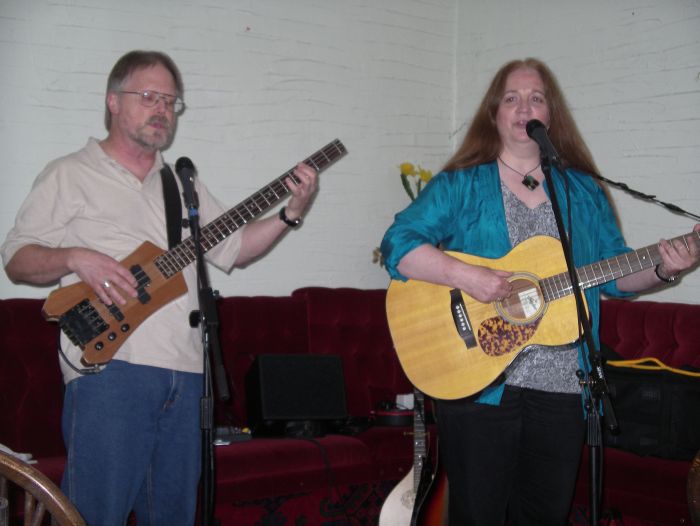 Photo: Mick Tems

Irish-Canadian Eileen McGann left Vancouver Island in British Columbia to play her first date at Llantrisant Folk Club on a two-week British tour – but she still calls South Wales her home. Her parents were of Irish stock – her father was a Dubliner, but her mother, who came from Cork, lived in Merthyr Tydfil. "Coming to Llantrisant is like coming home for me," she said. "I last played at the Club eight years ago, and I have such happy memories."

Eileen, who many critics have described as "one of folk music's most breathtaking voices" and "a gifted lyric poet and musical composer", has a new album out, after 10 years in the CD wilderness, called A Pocketful Of Rhymes.

Eileen's parents emigrated to Canada, and she was born in Toronto. "There were lots of Irish in my area, many of them storytellers and very fine singers," she said. "I guess it rubbed off in my songwriting." Eileen was touring with her partner, musician David K. She said: "We live on an island, with a mountain range – tour planning is always governed by the ferry times. We are an island climate, and we don't have such harsh winters like Canada does. A Canadian winter can send temperatures plunging to 40 degrees below, but on the island we have what I like to describe as a Welsh winter."

After their flying start at Llantrisant Folk Club, Eileen and David were taking in Bodmin Folk Club in Cornwall, Scotland and the Whitby Week Festival on the North Yorkshire Moors. Their last date was the busy Fylde Festival in Fleetwood, Lancashire.


Wizard guitarist Graham faces uncertain future after Christchurch earthquake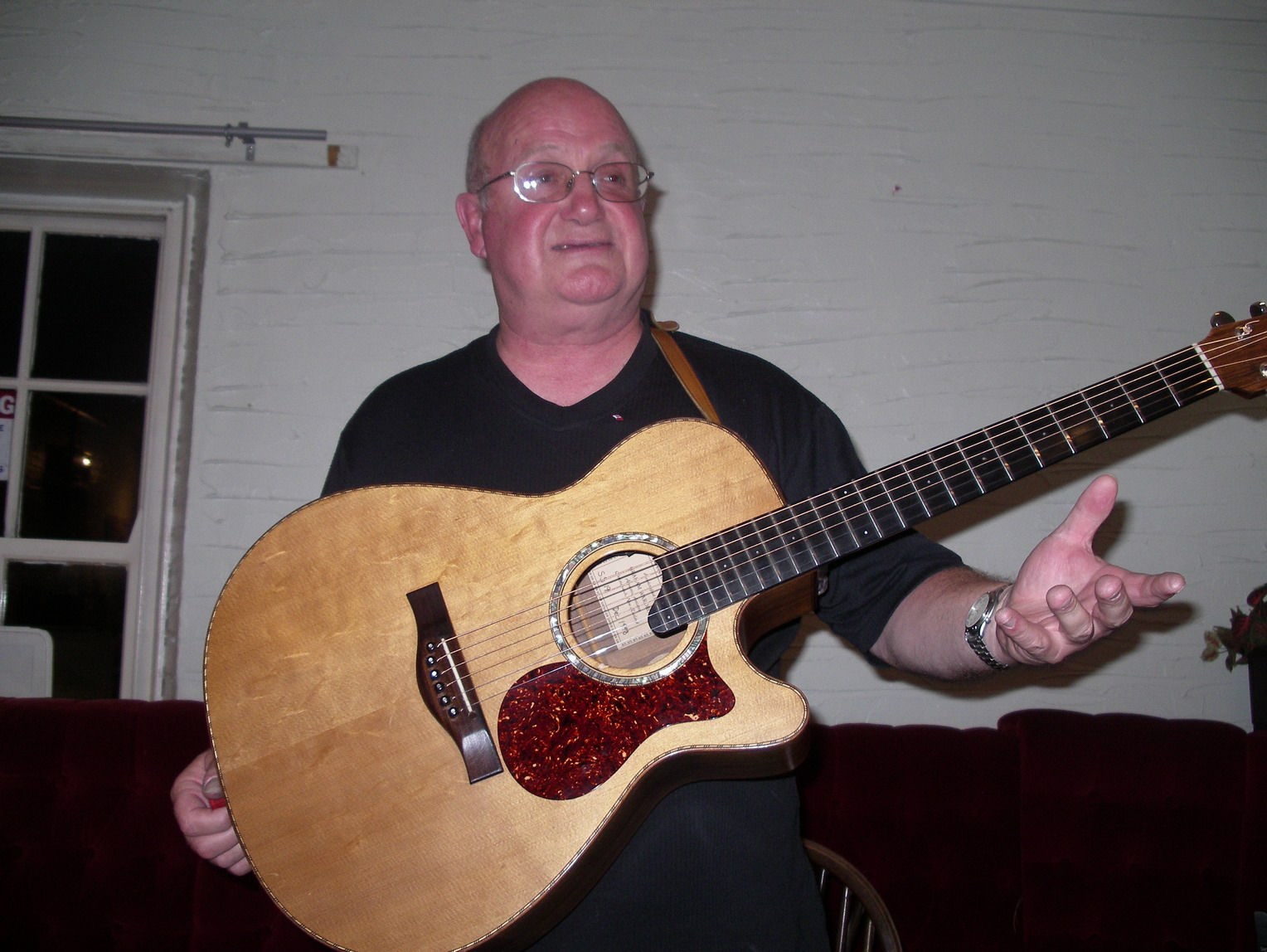 Graham and his guitar: he sold the last guitar for £3,500,

but this one is not for sale. Photo: Mick Tems

Graham Wardrop thoroughly deserved his encore when the New Zealand master guitarist and recording studio owner took in Llantrisant Folk Club in his world tour on Wednesday, July 27 – but when he flies back to his home in the city of Christchurch, he doesn't know where he is going to live. Graham joins thousands of Christchurch families whose houses have been condemned, following the disastrous earthquake right under Lyttelton harbour, the city's main lifeline, in February. His home in the seafront suburb of New Brighton sustained heavy damage, but, miraculously, his studio desk, his Martin guitar and the three valuable guitars which he fashioned survived without a scratch. Graham was working in the studio when he was thrown across the floor. The heavy desk threatened to crash down on him – but he was saved by the electric wires, which held it safe.

When the tour is over, Graham faces an uncertain future. "About 18,000 homes have been condemned, and my house is one of them," he said. "Local music venues have all been destroyed. There's no work in the city any more. The city centre is a total mess." You Tube viewers can see Graham's wizardry on CTV, Canterbury Television. The building which housed CTV collapsed, killing 100 staff – and among them was Graham's closest friend, CTV owner Murray Wood. Murray played keyboards on the title track of Graham's latest CD, The Speed Of Love. Every time Graham plays the song, it's his personal tribute to a dear colleague and musician. "The station is back on the air, but in a reduced format," he said. "The earthquake has left the city with a legacy of many tremors – There have been about 8,000 since February, some of them severe."

With all the uncertainty facing Graham, who has separated from his wife Fay after 33 years, something just had to click. While he was touring in Canada, he met his new love, a musician – and she was flying into Heathrow Airport to join him.

Among the precious instruments that Graham has carried halfway around the world to The Windsor Hotel at Pontyclun was the guitar which he designed and made. He said: "The last time I sold a guitar, the price was 7,000 New Zealand dollars – that's about £3,500. This time, though, this guitar is not for sale – there are too many memories stored up, and I couldn't bear to part with it."


Steamed up! Llantrisant Folk Club celebrate by riding the Dean Forest rails
Tanks for the memory - Llantrisant Folk Club celebrated 25 years of a successful Llantrisant to London walk with a weekend in The Forest Of Dean, culminating in riding the Dean Forest Railway rails behind pannier tank number 9681 (inset right, photo: Mick Tems), a 62-year-old steam engine which saw service in South Wales, including Tondu, Aberbeeg, Barry and Cardiff, before being withdrawn from the working list and sent to Woodham Brothers' Barry scrapyard in 1965. The 0-6-0 tank engine languished in Barry for ten years before being rescued by the Dean Forest preservation society. Nowadays, this gleaming engine works on the Dean Forest Railway where its whistle can be heard across the valley.
Twenty-five years ago, the Folk Club walked from its former base at The New Inn in Llantrisant to a Folk Against Famine festival, and they raised over £2,500 - quite a considerable sum in those days. The idea, and most of the organising, came from Beddau singer-songwriter and life president Jon Heslop, who now lives in Cornwall. One of the walkers was festival musician, Folk Club booker, founder and compere Pat Smith, who organised the celebration weekend. Among the five walkers were Folk Club chairman Mike Greenwood, accountant Pete Law and the late Siwsann George, singer and Sain recording artist.
The Folk Club stayed in the Fountain real ale pub in Parkend, the terminus of the Dean Forest Railway - most of them in the bunkhouse, with the 'posh' couples enjoying bed and breakfast. There was a singaround on the Friday and song session on the Saturday, and Club member Paul Seligman led a seven-mile nature walk which showed the sights and sounds of the Forest.


Smile, please! Sandy and Ewan play a blistering set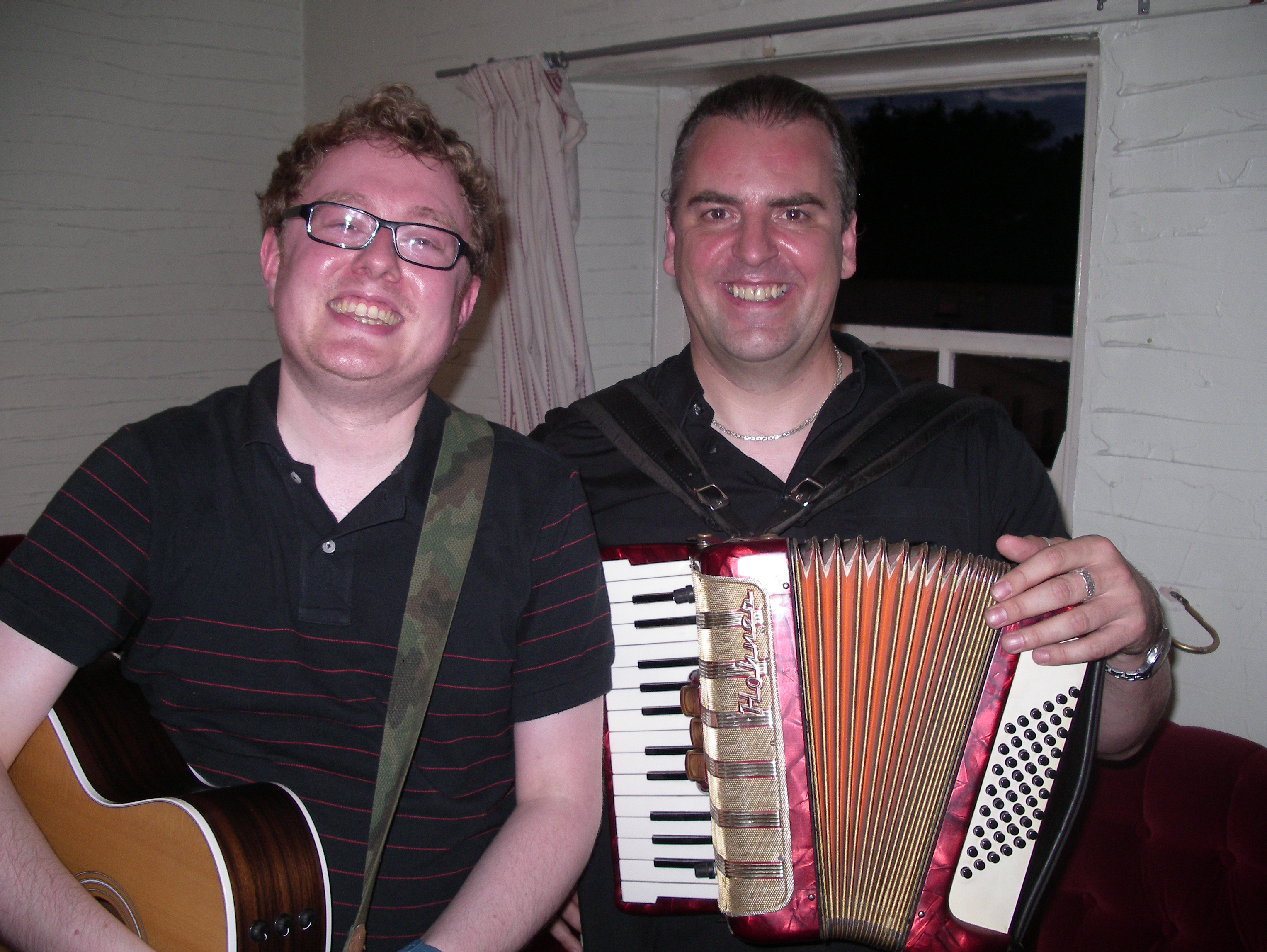 Photo: Mick Tems
Accordion wizard Sandy Brechin and young singer Ewan Wilkinson came, saw and conquered with two stunning sets on July 21 - and the Scottish duo looked pretty pleased with themselves. Sandy lives in Edinburgh, and he's a veteran of the Scottish bands Burach, Seelyhoo, The Sandy Brechin Band plus the incredibly popular ceilidh band The Sensational Jimi Shandrix Experience. Sandy, who owns the CD company Brechin All Records, teaches accordion at festival workshops as well. Ewan has released his debut CD, Lost In The Day, with Sandy among the accompanists.


Andy says Yes after Jillie proposes
Llantrisant Folk Club members Andy Jackson and Jillie Hambley are getting married, after Jillie used her Cornish folk festival singer's spot to propose to Andy – and Andy said Yes. Jillie was originally from the Isle Of Wight, and Andy recently sold his Pontyclun house and emigrated to the Island to be with her. They travelled to Bude Folk Festival, and Jillie took full advantage of a singers' session to pop the question to Andy. He said: "We still go back to Pontyclun – the island is a beautiful place, but I do miss the Club."


Paul plays fiddle lament for Malcolm - and the Club raises the roof
Bellowhead and Belshazzar's Feast musician Paul Sartin travelled up from Hampshire to play a Scottish air on his fiddle at the funeral of Llantrisant Folk Club singer and avid rugby spectator Malcolm Davies, which was held at Wenallt Chapel in Thornhill Crematorium. The Civil Celebrant, Claire Mountain, wore a red Cymru rugby shirt as she took the service, and Folk Club members wore coloured dress. Malcolm's three sons and his widow, Chris, invited everyone to The Church House Inn, Bedwas, where the Folk Club and Paul raised glasses to Malcolm and joined in with a mighty session for instruments and voices. Malcolm worked in the catering trade – including being the chef on BBC Wales' outside locations - and lived in Caerphilly.


John calls a do-it-yourself 60th Birthday bash
Club member and national ceilidh caller John Witcher wanted his 60th birthday party to be something special – so he and his partner Therese Evans booked Neuadd Dowlais community centre in Crown Hill, Llantwit Fardre, hired Newport friends and musicians The Dai Bach Band and threw a party-cum-ceilidh, with John compering and calling the dances. John and Therese invited friends, family and all the Folk Club, and plied them with free real ale and a slap-up buffet.


REVIEW: Chris picks a prize set

You've got to admire and respect Chris Moreton – this easy-going musician with the winning, likeable grin only has a sketchy plan, a vague idea, of what goes down well in his vast repertoire, and almost invariably asks the audience what they would like. It's his sheer guitar and banjo-picking mastery that saved a slightly shambolic set and brought it triumphantly to a glorious close, with the delighted crowd whooping with joy and shouting for an encore.
Chris, a much-travelled musician who lives in the Gwent town of Usk and loves bluegrass, made his gig at Llantrisant Folk Club a local celebration, with friends and band members turning out expectantly to see the great man. Chris expertly played that well-known Appalachian traditional tune, Angeline The Baker (or is it Angelina Baker? Chris tends to favour the first one) and it was the turn of fellow Roots And Galoots band member Roland Emmanuel, who fitted in with Chris like a satisfying glove.
Chris introduced double-bass player and partner Wendy Morgan, and with Roland supporting on vocals, mandolin and guitar (note: their rendition of Bob Dylan's classic I'll Keep It With Mine is a sure-fire heartstopping winner), the makeshift band just took off and went for gold.


Mari Winner

A worldwide website has picked the Llantrisant Mari Lwyd as one of the world's strangest Christmas and New Year pastimes – and photographer Paul Seligman, a Llantrisant Folk Club member, has negotiated at least £40 charity cash for Holme Towers cancer hospice. Paul snapped a mobile phone picture of the Llantrisant Mari and the Carmarthen Mari entering The New Inn in Swan Street, Llantrisant. The American website company Travel And Leisure picked Paul's picture, choosing it as equal to Father Christmas's devil partner Krampus (from Austria), Ganna, a highly dangerous Christmas hockey sticks and ball game with no known boundaries (Ethiopia) or Danes jumping off chairs to wish everybody a happy new year. Paul said: "As they are a commercial concern, I negotiated a fee of 75 dollars to be given to Holme Towers cancer hospice to help make up for the cancelled pre-Christmas tour."


REVIEW: Sara and Kieron hit it off in perfect harmony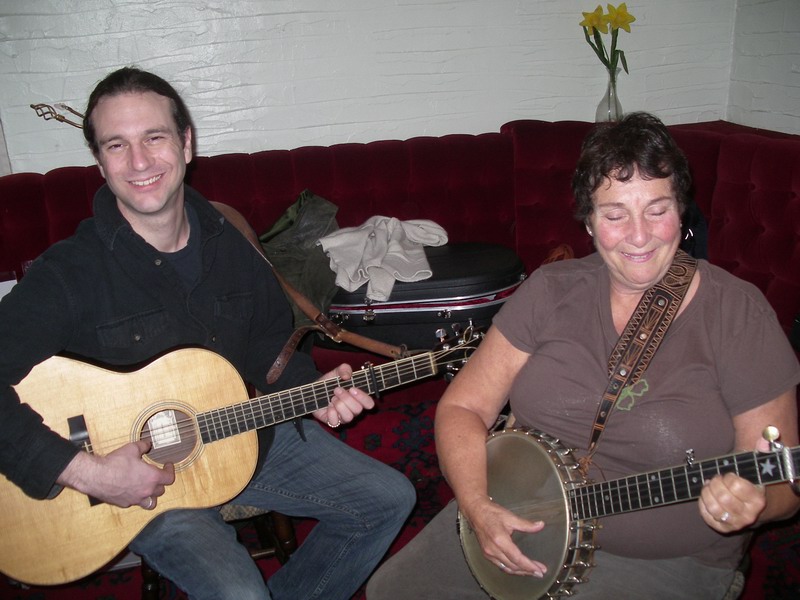 Sara Grey and her son Kieron Means have this delightful habit of turning a Llantrisant Folk Club set into an informal kitchen session of traditional Americana, and the audience just loved it. Sara, who celebrated her 70th birthday last year, was born in New England but spent her whole life living in many American states, and she has collected an entire range of music which reflects the American way of life. Some songs were composed by new and old writers – especially Sara and Kieron's personal favourite, Utah Phillips' classic Goodnight-Loving Trail, which paints a vivid picture of a harsh cowboy existence.
Sara's frailing banjo and her plaintive voice just get better and better. Kieron is the solid rock, his masterful musicianship
always understated and unhurried, his voice sure and steady. Sara says of her son: "Nothing gives me greater pleasure than to make music with him. He is truly the most sensitive and exciting musician I have ever worked with – he has pushed me far beyond where I ever thought I could go." Sara's lovely vibrato worked magic on Leavin' Cheyenne, Cherry River Line, Resurrection Day (learned from the writer, singer and great banjo player Joe Newberry), and a cracking gospel chorus from the Carolina Outer Banks: Sheep, Sheep, Don't You Know The Road. Veteran singer and Cardiff writer Roy Harris was there to watch Sara, and he was in fine voice, too. (MT - photo: Mick Tems)


REVIEW: Jonny and Vicki make it a Swedish Serenade
Jonny Dyer and Vicki Swan served up an entrancing set of stunning Swedish music, amazing jigs and reels and strong, memorable folksongs and ballads on Wednesday, November 3, and Club-goers gave them an uproarious encore – they richly deserved it.
Jonny and Vicki -

and the nyckelharpa

Photo:

Mick Tems
Vicki was spectacular on her wooden flute and the Scottish smallpipes, but pride of place went to her fascinating Swedish nyckelharpa, which translates as "keyed instrument". Vicki was strongly influenced by her Swedish mother, and Swedes have played the nyckelharpa for 600 years. She was inventive and ambitious in blending the nyckelharpa with British songs, but the instrument really came into its own when Vicki played a breathtakingly beautiful Swedish minor waltz which segued into a delicate Scandinavian song. Jonny was the perfect accompanist, his dancing guitar and mastery on the accordion complementing Vicki's sheer musicianship.
One of the many appealing factors about Jonny and Vicki is that the duo fashion an old song and mould it into a sleek and beautiful work of art - for instance, the old chestnut Billy Boy suddenly became polished and sparkling when touched with their quiet, confident magic. Full marks to them! (MT)


REVIEW: Bob plays it straight from the heart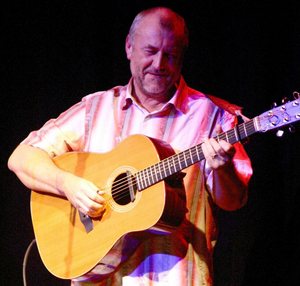 Bob Fox is quite happy with his busy touring life, championing his beloved industrial North-East through a bevy of sharp, strong songs – and Llantrisant Folk Club really showed their appreciation by giving him an uproarious encore when he played a stunning concert at the Windsor Hotel, Pontyclun, on Wednesday.
Bob was born in Seaham Harbour, County Durham, straight into a solid working-class culture of mines and sea-coal. He was the first in his family to break the tradition of a mining life and not go down the pit. He paints a vivid and compelling picture of what life was like before the momentous year of 1984, when Margaret Thatcher took on the nation's miners and shut down the coal industry, and the surreal and bleak landscape that emerged when the miners knew their cause was lost – as actor Jimmy Nail conveyed in his song about the Tyne, Big River, which Bob has recorded on CD.
Bob makes sure that the area's industrial past is not forgotten, but he celebrates hopes and ambitions of the future, too. His no-nonsense voice compliments the songs in his well-structured programme, and the Club audience gets tantalisingly hooked on by his obvious love for the history and the people. Bob is a fabulous and efficient musician on the acoustic guitar, but he prefers to let his songs do the talking – the guitar is just the icing on the cake, and he never puts a finger wrong.
Bob's set kicked off with the rumbustious North-Eastern tale of the sailor Jack Crawford, who made his name fighting the Dutch. Ever since Jack's day, the Union Flag has been called the Union Jack whenever a ship flies it. Bob paid a compliment to prolific songwriter and ballad singer Ewan McColl and BBC producer Charles Parker when he sang The Song Of The Iron Road, one of the series of famous Radio Ballads which the two had recorded – a
50-year-old masterpiece amazingly brought to life with Bob showing its true worth. Bob has the magician's knack of shaping and polishing a gamut of songs and making them his own; for instance, the Newcastle "dandling" lullaby Dance To Yer Daddy was beautifully transformed, and the well-known Andy M. Stewart feelgood jig-song The Ramblin' Rover (about the dangers of drinking too much, an affliction known to too many Celtic musicians) was just superb, with the audience eating out of Bob's hand as they belted out the chorus. Verdict? Stupendous. (MT)


The Listings - the comprehensive all-Wales folk events diary - are back! The Listings are really essential if you're stuck for a night out or you want to see your favourite artist. All you need to do is just click on Listings on the left of the screen; you can view concerts, clubs, twmpathau, ceilidhs, barn dances and all sorts of happenings - including sessions, dance organisations and workshops. Folk events across the borders in England are being added, too.


Llantrisant Folk Club AGM: Here are the committee members
Llantrisant Folk Club held its Annual General Meeting in the Club Room at The Windsor Hotel. Officers and committee members who were elected were Mike Greenwood (chair), Paul Frowen (vice chair), Mick Tems (life president, press and PR secretary), Pat Smith (treasurer and booking secretary), Olly Price (membership secretary), Ned Clamp (publicity), Rob Bradshaw, Sue Bradshaw, Colin Nicholas, Cathy Nicholas and Viv Amos.


REVIEW: Trio triumph as Club celebrates 30th birthday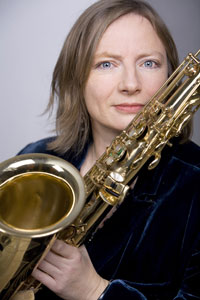 Jo Freya presented Llantrisant Folk Club with a marvellous 30th birthday present when she played at the The Windsor Hotel on Wednesday, 15 September. The singer, musician and composer gave her all, and the delighted audience showed their appreciation by roaring for an encore.
Jo (pictured left here) was promoting her new album, Female Smuggler, but she paid tribute to another songwriter who died of cancer at an early age – Lal Waterson, younger sister of the famous Waterson family. Lal wrote strange, beautiful songs until her death 10 years ago, and her timeless, unique work – with its intelligent, biting humour - lives on.
Jo, who was a session musician for two of Lal's albums, formed The Lal Waterson Project, which has recorded a CD which is a tribute to Lal. Jo's two accompanying musicians in her trio, brass player Jude Abbott and guitarist Neil Ferguson from the band Chumbawamba, supplied her with tight, startling harmonies and brilliant arrangements, Jude's trumpet and flugelhorn trading places and endlessly swapping riffs with Jo's clarinet and deep saxophone.
Not a song or a tune was wasted by the trio. Jo's sweet voice sang a gamut of songs, composed by herself or by Lal – the deliciously complicated title track of the CD, the bitter-sweet Roses, where Neil took the part of the lone pianist to perfection, Long Vacation, Wilson's Arms, Oh America - song after song just trotted out, but the hypnotic Breton andro Boit Portu, just about topped the lot. The trio ended with Lal's breathtaking Migrating Bird, a heart-stopping lullaby which had Lal's lovable stamp on it.
Of course, none of this would have been possible had it not have been for the Night Out scheme, the Arts Council Wales grants project aimed at getting music events in village halls, local pubs and community centres. The Club applied for the birthday grant, and ACW came up with the money. The Night Out scheme was the idea of now-retired Folk Club member John Prior, who worked for ACW and was awarded the MBE for his services to the arts. (MT)


Paul composes a birthday Ode To Joy

Paul Frowen, the Folk Club's vice-chairman, came up with a novel way for anyone who can't stand the simple words of Happy Birthday being sung again and again - he's composed a five-verse celebratory song, with chorus, and it all goes to the tune of Beethoven's triumphant Ode To Joy.

Paul, who used to be a trumpeter with the Welsh band Bando and does floor spots in Welsh and in English, tried the song out with the Folk Club – who voted it a hit. Here are the stirring verses and the wonderful chorus:
Happy Birthday, Penblwydd Hapus;

Llantrisant Folk Club is the best;

1,500 happy Wednesdays

Prove we've conquered time's tough test.

CHORUS:

Happy birthday to our Folk Club,

Thirty years all swiftly passed;

We are not the club that folk snub -

we're the club that's built to last.

Llantrisant's New Inn was our first home,

At Lionel's pub we gladly stayed;

Pints of Flowers with heads of foam on

Kept us happy while we played.

(CHORUS)

We've been nomadic, but survivors,

To many pubs we've had to roam;

Cross Keys, The Bear, The Bute, The Ivor,

But now The Windsor is our home.

(CHORUS)

We've some sad times but mostly glad times,

We've lost good friends but found many new;

Those who've gone we'll remember oftimes,

Tonight to them we'll sup a few.

(CHORUS)

Our raffle's brilliant, it is quite batty,

Its prizes renowned the whole world o'er;

To founder members, Mick and Pattie:

Many thanks, but we want more!

(CHORUS)


Les Barker's review goes on-line!
Hilarious poet Les Barker brought a packed Llantrisant Folk Club audience to a laughter-filled climax - and you can read all about it, thanks to Paul Seligman's on-line review. Paul posted the review on Wales Online - please read it, because it's worth it!


Club's year of great music on DVD - any takers?
Paul Seligman certainly has been productive. He says: "In 2009 I took lots of video with the intention of making a film about Llantrisant Folk Club, but that needed a new PC capable of HD video editing.
 
"I am now about to order such a machine - so there is a chance, if I can ever find the 40 to 80 hours to do it, that I could make a nice film. It won't be in time for 30th parties, which was the original plan - sorry. 

"What I'm wondering is whether there would be enough interest to justify the huge investment of my scarcest resource - time. I'd like to sound out members and supporters. 
 
"Would you be interested in buying a one-hour film depicting, approximately, a year in the life of Llantrisant Folk club? Price is expected to be £5 to £8 and availability planned for some time in 2011. The project will only go ahead if there is a prospect of at least 20 people being interested. Without committing yourself, if you are be interested, please let Paul Seligman know by e-mail or call him on 029 2055 1281."

President Mick Tems and organiser/compere Pat Smith have already expressed an interest in buying the DVD. If you want to own a memento showing a year in the life of Llantrisant Folk Club and some of the great music that was played, now is your chance!


On Top Of The World! Club celebrates 30th birthday by assault on Snowdon
Happy 30th birthday to us! Llantrisant Folk Club celebrated its 30th anniversary by ascending Snowdon (in Welsh, Yr Wyddfa, the highest mountain in Wales and England) on the Snowdon Mountain Railway train and then walking down from the summit. Twelve intrepid walkers started down the Snowdon Ranger track to the Snowdon Ranger station on the Welsh Highland Railway, and many more caught the train down on the mountain railway. It was a perfect summer's day, and you could see for miles. From Snowdon summit, six kingdoms could be seen; Wales, Ireland, Scotland, England, Mann and the Kingdom of Heaven.
The Club stayed at The Bunkhouse in The Glan Aber Hotel in Betws-y-Coed, about a half-hour's drive to Llanberis station on the Snowdon Mountain Railway, and ran a folk club-cum-session on the Friday and Saturday nights. Neil and Meg Browning and their daughter Kate, from North Wales family band Never Mind The Bocs, dropped in and played some beautiful Welsh songs and tunes - and NMTB had been hastily booked for a Wednesday, following Keith Kendrick's illness.
And... a very special Diolch yn Fawr to treasurer, compere and organiser Pattie Smith for booking the hotel and trains, being so efficient and making the Club's birthday go with a resounding bang.
Our trip to Snowdon in pictures


To read some of our past news stories, click here
Page last updated 11 October 2014
Copyright © 1999 Mari Arts