Below are just a few of the news items which have featured on our news page in the past. Take a look to remind yourself of Folkwales' past achievements.
(NB: Folk singer Siwsann George died of cancer in May, 2005. These news items obviously refer to her - we send heartfelt condolences to her husband, Roger, and to her son, Osian.)
Items on this page: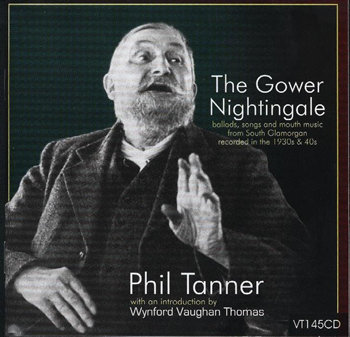 PHIL'S CD OUT: The Phil Tanner CD is finally and definitely out - and it's been well worth waiting for!
Phil Tanner, or The Gower Nightingale, as BBC Wales broadcaster Wynford Vaughan Thomas dubbed him, was undoubtedly one of these islands' greatest traditional folk singers. Phil, who soaked up songs like a sponge, was born in Llangennith, Gower, South Wales, in 1862 and died in Penmaen, Gower, in 1950. He was an consumate perfectionist who moulded songs to his liking; he always had a twinkling eye for a good ballad or story and a perfect sense of timing. His sparkling tenor voice rang clear in the meeting halls and pubs in the Gower countryside.
In the King Arthur pub in Reynoldston, Gower, Phil sang the whole house out and only stopped because it was closing time - a total of 88 songs. But when the historian Doug Fraser wrote to the BBC to enquire whether they had any of Phil's repertoire, he received a reply that: "the other recordings taken were not of sufficiently good quality for processing..." if only they knew then what we know now!
The year 2000 marked the 50th anniversary of Phil Tanner's death; Mick Tems, Mari Arts organiser and president of Llantrisant Folk Club, strove to get the anniversary recognised. The only recording made by Phil Tanner was an old LP which was like rare gold dust; Mick wanted a CD recording of Phil which would carry on the tradition. He wrote a show entitled A Gower Garland, which he and folk club treasurer Pat Smith, as the duo Calennig, took around the village halls of Gower, with the financial help of Arts Council Wales, to publicise the event. They were joined by Rag Foundation - Neil Woollard, the charismatic Rags singer, always claimed that he was one of the Phil Tanner family. A Gower Garland was booked by The National Festival, the Wildgoose label brought out a special anniversary CD of Calennig playing carefully researched songs and tunes from Gower (also called A Gower Garland) and Llantrisant Folk Club celebrated the anniversary with a special event.
The other Welsh labels weren't interested. Then Mick contacted John Howson of Veteran Records in Suffolk, who readily agreed to bring out a Phil Tanner CD. At last, things seemed to be moving - then came Mick's severe stroke, which knocked events back and brought a complete halt.
More than three years have gone by and Veteran has the long-delayed Phil Tanner CD ready. But this is no ordinary CD - using his contacts, John painstakingly restored the old recordings until they came up bright and fresh. The thick booklet is awash with information and photographs, courtesy of Malcolm and Ruth Ridge of the The Gower Society. With Mick's and Doug Fraser's expert guidance, John compiled the detailed notes - and John has even acquired the Wynford Vaughan Thomas BBC tape, broadcasting an evocative 15-minute radio programme entitled The Gower Nightingale!
A great many English critics have been falling over themselves to praise the CD, and they all make mistaken assumptions; their reasoning is that Phil Tanner sung in English, so his style must be English. This is not so, and it accounts for that peculiar, individual West Gower ruggedness. When he was asked: "Are you English or Welsh?", Tanner replied: "I'm Gowerian." Tanner had learned almost all his songs from various influences, including Gower inhabitants and visiting English (and celtic) tradesmen, but his style was most decidedly celtic - his expert Mouth Music, something completely unfamiliar and unknown to most English folk singers, must have lifted up celtic hearts... Wynford Vaughan Thomas's among them!
This Phil Tanner CD is remarkably special - it's catalogue number VT145CD and it's called The Gower Nightingale. Mick has some copies available; click here to order.


GRANT BOOST LATEST: Llantrisant Folk Club has now received a much-needed £3,000 cheque from The Arts Council of Wales. The grant is to be used for inviting innovational and exciting traditional artists from all parts of the world and learning and benefiting from them.
The good news means that a mighty flood of excellent Scottish, Breton, Canadian and Northern English music can go ahead. Treasurer Pat Smith has just finished negotiating the first package – and those exquisite musicians, Jock Tamson's Bairns, featuring the warm, mellow singing of Rod Paterson, will be coming soon from Scotland.
We can't wait for the groundbreaking new writing and stunning a capella voices of Coope, Boyes and Simpson – and the five members of Tanglefoot, from Canada, will be kicking up the sawdust with their original must-hear songs, tales and tunes. But the icing on the cake will be Mike James and Yves Leblanc (September 15, 2004) – hypnotic, joyous dance rythyms from two leading musicians from Brittany. You can almost taste the wood smoke and Muscadet!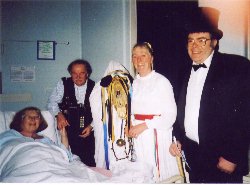 MARI GOES VISITING: The Llantrisant Mari Lwyd pops up in some unexpected places, but folk singer Siwsann George had a surprise when the Mari and all her party paid a visit to Llandough Hospital, where Siwsi is battling against bowel cancer. After greeting Siwsi with Can Y Fari, the Mari and party were invited to the hospital chapel for the afternoon service ("We don't mind pagans," said the chaplain) where they thrilled the visitors and patients with carols like Ar Gyfer Heddiw'r Bore and The Sans Day Carol. In the picture, from left, are Siwsi, Mike Greenwood, the Mari (with Paul Seligman under the horse), Pat Smith and Mick Tems.


HOSPICE'S THANKS: The Llantrisant Mari Lwyd has been thanked by The Marie Curie Fund, which runs the cancer care hospice Holme Towers in Penarth, for raising £210.66 this Christmas and New Year.
On their various tours, the purpose of which is to collect money for charity, the Mari Lwyd party have sung their way into various pubs. The Mari has even led the procession on the Penarth Lantern Parade and the Calennig City Of Cardiff celebrations. This is the 23rd year which the Mari has been out and about in the Festive Season.


CALENNIG'S 'LOST' CDs: Since Mick had his severe stroke almost three years ago, support for him and Pattie has been worldwide. Mick has been home from Llwynypia Hospital for almost two years and is now living at 12, Maes Trisant, Tonysgyboriau (Talbot Green), Wales CF72 8RQ. His telephone number is 01443 229561.
Mick hasn't got the use of his arm or his leg back, but his speech - though hesitant - is coming on. However, he has bought a car - and been three times to Ireland (by plane and by superferry) where he performed before thousands of people at Kerry Fleadh and even climbed upstairs on top of a lurching Dublin tourist bus. Mick has 'done' trains four times (the Dublin DART and the West Somerset Railway) and has survived Butlitz Holiday Kampf. He has even resumed the maintenance of this website, with technical help from Olly Price.
As a boost to Mick's recovery, Andy Jackson (of Forest Tracks) had this brainwave - and now the two Calennig 'lost' albums, Songs And Tunes From South Wales and You Can Take A White Horse Anywhere, have been reissued on CD, courtesy of Dave Bulmer. In addition, New Zealand songwriter Martin Curtis has dug out a Calennig CD of a marvellous South Island concert they did, called Live In Wanaka. Click here for details.


MARI LWYD TOUR SUCCESS: January 2005 Llantrisant Folk Club's Mari Lwyd is counting her donations after her New Year tour, when she led the procession before the Mountain Ash Nos Galan Races, and went on to visit three pubs in the Cwmaman area - The Rock, The Temple Bar (four stars) and The Falcon (absolutely priceless!). We saw the New Year in at The Falcon, where we all had 'spots' and Elwyn the landlord insisted on playing his solitary C&W CD!
In view of the recent events in Asia, we have decided donate the proceeds from this tour to the Asian Tsunami Appeal. Janet Dewes had the brilliant idea of guesstimating the money, and went round the Cynon Valley public charming punters out of a pound! We will let you know how much was raised as soon as we have the final figures.
In Christmas Week, the Mari Lwyd was on her Vale Tour where we met at The Penny Farthing in Penygawsi, The King's Arms in Pentyrch, the Three Horseshoes in Peterston, The Dynefor Arms in Groesfaen and The Boar's Head in Tyle Garw. The Christmas Weekend events had not overtaken us, so we collected as usual for Holme Towers, the cancer hospice where Elsie Harvey, Pat Smith's mother who lived at Cross Inn, was a patient. The rain came bucketing down and four brave souls ventured forth - but the numbers grew gradually and we all had a pleasant - if damp - night!


SIWSANN GEORGE: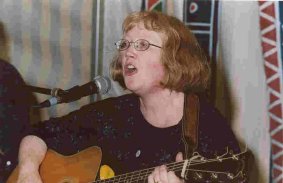 - May 2005
The singer with a voice of Welsh gold, Siwsann George, has passed away. She had been very ill for some time.
Bringing Welsh song to the world, Siwsann, who was 49, was renowned for her deeply moving performances of the music of her land. Raised in the Rhondda Valley, she graduated at Aberystwyth and at the Welsh College of Music and Drama, Cardiff.
In the 1980s, Mick Tems and Pat Smith (formerly Calennig) formed one part of Bedwen Haf, the Welsh twmpath band, and Siws and Stuart Brown (Mabsant) were the other half. The landlord of the New Inn in Swan Street, Llantrisant, invited them to form a folk club - and Llantrisant Folk Club proved a success. It is marking its 25th anniversary this year.
Siws married Roger Plater and had a son, Osian. They moved to 26, Bassett Street, Abercynon. As founder member and lead singer of Welsh music group Mabsant, Siwsann had sung on four continents, accompanying herself on harp, guitar, concertina and spoons, which she picked up from Pat. Her tours included much work on behalf of The British Council.
Described as "a superb voice of great emotional power", her research, publication of folksong, reports of her travels for TV and radio, teaching work, competition and recording successes have all won her great acclaim. In 1985 and 1992 she was adjudicator for the BBC's Song of Wales contest and for the Celtavision in 1992 and 1993 in Ireland.
Siwsann's 1994 solo CD Traditional Songs of Wales (Saydisc) was a landmark in her own career and in the history of Welsh music, and was followed by her appearances at major venues such as The Purcell Room, St Albans' Organ Festival and the RSC's Swan Theatre, Stratford Upon Avon.
Roger has requested an open funeral, which is taking place in Moriah chapel on Friday, May 13, at 12.45pm (Family flowers only - donations, please, to McMillan Nurses and Tenovus.) Siws is being buried at Mountain Ash cemetery, following which Roger is inviting everyone to attend the reception at The Thorn Hotel. A celebration of Welsh music will be held, as a tribute to Siws, later on this year.


DONATIONS ROCKET: January 2005 The collecting bucket was jingling with success as the Llantrisant Mari Lwyd counted out her donations for Holme Towers and the Tsunami appeal.
£126.75 came from the pre-Christmas Vale tour, when when we visited Llantrisant and The Vale pubs; we took home £184.84 on New Year's Eve (the Mari Lwyd led the lantern procession at the Mountain Ash Nos Galan races, and we visited three Cynon Valley pubs); and the Mari Lwyd was invited to perform at Insole House in Llandaff, Cardiff, where The Friends Of Insole House held a dinner. The Mari went round the guests with the bucket, and the donations came to £103.37.
The wine and the conviviality flowed together - our picture below shows the Mari and party posing and bunching up. Smile, please...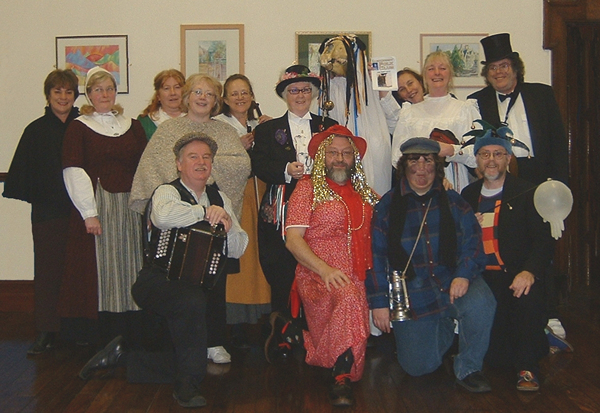 (As this picture was taken, Siwsann George led the singing for the last time. Siwsann died at the beginning of May, 2005).
The Tsunami disaster was on Boxing Day, 2004. The Mari Lwyd party had already collected for Holme Towers, the Penarth cancer hospice, and we decided that all later donations were to go to the Tsunami appeal. In total, the Mari charmed, coaxed and bullied £414.96 out of you!



25TH BIRTHDAY CELEBRATION - Wednesday 7th September 2005
Llantrisant Folk Club is 25 years old this week - and we can raise our glasses and give thanks that we're STILL here! From our tentative, fledgling ventures in the New Inn, The Folk Club has grown to welcome major artistes from all over the world - more than 600 of them. Please join us in a special anniversary event... for Llantrisant Folk Club wouldn't exist without you, members and the public. (NB: As a special 25th anniversary, the Club is going to charge you the sum of... 30p! That was the charge 25 years ago - and there's an anniversary raffle, too!)


- December 2005 That wonderful singer, mine host and Llantrisant Folk Club member Malcolm Davies, who moved to Guildford, sent a special 25th birthday email to the Club - the subject was "Hope you are all enjoying your special year at the club". Malcolm wrote:

"I keep checking the site from time to time and wish I could be there to join in. Please pass on my very best wishes to all the members and I hope to see you one day soonest - although we haven't had a day off since we started on October 3rd and are open from 7.30 am till 9pm each day - but I hope to get some staff who will enable me to take a day off. Then, who knows, I might just blow in like a cold wind one Wednesday night and visit you all, or bump in to you at a festival out of the blue! Good luck for the rest of the birthday year.

Very best regards - Malc (over by 'ere!)"

Why don't YOU send Malcolm an email? His address is malchrisdavies@malchrisdavies.plus.com


CELEBRATING DWYNWEN: - Dydd Santes Dwynwen
- January 25th 2006
Wednesday January 25 is St Dwynwen's Day throughout Wales - and Llantrisant Folk Club will be celebrating the patron saint of all Welsh lovers.
Santes Dwynwen, who lived in the 5th century, is the patron saint of Welsh lovers and has powers to grant wishes. Dwynwen was the beautiful and virtuous daughter of the 5th century Prince Brychan Brycheiniog. she fell hopelessly in love with a young prince, Maelon Dafodrill, but then rejected his advances. This, depending on which story you read, was either because she wished to remain chaste and become a nun or because her father had arranged her marriage to another.
Dwynwen prayed for deliverance from her situation, and was given a sweet potion which released her from her heartache. The same drink was given to Maelon, which turned him to ice. Realising that Maelon could not help his love for her, she prayed again and was given three wishes - the first that Maelon should be thawed, the second that she should never marry, and the third that God should answer all requests by her on the behalf of lovers.
Dwynwen became a nun and retreated to the solitude of Llanddwyn Island, close to the Menai Straits, Anglesey, where she founded a convent. A fresh-water spring, Ffynnon Dwynwen, was named after her and became a place of pilgrimage after her death in 465AD. Ffynnon Dwynwen has become a place of pilgrimage, not only for lovers, but also for those seeking her help in healing sick and distressed animals.
Why not sing a song of love - or play a lovely tune - to mark St Dwynwen's Day?
(Llantrisant Folk Club celebrated St Dwynwen's Eve, the night before St Dwynwen's Day, on January 25th, 2007)


MARI LWYD COLLECTS FOR HOLME TOWERS:

- December 2005 The pennies, 50p pieces and fivers have been sorted out, and here's the news: The Llantrisant Mari Lwyd collected £385 on her 2005 Christmas tour on pubs and clubs for Holme Towers, Penarth's cancer hospice. We visited Llantrisant Old Town, Mwyndy, Cross Inn and Groesfaen - and, for the second time, walked the length of Oxford Street, Mountain Ash, where we paraded the Mari before thousands of people in the traditional Nos Galan Races.

On December 7, we gathered in The Wheatsheaf, ready to 'do' Llantrisant Town - and all for Holme Towers, of course. We went in The New Inn and The Llantrisant Workingmen's Club, both in Swan Street, where we had an ecstatic and friendly welcome as we sung Can y Fari and Y Washael as loud as we could. From there, it was a short walk to O'Sullivan's Restaurant (such an enticing aroma!) and The Bear, where we supped as much real ale as we could before we said our goodbyes. There was no time to pay a visit in The Cross Keys, but we entered The Wheatsheaf again to our inevitable welcome - what an enjoyable night.

The afternoon of Sunday, December 18 meant The Mari Lwyd Tour was on the road again, and we met at The Castell Mynach, almost half-way between the villages of Mwyndy and Groesfaen, at 1.30pm. Your correspondent had to get the AA out to see to his car, and so he and his partner missed The Castell and The Dynevor Arms - but we were waiting at The Barn to see The Mari arrive. The Barn was as good as we had expected, and The Penny Farthing and The Cross Inn, too - and we drove The Mari to the end of Gower to visit The Halfpenny Folk Club's Christmas Party at Oldwalls, near Llanrhydian. The Mari's turn came, and she was a spectacle! The party finished with a ceilidh, Olly and Mick (with his tabwrdd) joining in to Five Bar Gait's dance tunes and caller Keith Lascelles taking command and obviously enjoying himself.

For Nos Galan (New Year's Eve), we paraded up Oxford Street, Mountain Ash, as the Nos Galan races kicked off. The Nos Galan races are held to commemorate Guto Nyth Bran, a famous runner who lived 250 years ago at Nyth Bran Farmhouse. Legends tell how he used to catch a hare and a bird in flight, and how he used to run from his farmhouse to Pontypridd and back - a distance of seven miles - before the kettle had boiled. Then it was up the Cynon Valley to The Jeffries Arms, The Rock, a quaint hotel the name of which escapes your correspondent, The Temple Bar (a gorgeous pub!) and The Falcon, a haven of real ale, where landlord Elwyn was waiting to greet us. What a stunning night!


LLWYD FOR IRELAND: - February 2006 Four musicians and dancers from the Welsh team Dawnswyr Glanllwyd - including Llantrisant Folk Club members Mick Tems and Olly Price - are going to Ireland to carry the flag at The Gathering, a festival of three days of amazing traditional music, ceilis and instrument workshops at the Kerry town of Killarney.

The Gathering was started in 2001 and has come to be one of the leading Irish festivals in the space of six short years. Last year saw unbelievable playing from Martin Hayes and Dennis Cahill, Brendan Begley, Aly Bain, Jackie Daly and Seamus Creagh, Nollaig Casey, Arty McGlynn, Paddy Keenan, Tommy O Sullivan, Noel Hill, Alec Finn, Liz and Yvonne Kane, Eamon Doorley, Denis McMahon, Timmy Connors, Sean Garvey, The McCarthy Family from Clare and a number of ceili bands. This year The Gathering starts on February 15 and runs to February 19 and is based at The Gleneagle Hotel, Killarney - artists include Altan, Sharon Shannon and Teada with special guests Jim Murray and Brendan Begley.



February 2006 The Living Tradition magazine reports: "The National Folk Music Festival, held for many years at Sutton Bonnington, is homeless. The Campus was no longer available after the 2005 Festival and organiser John Heydon set about to search for a new home for the annual event. The search is proving much harder than he originally thought. He had high hopes of several venues, but none of them proved to have what was needed. The consequence of still being homeless in October 2005 is that there will not be a National in 2006.

"John is obviously very sad that the festival can't run next year and is concerned about finding somewhere for 2007. The organising team just hasn't the time to properly research lots of places and John is asking for people to check out venues that they might know.

"Key requirements for a suitable venue include:
| | |
| --- | --- |
| | Availability for a weekend around Eastertide – and long term availability. Ideally 2nd weekend in April, unless it's Easter. |
| | Accommodation for minimum 200 single bedrooms and permission for double use of about half of the rooms. |
| | Dining room for 300. |
| | A large bar as a hub for the other events and source of real ale! |
| | Accessibility from all over the country (car parking, good road access, trains and airport fairly near if possible) |
| | Entertainment rooms for up to 400 with something like a hall for 200-plus and two large rooms to replace the Senior Common Room and Committee Room, plus a selection of smaller rooms. |
| | Somewhere for a craft fair and registration. |
| | Ideally, potential for campervans and camping. |
| | The potential to expand. |
| | Accommodation shouldn't be hugely expensive." |
There is some urgency to find a home for 2007 urgently before it gets booked up! Contact John at johnh@fosterwiggins.co.uk - or, maybe, could Llantrisant Folk Club members think of a suggestion?


DATHLU DYDD GWYL DEWI: February 2006 Llantrisant Folk Club is celebrating St David's Day with a special singers' night on Wednesday, March 1st (8.30pm) - wear your leek with pride! On our saint's day, the Folk Club is honouring the many varied riches of Welsh music in contrast with the culture of Europe - it doesn't matter if you sing or play Welsh, English or European material: You'll be very welcome!
A translation of the Welsh-language headline is: Celebrating St David's Day. Wikipedia (the free encyclopedia) contains the following information: "St David, born in 521AD and died in 587AD, (known in Welsh as Dewi Sant) was a church official, later regarded as a saint and as the patron saint of Wales. David contrasts with other national patron saints such as England's St George, in that relatively much is known about his life.
"Rhygyfarch wrote that David was the son of sanctus rex ceredigionis, where Sanctus has been interpreted as a proper name and its owner honoured by Welsh Christians as St Sant, but the Latin phrase means "holy king of Ceredigion". The king of Ceredigion in the 510s was Gwyddno Garanhir, according to regional tradition. His title Garanhir (crane legs) certainly indicated spiritual accomplishment to the Druids who bestowed it. As son of King Gwyddno, David was grandson of King Ceredig, nephew of King Maelgwn of Gwynedd, and brother of Elphin, the heir to the Kingdom of Ceredigion and the foster-father and first patron of the bard Taliesin.
"He became renowned as a teacher and preacher, founding monastic settlements in Britain and Brittany in a period when neighbouring tribal regions (that were to be united as England three hundred years later) were still mostly pagan. He rose to a bishopric, and presided over two synods, as well as going on pilgrimages to Jerusalem (where he was anointed as a bishop by the Patriarch) and Rome. St David's Cathedral now stands on the site of the monastery he founded in a remote and inhospitable part of Pembrokeshire.
"The Monastic Rule of David prescribed that monks had to pull the plough themselves without draught animals; to drink only water; to eat only bread with salt and herbs; and to spend the evenings in prayer, reading and writing. No personal possessions were allowed: to say "my book" was an offence. He lived a simple life and practiced asceticism, teaching his followers to refrain from eating meat or drinking alcohol. His symbol, also the symbol of Wales, is the leek.
"The best-known miracle associated with St David is said to have taken place when he was preaching in the middle of a large crowd. When those at the back complained that they could not see or hear him, the ground on which he stood is reputed to have risen up to form a small hill so that everyone had a good view. The village which is said to stand on the spot today is known as Llanddewi Brefi. A more mundane version of this story is that he simply recommended that the synod participants move to the hilltop.
"The document that contains much of the traditional tales about David is Buchedd Dewi, a hagiography written by Rhygyfarch in the 11th/12th century. One of Rhygyfarch's aims was that his document could establish some independence for the Welsh church, which was risking losing its independence following the Norman invasion of England in 1066. It is significant that David is said to have denounced Pelagianism during the incident before the ground rose beneath him.
"William of Malmesbury recorded that David visited Glastonbury intending to dedicate the Abbey, as well as to donate a travelling altar including a great sapphire. He had a vision of Jesus, who said that "the church had been dedicated long ago by Himself in honour of His Mother, and it was not seemly that it should be re-dedicated by human hands". So David instead commissioned an extension to be built to the abbey, east of the Old Church. (The dimensions of this extension given by William were verified archaeologically in 1921.) One manuscript indicates that a sapphire altar was among the items King Henry VIII confiscated from the abbey at its dissolution a thousand years later. There are unverifiable indications that the sapphire may now be among the Crown Jewels.
"His last words, according to the Buchedd Dewi, were "Be steadfast, brothers, and do the little things".
"Unlike many contemporary saints recognised by the Welsh, David was canonised, by Pope Callixtus II in 1120.


March 2006 Llantrisant Folk Club chairman Eirwen Malin and her partner Phil Thomas are previewing The Tale Of Branwen, a new and exciting telling of the oldest tales from The Mabinogi, at The Gate Arts Centre in Keppoch Street, Roath, Cardiff on Tuesday, March 14, 2006 at 8.30pm. They will be taking the show to Canada in the future.

Eirwen, who appeared with Calennig and Dawnswyr Taf-Elai in Mick Tems' touring show A Tale Of Two Rivers, is the storyteller, interspersed with incidental music composed and played by Phil. Anyone who wants to go should contact Dick Berry at 029 2022 9009.


MARI LWYD EDUCATES THE EDUCATORS: Llantrisant Folk Club and the 'orse flashed up on the screens in front of a museum theatre which was filled with academics as the Ethnology And Folk Life Section, Guild Of Graduates at the University Of Wales, held a one-day conference on the Mari Lwyd.
Juliette Wood, who delivered a paper on The Mari Lwyd: Folk Custom and Cultual Identity, even showed the New Year card, designed by Karen Cater of Hedingham Fair, showing the Llantrisant Mari Lwyd, her party and musicians - Pat Smith on the concertina, Mike Greenwood on the melodeon, and Olly Price and Phil Downing (fiddles). Ned Clamp is holding the reins of the Mari, with Mick Tems looking resplendant as the top-hatted Leader. Other photographs showed the Llantrisant Mari leading a Penarth parade - and there was a dramatic image of Cwmni Dawns Werin Caerdydd's Mari at St Fagans museum, plus a BBC film, taken in 1966, of the Llangynwyd Mari party, being held at bay by the late Cynwyd Evans, showing his considerable knowledge and inventiveness.
The Guild Of Graduates held the conference in the Oakdale Institute at St Fagans Museum Of Welsh Life, in assocation with the museum and The School Of Welsh, Cardiff University. The date, March 4, clashed with Cwlwm Celtaidd, the fifth festival of celtic celebration, and so Mick Tems was the only representative of the Llantrisant Mari party.
Lecturer Wyn James introduced the papers, which were on the subjects The Mari Lwyd In Glamorgan (given by Allan James,) The Mari Lwyd In The Art Of William Brown (David Greenslade,) and From Carnival To Allegory: Reading the Mari Lwyd In Works By Rhys Davies and Vernon Watkins (Katie Gramich.) Siwan Rosser read Tecwyn Vaughan Jones' contribution, The Mari Lwyd and Revival.


HENNESSYS, CALENNIG CELEBRATE 150 YEARS OF ANTHEM IN HOME TOWN: The Hennessys, Cornish songwriter Mike O'Connor and The Calennig Dance Band (with caller Pat Smith) invite you to an an evening of Celtic music, dance, songs and stories, in celebration of 150 years of Hen Wlad Fy Nhadau, the National Anthem. The whole event takes place between the hours of 7pm and 11pm in the pavilion in Ynysangharad Park, and is put on with the support of Llantrisant Folk Club and Pontypridd Town Council. Tickets from 01443 490748. Tickets are priced £5 (£3 for members) and the whole event

was on Thursday, June 15, 2006.


MINI-REVIEW: JAMES KEELAGHAN AND FINEST KIND: June 2006, and we braced ourselves for the Canadian onslaught - and it was a fabulous week of really stunning, exquisite music, too. The exciting songwriter James Keelaghan and two fabulous musicians guested, and then the exhilarating, on-the-edge-of-our-seats harmonies of Finest Kind, from Ottawa. Mick Tems took the pictures of James, and Huw Chidgey volunteered to become Llantrisant Folk Club's snapper for Finest Kind. Here are the two reviews: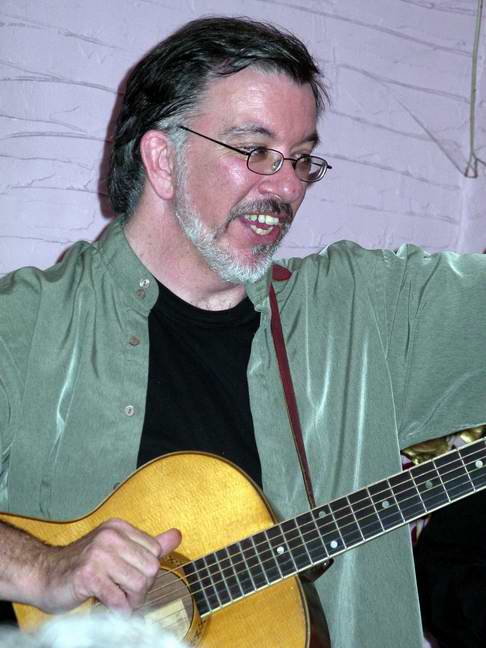 JAMES KEELAGHAN: Canadian James Keelaghan is an international songwriter of great repute – and on this, his umpteenth tour to Britain, he brought two very fine musicians, five-string violin player Oliver Schroer and Hugh MacMillan. James is not o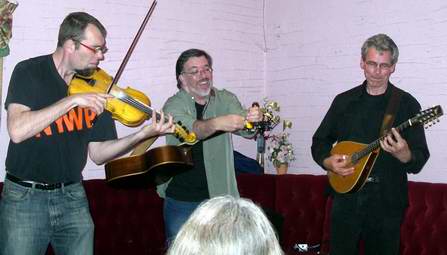 nly a troubadour to beat all troubadours; his voice is full of passion and conviction, and he's justly taking his place with the other magnificent Canadian songscribes, Joni Mitchell and Stan Rogers. He calls the inspiration for songs "mining Canada's history", and he sure dug up a load of glistening nuggets for our pleasure. The audience sat enthralled as James wove tales and stories about the vast land 4000 miles to the west, and time seemed to vanish in a flash. James had everyone begging for more (and he plays a mean guitar – when a string broke, he didn't bat an eyelid as he swiftly found a new string and tuned it, all in mid-song, too!) Can we have him back, soon? – MT
(Photo captions: Above left, James gets into the joy of the story. Above right: That's the way to do it - Oliver and Hugh provide back-up assistance while James repairs a broken string... and he didn't miss one word, too!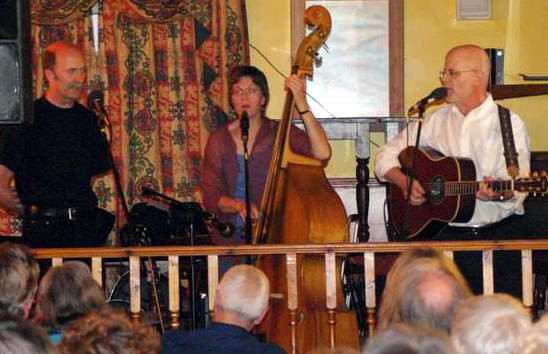 FINEST KIND: Did you hear about some Canadian trio who stopped off on a debut tour and totally enraptured Llantrisant Folk Club with their incredibly superb harmonies and rapturous playing? I know, 'COS I WAS THERE! Englishman Ian Robb plays concertina, mid-western American Anne Downey plays double bass and banjo and folklorist Shelley Posen lays down these absolutely lipsmacking guitar lines, but the most joyous and pleasing thing about the group is this: the three may be extremely fine musicians, but a special spark ignites when they come together. We caught our breath at each precious note – it was that sort of Finest Kind night. The Ottawa trio have a special, amazing knack; just as you think they've raised your expectations with one glorious harmony, they top it all and raise the stakes again. This group are flying so high that vertigo sufferers really should beware. The evening sped by, always a good sign that the audience is enjoying itself – and it was encore time again, the crowd shouting for just one more. Ian, Anne and Shelley are such nice, pleasant guys too. It will be a pleasure to have them back. - MT
NB: That's two bands that I would love to come back - in the space of a week! Pat can bask in the kudos, but she's going to have her work cut out!
AND just because you thought the Canadians are pretty fine show-stealers, you ought to read the mini-review on Australian duo Cloudstreet...


MINI-REVIEW: CLOUDSTREET: Nicole Murray and John Thomson came, sang and conquered with twinkling smiles in their eyes and lots of ambitious music in their hearts. I have loads of respect for Cloudstreet; both of these Australians have luscious, superb v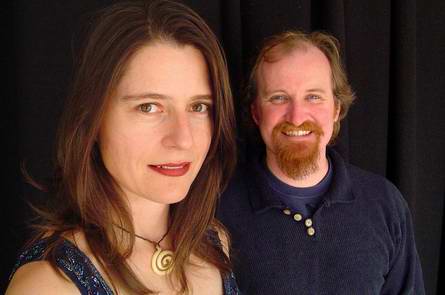 oices, so beautifully controlled at the drop of a hat – but when they mean business, those magnificent voices soar and swell and fly away. That's not clapping you hear, but the collective sound of jaws dropping. Nicole plays a neat flute and John's no mean guitarist, but the most satisfying and pleasing aspect is that both are such thoroughly nice people. Not only that, but Cloudstreet keep the crowd very, very happy with good deal of imaginative, well-thought-out and original takes on well-known folk songs. It's 18 months since they were last here, and they repeated themselves at least six times with their repertoire – but the audience wanted to hear these old pieces again, perhaps to work out just what Nicole and John were doing to these songs and what magic they were working. You go to a Cloudstreet gig and it feels as though the clouds have lifted and the sun's shining again – that's the effect they have on you! - MT


MARI AT THE BEASTS FEAST: The Llantrisant Mari Lwyd broke the law at the Banbury Hobby Horse Festival - along with a whole host of startling creatures this week. A local act which dates back to the 17th Century forbids men to dress up as animals - and it has never been repealed. The Town council, however, welcomes the festival and this year let the organisers have the Town hall for The Feast Of The Beasts, a sumptuous celebratory dinner at which the Derby Tup, the Kentish Hooden Horse and a plethora of strange animals strutted their stuff.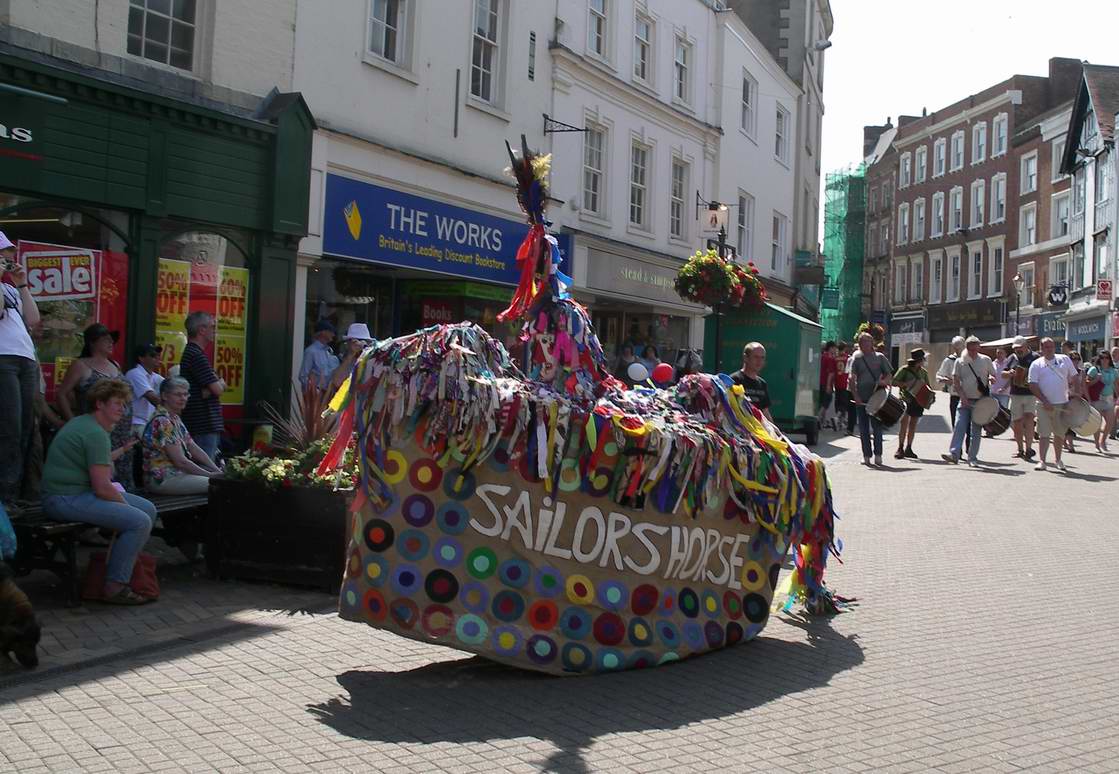 The Mari was invited to the Banbury festival, which is an absolutely stunning, friendly weekend of Morris dance and traditional ceremony. The Mari was unique in that the horse's skull was genuine - and she's been going out visiting in Llantrisant for nigh on 25 years. The Minehead Sailors' Horse really stole the show, however - this splendid vision only comes out once a year, on May Day, where it dances from dawn to dusk, accompanied by five drummers. The frame of the Sailors' Horse is really heavy, only allowing each solo dancer five or 10 minutes to carry the horse.
The Mari Lwyd would like to thank the Hobby Horse Festival (and Fine Lady's Fool Verna Wass) for being such heartwarming, considerate, efficient organisers - and for arranging for stroke-survivor-who-can't-do-camping Mick and Olly to stay in the Whately Hall hotel at no charge! These pictures were taken by Mick Tems and Olly Price:
Top right: The Minehead Sailors' Horse, accompanied by the drummers, comes dancing down the street.
Two pix in Banbury Town and two in Banbury People's Park: Anne Abel, the Mari and Olly get ready for the procession in St Paul's school, haven of camping (left); and Morris dancers gather round Banbury's Fine Lady statue in Banbury Cross (right); the Kentish Hooden Horse (left); and a reindeer poses (right).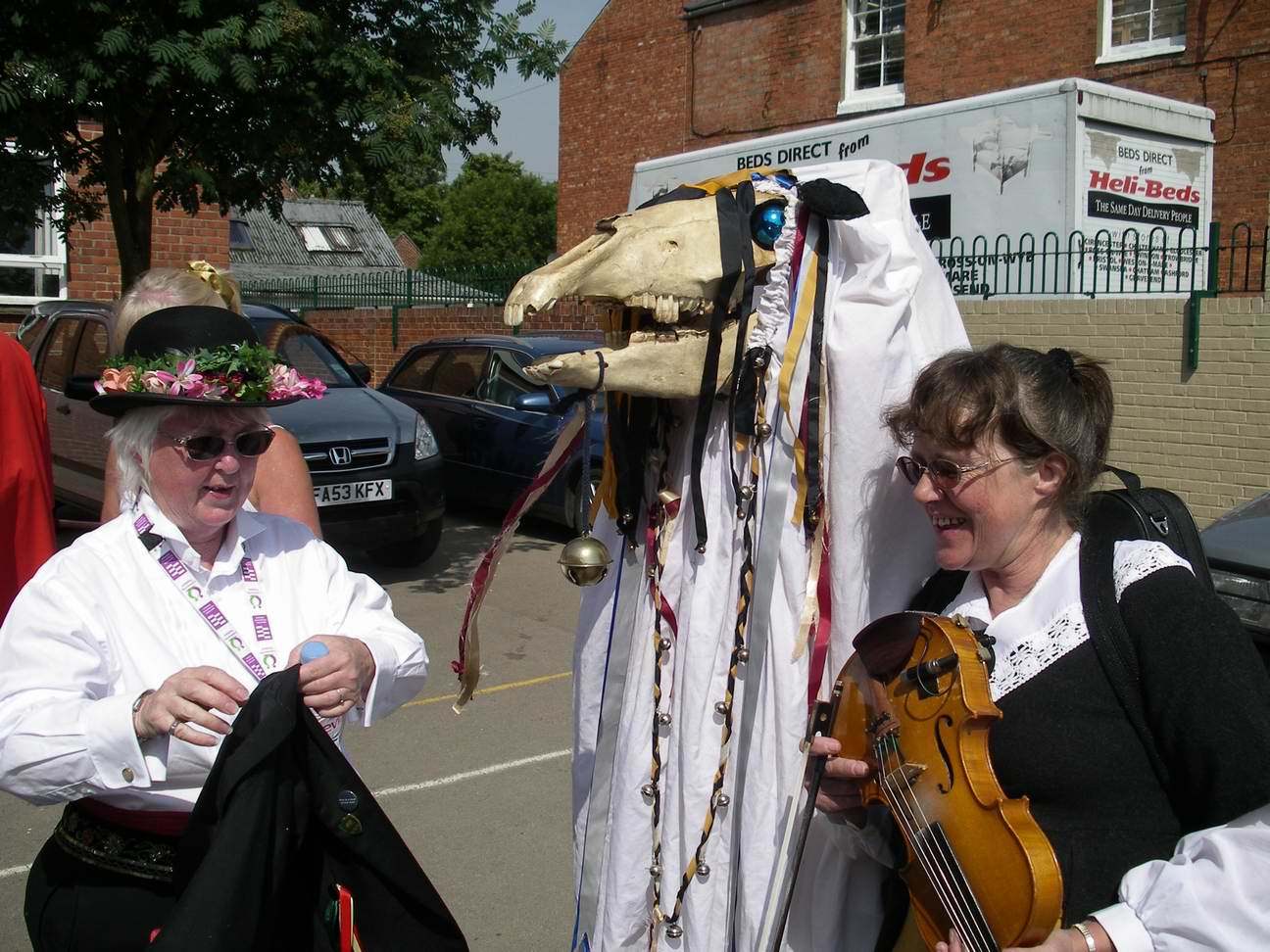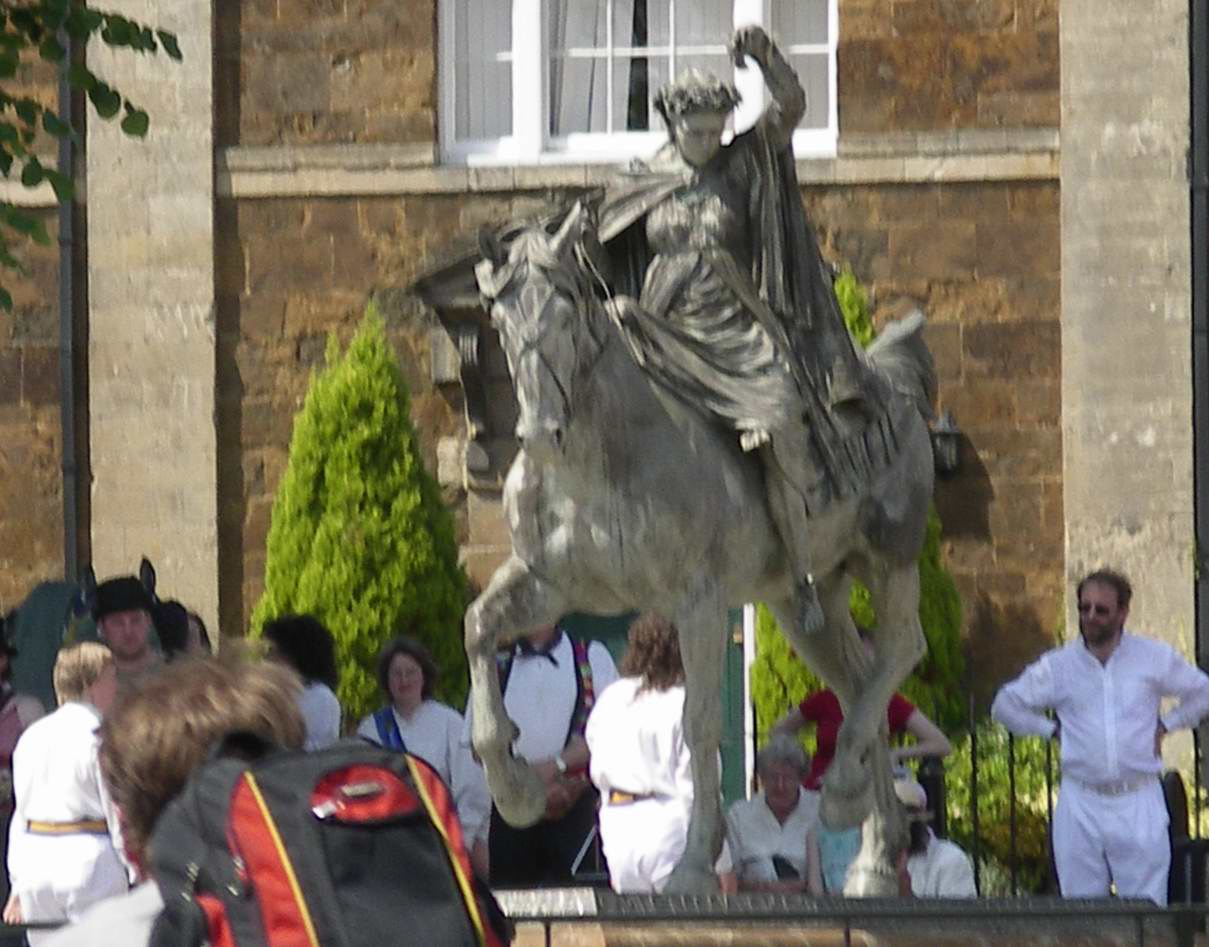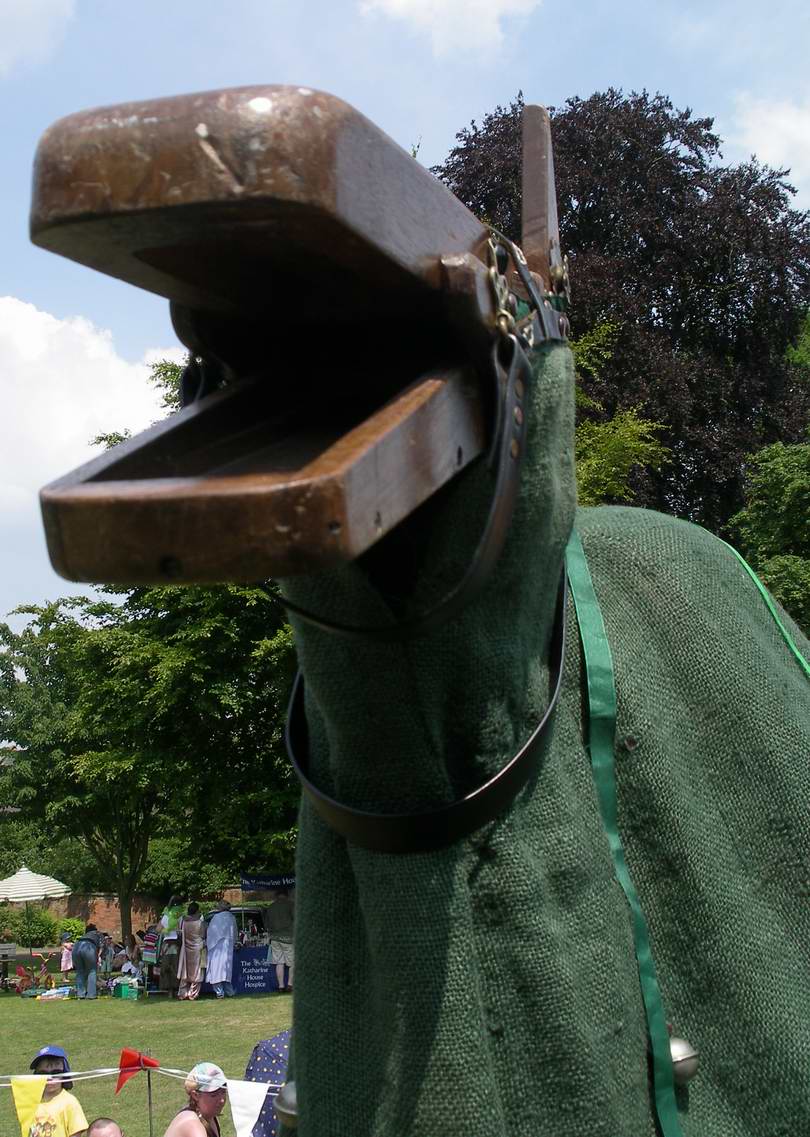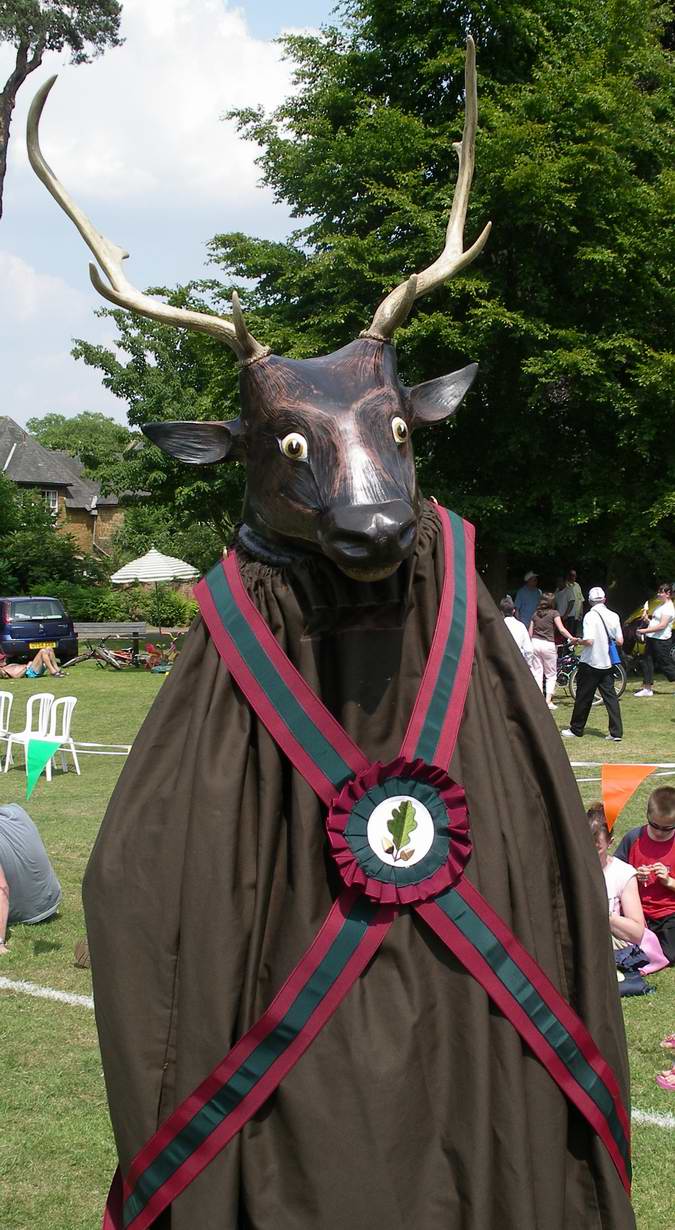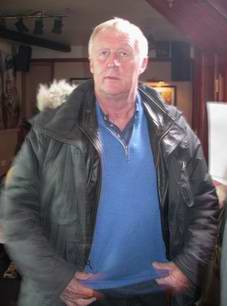 IT'S TARRANTS' WAY - AND THE MARI JOINS IN: Chris Tarrant of ITV fame danced with the Llantrisant Mari Lwyd Party as they sang their way to success in the Wheatsheaf.

Chris, former Capital Radio DJ and presenter and quizmaster of the rip-roaring hit show Who Wants To Be A Millionaire? and Tarrant on TV, was filming for the ITV series Tarrants' Way, which should be broadcasting in the autumn. In it, Chris and his wife, Ingrid, discover some interesting places, highways and byways around Britain - and they end up in the Old Town of Llantrisant, where former Llantrisant Observer editor Dean Powell fills them in on the Freemen of Llantrisant and they meet Noel Henderson, owner of the magical but tiny Traditional Toys shop.

The venue was The Wheatsheaf, that ancient real-ale tavern; Chris, Ingrid and the crew had just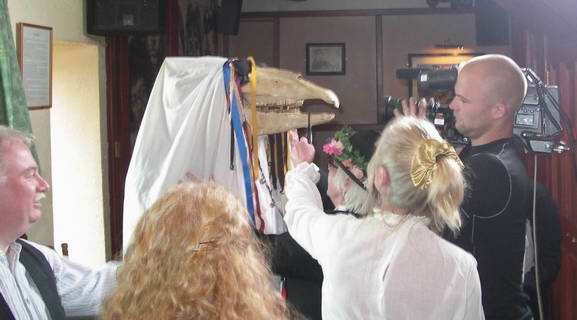 finished filming at the Doctor Price statue in the Bullring, right in the centre of Llantrisant. The Mari Lwyd was re-enacting the midwinter custom where she wanders from pub to house to pub in the town. The Mari - and all the Folk Club regulars who made up the Mari Party - did themselves proud, and Chris and Ingrid were obviously intrigued and delighted at this ancient Welsh custom. At the end, both Tarrants, grinning broadly, danced with the Mari Party - our Debbie must have been pinching herself when Chris Tarrant tripped the light fantastic with her! Chris even went under the head of the Mari skull - and he was offered the chance to survey the incredible panorama of the Vale Of Glamorgan from the Gent's open-air toilet, a sight, sadly, where the ladies are barred.
It could have been the fact that Chris was shown the Gents' toilets by a bearded bloke in a dress and red handbag, or that he was confronted by Pwnsh wearing a jester's hat and carrying a rubber udder, or a man wearing a skull who thinks he's a horse - nevertheless, Tarrant declared: "You are all stark, raving bonkers!"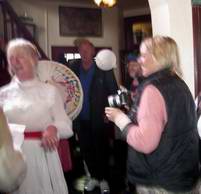 There were some difficult camera conditions in the Wheatsheaf, but our snapper kept clicking away.
The Pictures show:
Top Right: Chris looks bemused at all the Mari Lwyd antics.

Middle Left: Chris dons the Mari garb as the camera focuses on his nostrils.

Bottom Left: It's just too ridiculous - Ingrid (with the camera) and Pat (white dress) collapse into giggles as Chris poses between Ned (Pwnsh) and Andy (Siwan.)
MARI LORE: Pwnco (in Welsh, pwnc, a subject) is a question-and-answer "battle" between the Mari Lwyd Party and the people in the house, or pub. This is in verse and is quite difficult - in fact, when it became known that the Mari was on her rounds, poets used to be hired to keep the Mari out. Some tussles of wits could last as long as an hour. The Mari and her Party wanted to be in the house, so they could drink their beer and eat their food, and the people barring the door were not giving up that privilege.
The Mari Party started singing:
"Wel dyma ni'n diwad
Gyfeillion dinewad
I ofyn cawn gennad
I ganu"
("Well, here we are, kind friends, asking your permission to sing...")
The people in the house responded (in verse) that the Mari Party's horse didn't look too well, the singers were drunk and sounding terrible, and in fact the entire company whiffed a bit - all good, lighthearted banter... and now it was time for the Mari Party to come back at them, still retaining the strict verse.
The pwnco verses are what makes the Mari Lwyd tradition unique - apart from the horse's skull, that is. But in Llantrisant, Llanharry, Llanharan and in all the villages and towns, sweeping Anglicisation meant the abandonment of the pwnco. In Llantrisant, the Party sing The Mari Lwyd's Song, Can Y Fari, apart from other songs - and in 25 years of appearing in the Llantrisant area, the Mari has only once been challeged in Welsh by an elderly native of Brynsadler.


SONGWRITING WORKSHOP: Would Llantrisant Folk Club members like to get involved in a songwriting workshop? Anne Louise Wirgman, who freelances for the BBC, has emailed: "I am doing some work for the BBC Radio 2 Web site, Sold on Song. Last year we set up four pilot songwriting clubs in Dundee, Norwich, Nottingham and Plymouth. They ranged from a membership of seven to 30 and met fortnightly to share ideas, get feedback from each other and also acted as a place where those who could write but not play could meet musicians and vice versa! We are now looking at expanding it to a UK-wide initiative where we list areas in the UK with venues individuals could contact if they wanted to start up a songwriting club. We would support them with a pack which we are in the process of writing at the moment based on how the pilot clubs ran last year.
"My reason for contacting you is to see whether we could link the club in with the Llantrisant Folk Club, either by suggesting the Windsor Hotel as the best venue, or by putting the actual club as the contact. It may be that your members already work together on songwriting?"
Contact Anne Louise at Al.Wirgman@bbc.co.uk .


A SONG FOR IRELAND: Lashings of Guinness, loads of tasty soda bread, some heartwarming Paddy whiskey, even more heartwarming and hearty Irish breakfasts, late-night sessions, breathtaking scenery and friendly, generous celtic hospitality - and only four days to drink it all in. Welcome to Ireland, and The Gathering!
Llantrisant Folk Club president Mick Tems and secretary Olly Price flew to Ireland with two of their fellow members of Dawnswyr Glanllwyd, Alun Rhodes and Sue Oates, to soak up this marvellous traditional festival, which takes place in The Gleneagles hotel in Killarney in the Kingdom of Kerry. But more of that later...
We landed in Cork Airport (Eddie Butler was flying on Air Wales, about eight seats away!) where we hired a car and drove for one-and-a-half hours to Ballydehob, West Cork. You couldn't miss The Chestnut Tree, standing right in the centre of the village. Bertie and Annie Moran were waiting for us in there, and after a welcome glass of the black stuff we were off to their delightful and remote home in Schull.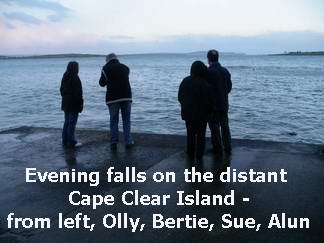 You must know Bertie - nicknamed 'Dublin' Moran, he lived in Newport, South Wales, where he organised Cardiff Folk Club and Newport Folk Club, often appearing with club members in the BBC and ITV Wales shows. He and Annie retired to Schull, where they set up The Mizen Irish Set Dancers (after Mizen Head, that local beauty spot), who are regular and enthusiastic invitees at the Tredegar House Folk Festival in Newport each May. That evening we walked to the sea, with Cape Clear looking imposing in the distance. Dusk had fallen by the time we reached the house - we just love Schull.
Master chefs all (they used to run a restaurant in Newport), Bertie and Annie soon had a warming and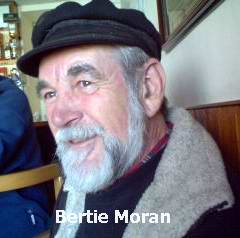 filling stew shoved down us - then it was off to The Chestnut Tree for a session. The Chestnut Tree, run by this friendly landlady who seems ageless, doubles as a tiny bar-cum-funeral parlour, and there waiting to greet us were Dick Miles and his partner Cathy. Dick, an East Anglian singer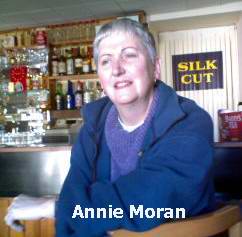 who emigrated to West Cork, resembles a most hardy Irish native now, playing an English concertina and singing some amazing songs - and Cathy is a mean fiddler, too, her instrument filling in with Olly's fiddle in perfect harmony. The Guinness, elixir of life, flowed freely, Bertie played melodeon and sang with gusto, and another singer/guitarist even joined in the fray. We had no idea what time it was, but time in West Cork is time enough. We said our goodbyes and went into the late night, where Bertie and Annie sent us to bed with lots of soda bread, cheese, hot lemon, Paddy whiskey and cloves.
The next day we drove to Crookhaven, a place of startling beauty just on the western tip of Ireland. The bar serves really mouth-watering snacks, including prawn sandwiches - but we had breakfasted at the Morans and we couldn't eat a thing. West Cork is Murphy's country, too, and we each had a pint of Murphy's so we could compare it with the Guinness (at The Chestnut Tree, Cathy named the 12 chemicals you find in a pint of Murphy's - Guinness has dozens of them!)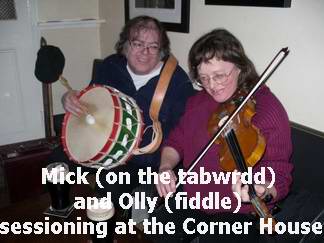 At Bantry the girls went scouting for shops, and Mick brought a sky-blue grandad shirt - at Bantry Bay, a haven of peace, it was difficult to imagine the horror that fell on the town when a vast tanker, unloading at Whiddy Island, exploded all those years ago. That night was dance practice night in Schull, and Sue, Alun and Olly joined in as Bertie and Annie trained the Mizen Irish Set Dancers - a taste of what was to come at at The Gathering festival. After a night of hard dancing, we adjourned to The Corner House for a session, the dancers playing and singing, Olly playing her fiddle, Mick on the tabwrdd and Alun and Sue getting in on the act as well.
We rose early the next day. Bertie and Annie were down before us, and we breakfasted on sausage, bacon, Irish white and black pudding and lots of lovely soda bread ("That'll set you up for the day," said a cheerful Bertie) until we followed Bertie's mobile caravan on the way to The Gathering. The scenery was great, too - we saw the ruined monastery where St. Finbarr, founder of Cork City, contemplated peace and found it, too, among the quiet, still lake where the mountains sweep down to the Lee Valley. We saw the beautiful and tiny church which was built in memory of St. F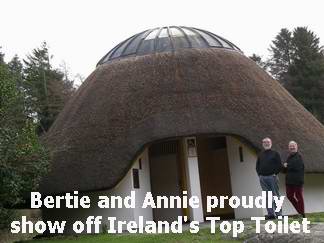 inbarr - and the magnificent roundhouse-bethatched conveniences, proud winner of the "Ireland's Top Toilets" competition. We even entered a Gaeltacht, a "national park" where the Irish language is guarded and preserved, with a village at its centre, and discovered a sale of bargain Aran sweaters at Quills, the village store. We drove to Killarney, where the vast and beautiful mountains of McGillycuddy's Reeks overlooked the town, and we booked in to our apartment at the hotel. No ordinary hotel, The Gleneagles was pretty vast - and our apartment was pretty vast, too, with twin bathrooms and bedrooms and a spacious kitchen, eating area, lounge and TV. And it was very cheap, considering the fact that we were all on a festival package and didn't have to pay. Marvellous bargain!
We had each vowed to do one more trip to The Gathering, which that year played host to an army of artists including Nollaig Casey and Artie McGlynn, Aly Bain and Brendan Begley, Jackie Daly and Seamus Craigh, Paddy Keenan... you don't want an endlessly long list, do you? But it's the magic celtic atmosphere of Ireland and The Gathering we want to portray, and The Gleneagles' contribution can only add to the act.
The Gathering is one stunning Irish experience and we love it to bits. The Gleneagles Hotel is blessed with lots of bars and rooms, large and small, where workshops and sessions are just waiting to happen, and a surfeit of concert halls. INEC, the Ireland National Exibition Centre, is the gem of them all, with suberb concert facilities and ample room for upwards of 1,000 spectators. We saw Altan there, Mairead Ni Mhaonaigh looking radiant with her fiddle and guitarist Mark Kelly's warmingly funny introductions putting everyone at ease. Altan have the unique knack of a group that shrinks the vast and imposing INEC stage to the informality and hospitality of a kitchen session - although, blessed is the kitchen that would play host to such fine musicians as these.
Most of the weekend was Irish Set Dance workshops - punctuated by Seamus Craigh and other Irish musicians running a three-hour session-cum-Radio Kerry event - and Olly, Alun and Sue put themselves through the paces. The Gathering workshops were something else, with hundreds of enthusiastic set dancers all eager to learn the practicalities.
The next night was a celebration meal in the restaurant, with Bertie and Annie, The Mizen Set Dancers and us making up a dozen. McGillycuddy's Reeks faded into the evening as we feasted - it was a perfect night. Then the song-swap traditional concert started, the programme making utterly fascinating reading. The old Irish masters were right there, and we sat riveted and intrigued - and what was most pleasing was the apprentices, very young and not so old, literally queueing up to be put on the same bill as their heroes. Mick even got up to sing Rolling Home To Dear Old Swansea, which he had learned 35 years ago from 90-year-old Captain Frank Parker, of Sketty, Swansea, to a warm and friendly reception.
Then the five-strong Sligo youngbloods, Teada, came on and conquered. They were simply electrifying, creative and breathtaking, and we held on to our grandstand seats as if it was a switchback ride. An entirely instrumental band, Teada explore, experiment and study the delights of their western heritage until the pot-boiler is nicely bubbling. All virtuosi of the bodhran, the fiddle, guitar, flute and the button accordion, Teada are fiercely made in the tradition, and a better bunch of musical ambassadors you couldn't hope to meet. They kept us mesmerised for an hour or two - time has no meaning when you're in such exalted company. Young and old flocked to see them - it really was a most amazing event.
We missed seeing Sharon Shannon, the goddess of the button accordion - but never mind. We had feasted our minds on beautiful Irish culture and we had to be back at Cardiff Airport. We said our grateful goodbyes to Bertie and Annie, and in the blink of an eye we took off from Cork, soon to leave the Irish coast in the clouds. It was a magnificent whistle-stop experience - but our hearts will remain in Ireland for ever.


MINI-REVIEW: GIPSY REEL: Wonderful, superb, marvellous! These four guys, based in the Vermont mountains, are worth every penny - they love celtic music, but it's music extracted from the whole world. They don't come from Vermont - Claudine Langille is from the Cajun country, Camille Parker is from Equador while her husband, Graham Parker, and multi-talented guitarist and bass player Jon Scaife both hail from the Midlands of England. All four are very good friends of Llantrisant Folk Club, which makes their absence from the stage of nine years that much more unbelievable. But they were back with a joyous vengeance, the two women striking up some very hot reels with Claudine's banjo and Camille on the mandolin, with Graham striking sparks on the fiddle and Jon searching for the lost, stunning chord and hitting the right spot precisely. Camille and Claudine both have voices to die for - Gypsy Reel take a delight in keeping the crowd on their toes while they go for the completely unexpected change, and one of the many high spots was their delivery of the old Grace Slick anthem White Rabbit, with Camille's edgy, strong voice making the perfect foil. The audience knew the words - it's very sad, really! When Gypsy Reel introduced their last offering, it was like old comrades saying goodbye. Goodbye? Not adieu, but au revoir! - MT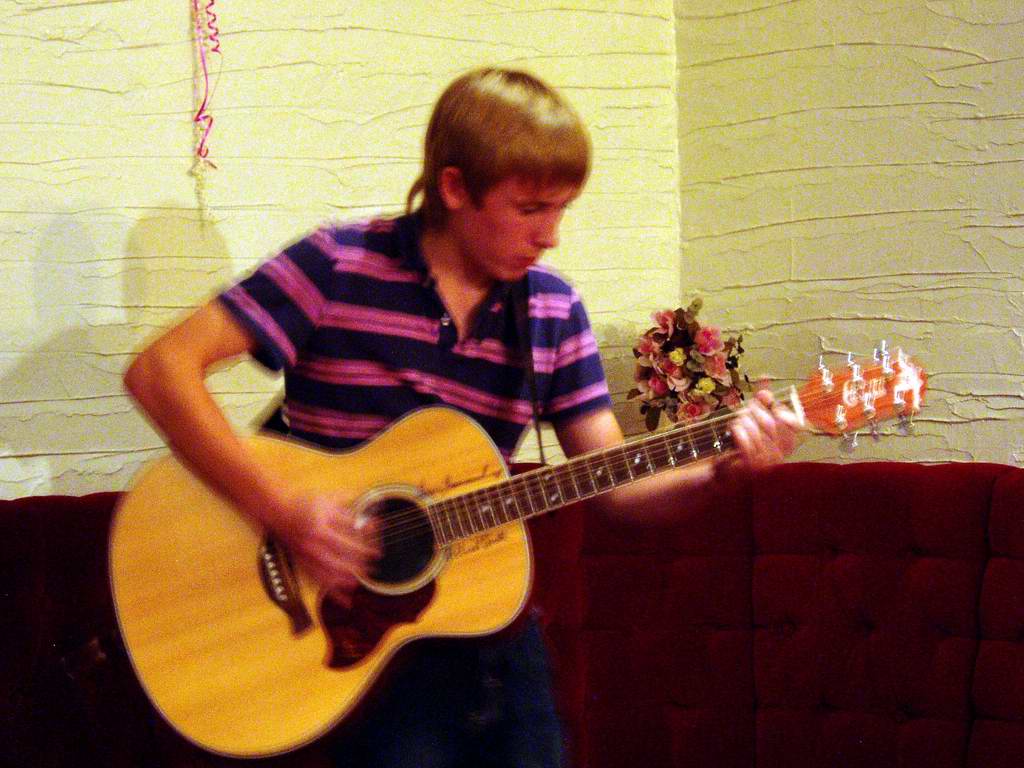 MINI-REVIEW: JOHN DIGNAM: The minute that 16-year-old John Dignam got up for his brace of 20-minute Showcase spots, you could see the Club sit up and embrace this fingerstyle guitarist with a new respect. Eyebrows were raised, knowing looks were exchanged, heads nodded approvingly as if to say: This guy's SO good! John studies his guitarist heroes Tommy Emanuel (in fact, he's jammed with great player Tommy, at The Point in Cardiff), Chet Atkins and Jerry Reed, and he's branching out and composing several pieces. John chatted as he introduced all the classic tunes, showing his knowledge and enthusiasm – but the high spot of the night was when he expertly played the Beatles' Day Tripper, copying all the lovable Liverpool mop-tops on ONE guitar! - MT
(Here's an image of John, captured so expertly by Llantrisant Folk Club's second stroke survivor and photographer, Glynn Robinson of Cardiff - the tripod kid. Thank you for being such a happy snapper!)


MINI-REVIEW: MARTIN WYNDHAM READ: Martin Wyndham Read is a gifted, superb singer with a stunning repertoire, an engaging personality and a plethora of interesting and fascinating tales to tell about Australia and his search for traditional Australian songs when he worked on the Emu Plains station as a teenager. But Martin doesn't harp on his years in Oz - he lets the audience come to him, and his first song is a work of unaccompanied majestic beauty thousands of miles away from Australia. Singers may come and singers may go, but he's been around for years and has made 30 albums, all of them really satisfying. A master of song and well worth the £5!


MINI-REVIEW: LYNNE HERAUD AND PAT TURNER: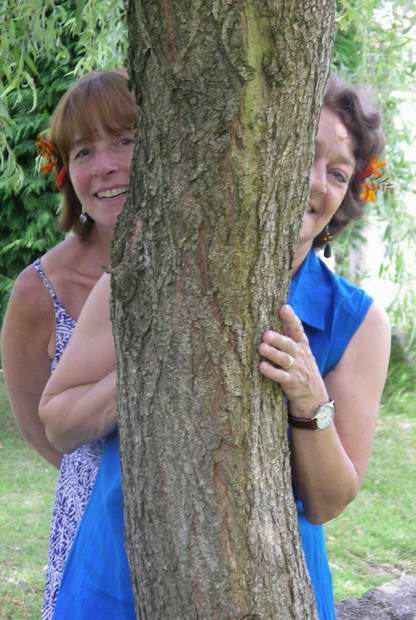 The long, hot Dog Days of this summer to end all summers have come upon us - and suddenly you know why running a folk club all just seems completely worth it. Lynne Heraud and Pat Turner sing stunning harmonies and possess a depth of knowledge about the folk tradition that would floor many a knowledgeable pundit - and they do it with such humour and wit, too. Indeed, the audience was taken aback by this duo with their Norf-London accents and their determined intension to enjoy themselves, like a full-up charabanc on a Girls' Night Out. But jokes and quips aside - these two really mean business, and they draw the Club members in with their faultless a capella singing and their love of it all. They write their own songs, too, which for for a programme full of variety simply raised and sharpened the expectations. Lynne and Pat did two lengthy sets, but the crowd were eating out of their hands and yelling for more as they closed their set. And here's an interesting fact: nobody left, which for Llantrisant Folk Club must be a record and for Lynne and Pat can be regarded as a warm, friendly compliment! - MT


MINI-REVIEW: MARK HAINES AND TOM LEIGHTON: Canadians Mark Haines and Tom Leighton took your breath away the other Wednesday night with sheer musicianship, loads of self-written choruses that clung like limpets and oodles of bubbling, boiling energy. Mark plays stunning guitar and fiddle, his lovely voice filled with passion and angst, while Tom is a veritable wizard on accordion and keyboards both at the same time – I kid you not – as he fills in the harmony lines both solidly and sweetly. It didn't take the audience long to realise they were onto a priceless thing, and before two numbers were up they were joining in with yee-haws, great songs and rhythmic stamps from beautiful dance music that can only have emanated from outstanding playing like these two artists. Mark and Tom drew the punters into a joyful frenzy, then swiftly changed tactics and slowed down to a stark, wild Irish air – you could feel the electric sparks. Haines and Leighton conjure a really feel-good atmosphere, and the audience left with big smiles on their faces. Five stars! - MT


MARI PROTEST: Join the Mari demonstration! Cardiff City Council have closed Insole Court, scene of many Mari appearances. John Prior, Llantrisant Club Club member who has recently retired from Arts Council Wales and who was awarded an MBE, will be joining with the other Llandaff residents in protesting with the Llantrisant Mari, Cwmni Caerdydd's Cardiff Mari and a brass band! John advises everyone: "Bring torches and food and drink because we have no access to electricity.... unless we succeed in mulling some wine." John has made a late change of plan - club members should turn up at 7.15pm on Tuesday, December 12 at the South Gate to Insole Court, Vaughan Avenue, Llandaff. this should be a right good demo!
(NB: Readers are reminded that is is a Past News item. However, John Prior is organising another "Carols For The Closed Court ll" protest which takes place on December 14, 2007 at 7pm - see the News Pages.)


MARI GOES TO MINEHEAD: Minehead Folk Club soon took to the Welsh Festive Season when the Llantrisant Mari Lwyd and party invaded the room at the The Old Ship Aground, on Minehead harbour, last Saturday, December 2, 2006. Llantrisant Folk Club was looking forward to its weekend "holiday", and Minehead didn't disappoint (except for the Butlitz holiday camp monstrosity – one of our party remarked that you could easily spot the Butlins inmates, because they were the ones with two heads.) Anyway, we sang and we played our hearts out in the first half, only stopping for some more of the excellent Exmoor Real Ale. In the second set, we performed the tradition of the Mari Lwyd, and the Mari playfully went wild, gulping beer and dancing with her leader. The evening being over, we got put up for the night (thank you, Eileen Ann, Mike and Di – we opened the front door in Mike's cottage and just gasped at the beautiful view) and had a huge, cheap breakfast (with beans!) at the Queen's Hall, a bargain at £1.99. Verdict: What a night!

JULIE TRIUMPHS: Tickets were long sold out for Julie Felix, and folk's icon didn't disappoint – in fact, she showed most emphatically just why she has been the Queen for more years than we care to remember. Julie is stunning, both the enchanting voice and her raven-black hair, and she has leaped ahead from all the outdated commercial hype that was the "1960s folk boom" (why, oh why do the trendy media allow themselves to be guided like sheep into the next ephemeral sensation? Compared to 40 years ago, the folk movement is a roaring lion at the moment and has expanded its brief to build upon its solid foundations.) Julie was obviously delighted at the warm Llantrisant welcome, and the crowd took to her and called fiercely for encores, which she was happy to oblige. A unique, special night and one which the organisers can dine out on. Glynn Robinson took this picture of Julie in front of the packed audience - not a spare seat in the house!


ARCHIVE IS FORGING AHEAD, THANKS TO TRAC: The South Wales Song Archive is up and running - thanks to the all-Wales folk development agency trac. The Archive project was the aspiration of Llantrisant Folk Club founder, collector, musician, singer, researcher and president Mick Tems, who spent 35 years recording and noting the 400-plus English and Welsh-language songs in the collection. The Folkwales website had just started publishing the very first songs in the Archive when Mick suffered a devastating stroke which virtually put paid to all his work, and the collection was left in abeyance for nearly six years.
Then trac responded with offers of man (or is it woman?) power, without which the Archive would have remained unfinished, perhaps for years to come. Both trac and Mick are poised to start completing the Archive, and Mick is going to The Museum Of Welsh Life, St Fagans, in the near future to research and study all the South Wales songs. In addition, Llantrisant Folk Club committee member Olly Price is designing an internet Archive database which will make navigation around the Archive easier.


MARI WISHES EVERYONE A HAPPY CHRISTMAS ON HER TOUR
2006:
Llantrisant is an ancient town full of history, and one of those guardians of the past is the Mari Lwyd – the horse's skull carried by a reveller who is disguised in a white sheet.
The Mari Lwyd party is comprised of Llantrisant Folk Club, who jealously preserve this little part of Llantrisant's history and culture. And when culture decrees that you turn out in a tour covering as many pubs in The Old Town as possible, who are you to sniff at tradition?
According to South Wales custom, the Mari Lwyd ventures out over Christmas and the New Year. The annual Mari Lwyd Midwinter tour has become one of the events which tend to blur into modernity. This was a record-breaking feat attempted by the party – to sing the traditional Mari Lwyd song in as many pubs as possible in Llantrisant and the town's surrounding areas. Throughout the years, the Mari has been collecting for charity – this year was for Holme Towers cancer hospice in Penarth.
The Mari and her followers started off at mid-day in the Castell Mynach, The Barn In Mwyndy and The Dynefor in the village of Groesfaen. Landlord Paul and landlady Pauline of the Dynefor are always pleased to see the Mari, a tradition which they are convinced brings them good luck, and the Mari Lwyd party stopped for a drink – one of many breaks on the way.
Then it was The Penny Farthing in Southgate, Llantrisant, a quick climb past Llantrisant's switchback lanes to The New Inn in Swan Street and Llantrisant Workingmen's Club. The musicians struck up a jig, and horse and party danced the Welsh twmpath set Cylch y Cymry around the Christmas tree in the Bull Ring for the photographers. And when you consider that the party numbers a retired university lecturer, an architect, a computer trainer, a journalist and a retired Welsh Office chief executive in their midst, something could be said for the real ale quality in the town.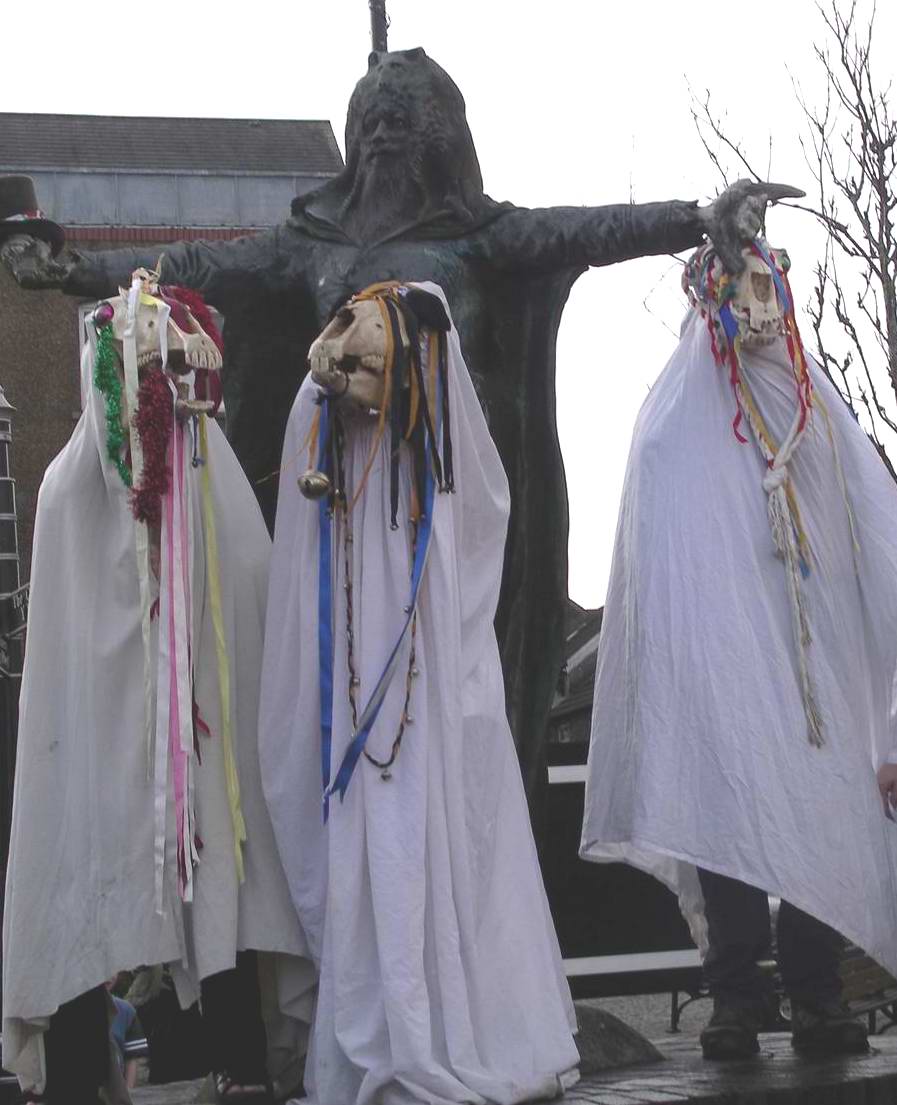 In fact, it wasn't the festive cheer refreshing the throats of the Mari party. There were three Mari Lwyds trying to get in on the act – the Dawnswyr Delyn Mari Lwyd, from Mold, North Wales, and the Dawnswyr Cwm Rhondda horse, brought by ex-councillor Chris Bailey and his partner Elaine Bowen, who used to live in Clydach Vale. The Mari Lwyds posed for pictures round the statue of Dr Price.
Time was pressing on, and the horse soon had a welcome pint in The Bear and The Wheatsheaf. The official tour ended in The Cross Inn, but the Mari Lwyd was determined to party – The Halfpenny Folk Club from Oldwalls, Gower, was having a Christmas celebration, and a few resolute revellers were prepared to drive 50 miles to gatecrash the proceedings.
Mick Tems, Llantrisant Folk Club president, said: "The Mari's been one of the family for something like 24 years now - her skull wears a silly grin, and once you've gone out with a happy Mari, you definitely want to go out again.
"She was donated to Llantrisant Folk Club by Ian Jones, the last working thatcher in South Wales. Ian traditionally "cleaned" the Mari's skull, and it is maintained by Pat Smith, Llantrisant Folk Club's organiser, who organises the annual tour as well.
"The Mari has been to Ireland and the Isle Of Man, and has been exhibited at the Tate Gallery, London, and Pontardawe, Aberystwyth, St Donats and Abergavenny Arts Centres. She even took pride of place at the Pencoed National Eisteddfod."
December 2006


MARI CELEBRATES NOS GALAN: The Mari Lwyd and her party drank a toast to the new year from the real ales at The Falcon Hotel after touring up the Cynon Valley. The New Year's Eve tour kicked off at the traditional Nos Galan Races at Mountain Ash, held to mark the legendary runner Guto Nyth Bran (To find out more about Guto Nyth Bran, click here.) The Mari made her presence felt at many pubs, including the Jeffries Arms, the Rock and the Temple Bar - there was a sad farewell here, when the party heard the Temple Bar is closing.
The New Year's Eve tour raised more than £100 for Holme Towers - our grateful thanks to Mike Greenwood and Debbie Cribb for organising the evening.


MINI-REVIEW: Lawrence Middleton is a little gem – and he's not even 12 yet! Lawrence, from Barry Folk Club, was nervous over his very first gig, a Showcase at Llantrisant Folk Club on Wednesday, January 17 - but he had no need to be. The audience warmed to him, and his clear voice rang out in tune with a sackful of well-known songs. Lawrence didn't quite break the record as the youngest singer – our Josie Downing beat him to that, years ago! – but he has a really sharp musical sense of rhythm, and he fitted in to guitarist Gareth Morgan's vamps like a glove. Lawrence has a very rare talent: he's got the music in him, and as long as it's home-grown traditional and contemporary folk, we'll be mighty pleased. (MT)


MISKIN 2007 CANCELLED: Easter At Miskin, one of the Great Little Festivals of Wales, has been cancelled. Llantrisant Folk Club had no part in it, but the unofficial line was that club members supported the festival - and when a unique magical celebration happened close to you on your doorstep, you were bound to go along and join in with the festivities.
Organisers Andy Jackson and Jillie Hambley posted on the Easter At Miskin website: "Following, in our view, over zealous application of powers embodied in the new licencing act, we have been forced to cancel Miskin at Easter for this year. We have been through lengthy and complicated meetings and hearings, but we always believed we would succeed, sadly not this time. Please don't ask questions, or offer suggestions - we have fought very hard and we think covered every angle. Furthermore, any speculation or laying of blame could very easily upset the delicate negotiations we are involved in to secure the future of Miskin at Easter.
"Please bear in mind that the situation is such that any impromptu gathering in the Miskin area during Easter could also jeopardise our future hopes.
"You will appreciate the size of the problem in informing so many people. Please pass this information on to anyone you know who might have been planning to come to Miskin "on spec".
"You will appreciate how heartbroken we are by this decision. Thank you for the amazing support you have given us over the years - we will be back."


LLANTRISANT GOES TO THE SEASIDE: Barry Folk Club, which meets at The Castle in Jewel Street, is changing to a Wednesday and has invited us to do our legendary show/singers' and musicians' night/gathering on June 20, 2007. The landlord of The Castle does a wonderful curry, we hear. For one day only, Llantrisant Folk Club is moving about 10 miles to Barry, that Severnside town notable for Barry Docks, the Barry Island Railway, the Vale Of Glamorgan Brewery and a closed Butlitz holiday camp. In Pontyclun, Ned will be waiting at the Windsor for the stragglers who may not have heard of our day out. See you at The Castle!


DOUBLE TRIUMPH: Llantrisant Folk Club came away from Upton-upon-Severn Folk Festival this month with a vastly improved profile! In a year when clubs seem to be faltering, Llantrisant made an considerable inpact by running a scintillating folk club night, compered by Ned (Pattie was busy calling for a ceilidh.) Ned stoked up the fires with The Galway Girl, and a selection of regulars - including Mike Greenwood, Mick Tems and Olly Price, Gwyn Austin, John Prior and Andrew McKay and Carole Etherton kept the audience thrilled. The next night, Llantrisant won The Battle Of The Clubs by a walkover - one of the opposing club's comperes had gone home for the night, and a member of the resident group was indisposed and failed to turn up.
And Llantrisant Folk Club won a sackful of prizes when Mudcatters (Internet folkies who post to The Mudcat Cafe, a discussion group for the folk scene) voted for their favourites in The Alternative Folk Awards. Pattie Smith won the Pub/Club Musician Of The Year award, and she and Ned Clamp won the Best Non-commercial Group Or Duo section. Llantrisant was voted Best Folk Club - well done, everybody!
Just a mile away, Nellie Dean's Bar at Miskin Festival was voted Best Pub Session. Miskin Festival won the Best Folk Festival award, and Mummers At Miskin was voted Best Folk Drama. Llantrisant exiles triumphed, too - Jon Heslop, who moved down to Cornwall, took the Seth Lakeman Award For The Best Recently Composed Traditional song.


REVIEW: QUICKSILVER: Whenever I get tired and bored of Quicksilver, that's the day that the world is going to end. Hilary Spencer and Grant Baynham were made for each other; he of the incredibly dextrous guitar, she of the classically-trained tonsils, looked like an exciting and entertaining prospect - but the icing on the cake is the meeting of irrepressibly humorous and like musical minds which strike sparks off each other. Grant, ex-member of Esther Ranzten's That's Life series of shows and comic songwriter to the stars, and Hilary, That Voice behind meistersingers Artisan, took the stage and didn't let up for one minute, reeling off songs as if their lives depended on it. That wasn't applause - it was the collective sound of the audience's jaws dropping. The Quicksilver sound is superbly professional and tightly controlled - the music slips through so fast and they're well on top of it. They easily achieved Tom Lehrer's maniacal tongue-twister The Elements, just a tad faster that The Master recorded it, and rolled off Lou and Peter Berryman's song about cowboy yodellers for good measure. An evening in Quicksilver's company leaves you breathless and quite exhilarated - if a song's too difficult to trip them up, it ain't been written yet. Star rating: ***** (MT)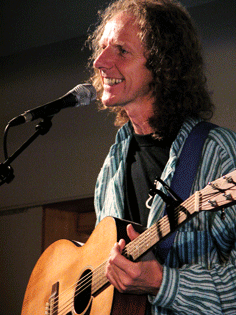 REVIEW: COLUM SANDS: Colum Sands comes from border country, near Newry, County Down; there was an air of expectancy before Wednesday's gig, as if the audience was welcoming an old friend. The curious thing is that Colum has only played here once, and that was two years ago - but he made such an impression with his wry humour and his quietly intelligent songs that hit the nail sharply on the head. Colum, part of the internationally-known Sands Family, is like a neighbour you'd invite into your kitchen, who'd repay your offer with warmth and satisfaction, leaving you with the distinct impression of an evening well spent. Colum sings of the life, times and rigours living in a rural community in the north of Ireland; whenever a question or problem raises its ugly head, he pokes gentle fun at it, and his songs have incredible strength in them. He sings about The Man With A Cap, Looking The Loan Of A Spade or Going Down To The Well With Maggie - and when Colum started Almost Every Circumstance, the audience joined in the chorus as if they were familiar with it; quite remarkable! Colum's a smashing songwriter, and he's an amazing guy, too. I urge you to see and hear him; I confidently predict that you will be pleasantly surprised. Star rating: ***** (MT)


REVIEW: JOHN CONOLLY: From the moment that Terry, Gwen and Ken walked in, knotted hankies, frilly costumes, sandwiches and vacuum flasks to the fore and carrying deck-chairs, we just knew that that it had to be good night. For once, Llantrisant Folk Club revived the Beach Party, with John's Seaside Special as the highlight - and curious visitors were startled to see Pete in goggles and snorkel, Pat in sunshades and shorts, yours truly in a Honolulu Girls Tee-shirt and Olly in sun-hat and a beach shirt sporting a duck.
| | |
| --- | --- |
| | John Conolly judges the Bulging Biceps competition |
John comes from Cleethorpes, that famous seaside place that's noted for beer, chips and fun. He's a prolific songwriter with lots of marvellous, intelligent yet funny, bawdy ditties, and his Send Us A Postcard review salutes artist Donald Gill, fondly remembered for his two fat ladies jokes and near-the-knuckle innuendo which could be sold at postcard stands from Land's End to John o'Groats. He created a typically British cameo of fifties and sixties days when holidaymakers were absolutely determined to enjoy themselves, come hell or high water, but brought the hilarity down with a bang with his song Punch and Judy Man, an incisive description of happy childhood summers that are lost and gone.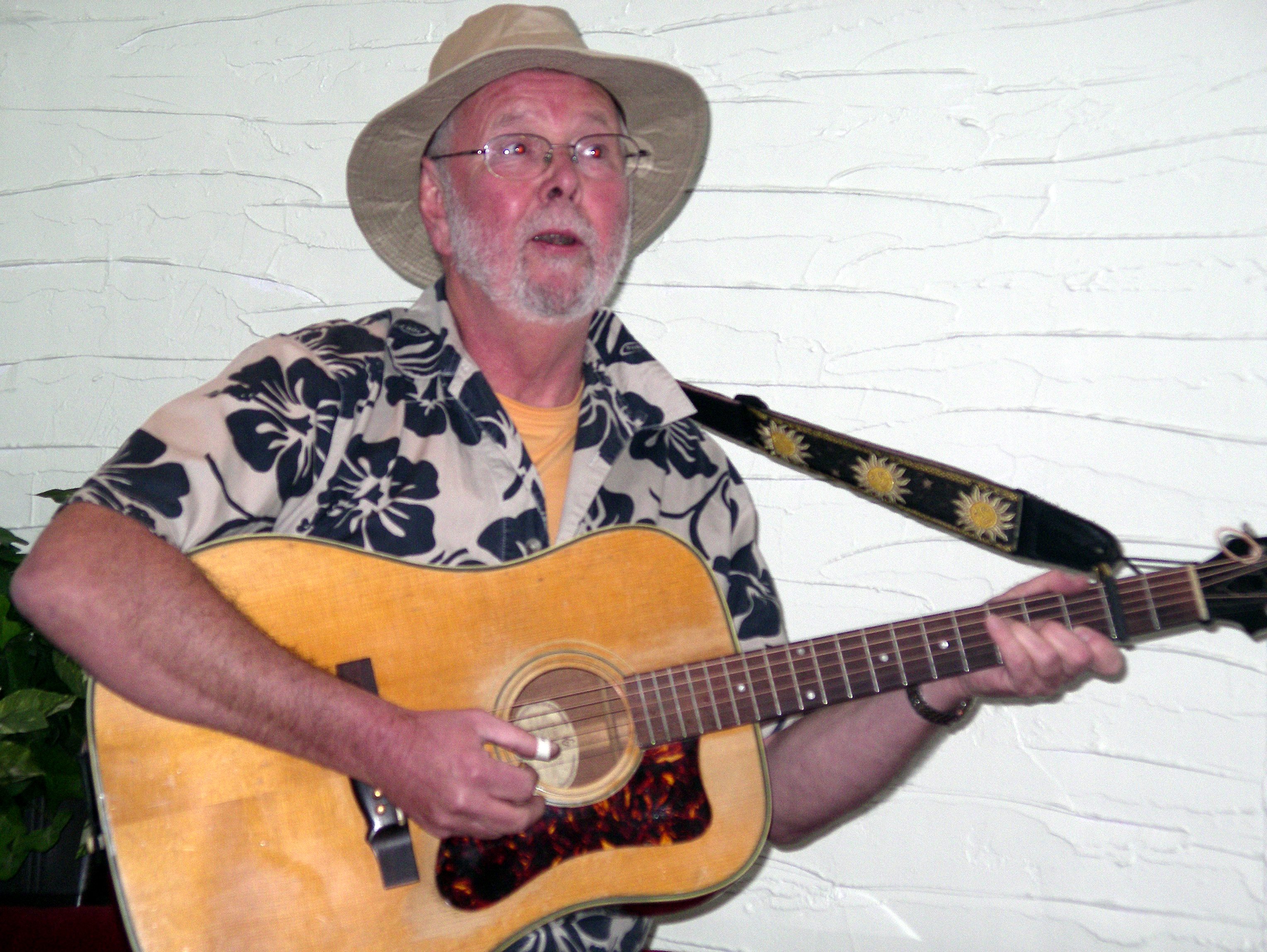 John may have written many outstanding songs, but there's one famous piece on which he can dine out again and again and opens the door to large and prestigious festivals. John sang not one but two versions of Fiddler's Green – a merciless parody by Les Barker on where accountants go to die (Les, by the way, was an accountant before he gave it all up to become a poet and madman) and John's official one. The audience knew the chorus by heart, and it's sung the whole world over. John took great delight in telling why Toronto, Canada, is the base for a folk organisation called Friends Of Fiddler's Green. He left everyone with a really feelgood impression, and that's the impressive knack of an true artist.


REVIEW - HILARY WARD: All change at the Windsor on Wednesday, with new, friendly landlords – the Abbot Ale is certainly tasting spectacularly better already! The Psychic Fayre was filling up the Club Room for two days, and the big restaurant looked promisingly full for Hilary Ward's Showcase. Hilary, who comes from the South-east, didn't disappoint – she sat there in true singaround style, her controlled, unaccompanied voice doing all the work as she explored every facet of folk song. Her programme certainly contains some stunning little pieces, and all of a sudden, the clock had surprised us and it was time for her last song. The audience didn't want her to finish all that easily, and gave her a warm and welcoming encore. Lighter evenings, improved beer and a wonderful singer – it's feelgood time!


WHISKEY RIVER BOYS AND HARMONICA CLASS IN SHOWCASE! Aidan Sheehan and Martin Blake will play a 20-minute set as the Whiskey River Boys on Wednesday, June 27, 2007 - the same night as Aidan is introducing his four-hole harmonica class in a stupendous Showcase night.
Aidan, who holds a BA (Hons) degree, has been taking harmonica classes at the Model House annexe in Llantrisant for over a year. This year he has been tutoring at a six-week four-hole harmonica class, and now they are coming to Llantrisant Folk Club to show what they can do.
Aidan, who has just come third in the best zydeco accordeon player in Europe, will be bringing guitarist Martin, of visionary folk group Blake's Three. The two of them are members of the zydeco band Whiskey River, and Martin and Aidan sure can rock and roll. This special Showcase will be too good to miss!
If you want to find out more, just click on http://www.motagator.net/bands/9/message.php.


URRY NIGHTS ARE A SIZZLER: Llantrisant Folk Club will spice your stomachs this Wednesday, July 25, 2007 with a new idea from Windsor Hotel landlords Eddie and Simon. They have just introduced their Wednesday Curry Nights, with a tempting, delicious plate of the hot stuff, all washed down with a pint of beer - for £4.95! We couldn't resist a hot bargain like this, and the plan is: Llantrisant Folk Club will be sitting down to dine at 7pm on July 25, before the Song And Tune Night scheduled to take place. Phone or email Pat with your order right now!


JIM PLAYS A BLINDER: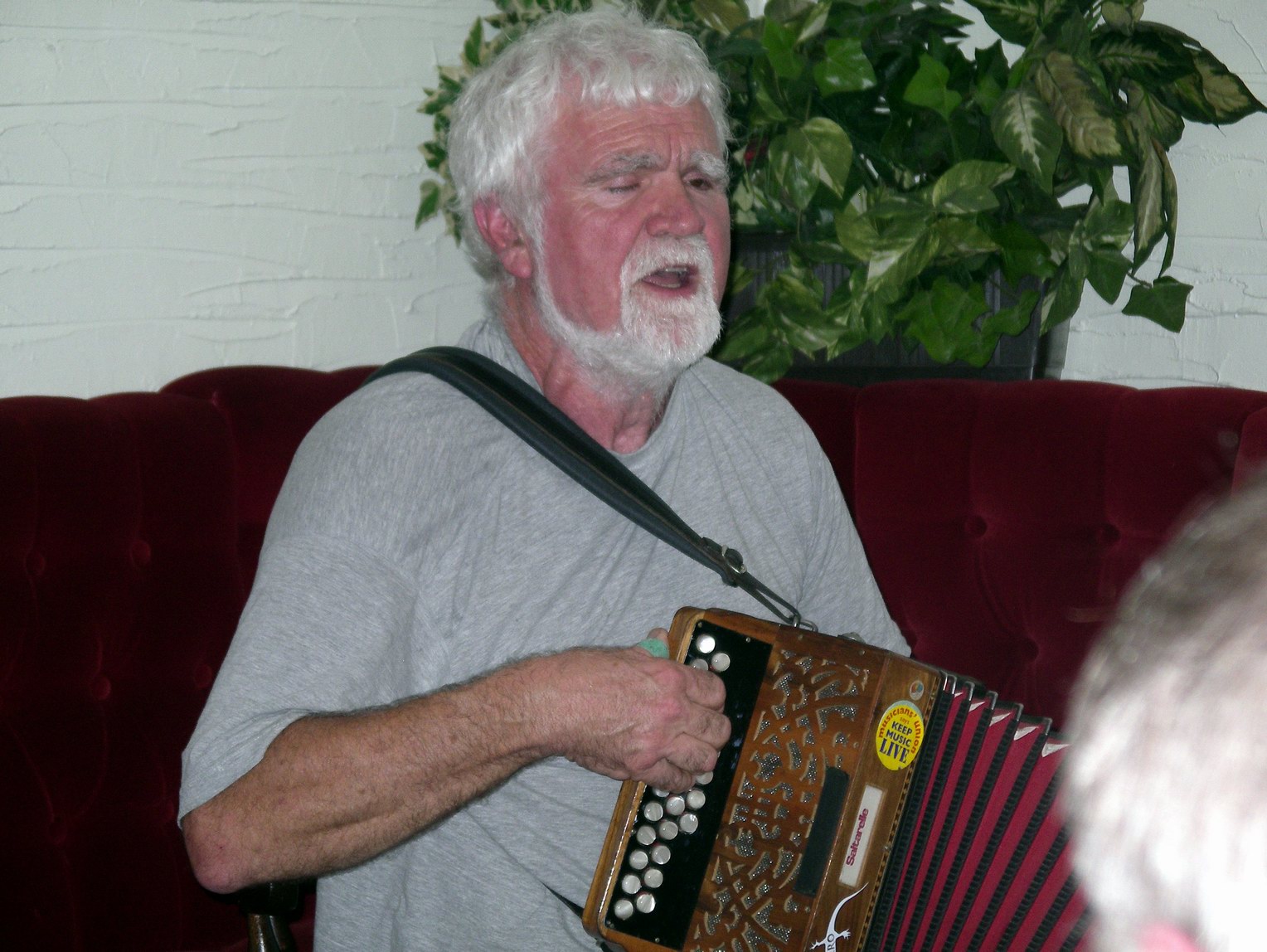 Jim'll fix it! The melodeon magician conquered the Club once again when he weaved his spell, and the audience wouldn't let him go. Schooled in The Marsden Rattlers and the North-East scene, Jim Bainbridge learned his trade in Scotland, the south-west of Ireland, the Kent scene and even in The Canary Islands in his eclectic rovings - and what comes out is a flood of Irish and Newcastle dance tunes and a absolute whelter of music-hall, folk and pop songs, the definition of a good traditional night out. From Tramps and Hawkers, through toe-tapping jigs and reels and a prefect rendering of Are You Right There, Michael, Are You Right?, Jim never once lost the plot - he kept his fans on their toes in the light of a true session musician. And he enjoyed it, too! CAPTION: Jim and melodeon give the song all its worth. (MT)


TOMMY MAKEM DIES: Celebrated Irish traditional musician Tommy Makem has died of lung cancer in New Hampshire, USA, aged 74.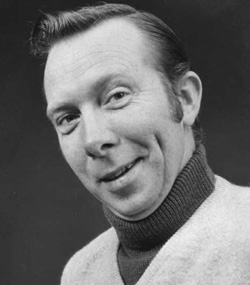 The Irish Times reported: "Makem, who played banjo and tin whistle and sang in a deep baritone, came to international prominence as a member of The Clancy Brothers and Tommy Makem.

"He was born in Keady, Co Armagh, in 1932. During the 1960s, he gained international fame with the Clancy Brothers, performing sellout concerts in Carnegie Hall and being feted at the Newport Folk Festival. He left the group in 1969 to pursue a solo career. He joined Liam Clancy in 1975 to perform as Makem and Clancy and went solo again in 1988.

"His best-known songs include Four Green Fields, Red Is The Rose and The Bard of Armagh.

"Liam Clancy said today Makem was "a great fighter" who had battled lung cancer for a year. "We shared a great hulk of our lives together, and we were a hell of a team. Tommy was a man of high integrity and honesty and his courage really showed through towards the end," he told RTÉ's Morning Ireland today. "Our paths diverged many times, but our friendship never waned. I suppose he was my brother in every way. I think what Tommy's greatest strength was he was an entertainer. He just had the knack of making an audience laugh or cry... holding them in his hands."

"Makem visited Belfast last month to receive an honorary degree from the University of Ulster despite his illness and also took time to return to Armagh. He also received doctorate degrees from the University of New Hampshire in 1998 and from the University of Limerick in 2001.

"Irish President Mary McAleese offered her condolences to Mr Makem's family. "In life, Tommy brought happiness and joy to hundreds of thousands of fans the world over," she said. "Always the consummate musician, he was also a superb ambassador for the country, and one of whom we will always be proud."

"Irish Minister for Arts, Sport and Tourism Seamus Brennan said he had learned of Tommy's death "with great regret".

"He was a multi-talented artist whose abilities went beyond music, with other skills as a storyteller, actor, songwriter and poet. I wish to pass on my condolences to Tommy's family, relatives and friends at this sad time and hope that they can take comfort from the fact that his music is a wonderful legacy that will live on for generations to come," he said.

"Tommy was truly a music legend in his own lifetime. Now, with his passing, he has left behind a rich and enduring legacy of music, song and story to be enjoyed and appreciated by this generation and generations to come."


SIX BELLS SESSION: Another of our Pub Hits! Tuesday September 4
(2007) marks Llantrisant Folk Club's Six Bells Session at the village of Penmark, down in The Vale Of Glamorgan (north of Cardiff Airport.) Tony Willicombe, the new landlord of The Six Bells pub and folk fan, has gained a reputation at The Bell, Caerleon, for his real ales, his love of Wales and Brittany and serving spectacular food. He's even taken on an award-winning chef at the Six Bells, and Tony would love to start a Tuesday folk club – so Llantrisant Folk Club will give him a kick-start on September 4 at 8.30pm.

REVIEW - IAN BRUCE: Ian Bruce is a big man with a big voice and some big songs to match. He has been compared to "Scotland's Harry Chapin", but make no mistake - this marvelous songwriter leads all the way. Born in the city of Glasgow to a Scots pipe major and a South Wales mother, he lets each song take pride of place, and each one is a gem. It's not just the chat, too, that endears him to his audience; his magnetic personality engages them to a degree in that, when he introduces the last song, it's as though you're saying goodbye to an old friend. He has such an urgent, driving guitar style that urges the denouement on. All in all, Wednesday's Llantrisant gig was followed by Friday's Pontardawe Festival spot, and I just had to hear him again - and if any solo performer can hold his own on Ponty's main stage and get them cheering, Ian can. Nice work, kid! (Incidentally, I arrived back home from the Wednesday gig, and tuned in to see the wonderful chock-a-block-with-traditional-folk-symbolism 1970s movie The Wicker Man - you can't beat a perfect night!) (MT)


REVIEW - BARRONBRADY: It's an exciting development of a thriving, pulsating folk scene that crowds are still turning up to see new acts like Barronbrady - and this young couple won hands down at their Llantrisant Folk Club Showcase spot by attracting one hell of an uproarious encore. Simon Barron and Rosalind Brady have definitely got something going for them, a kind of magic that's created between two of a like mind. Simon is a pleasing, deft guitarist with a good pair of tonsils, while Rosalind's fragile voice flutters and floats above the melody that you find yourself holding your breath just in case she damages such a brittle asset. It's when the two of them harmonise that the sparks fly, Rosalind and Simon's guitar dancing sensuously together - I wish I could describe it! They have the knack of picking up such quality songs too... They're coming back in the new year, and I can't wait - roll on, Christmas! (MT)


NED'S 60TH BIRTHDAY: Singer, guitarist, harmonica player, caller, member of the Ned and Pat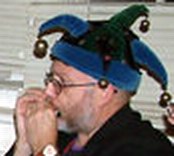 duo, Americana expert and a self-styled "bit of an anchor", Ned Clamp, celebrated his 60th birthday on October 26, 2008 - and how! The drinking, dancing and sessioning went on for three days, and the high spot was the birthday ceilidh/twmpath just over the road at the Brunel Arms, Pontyclun, on the Friday. The Pluck And Squeeze Band played while Ned, Pattie Smith and Veronica Partridge called - individually, of course! - and Ned, Iolo Jones, Mick Tems and Olly Athelstan-Price got up and jammed with the regular members. Hungry party-goers feasted on tarka dahl and chilli con carne, with rice, bread and salad, too! Saturday afternoon consisted of a walk up Gwaelod-y-Garth mountain and several pints of real ale at the Gwaelod-y-Garth Inn. Here's to you, Ned - we're looking forward to your 70th!


LUCY WHITFIELD IS THE NEW EDITOR OF TAPLAS: It has become clear over the past couple of years, with Keith Hudson's continuing health problems, that Taplas magazine has been suffering. Taplas has always been such a tour de force in the world of Welsh folk music and beyond, and Keith has done so much for the magazine and the music scene in general over the past 25 years, that this decline has worried staff, editorial board members, advertisers and subscribers alike.
The editorial board has therefore taken the difficult decision to appoint a new editor from Taplas issue 145, December 2007/January 2008. The new editor will be Lucy Whitfield, 31, a long-time Taplas contributor, and tireless worker behind the scenes.
Lucy has contributed articles, features, and reviews for Taplas since 1999. She has also been responsible for the design and output of the magazine since 2003, and has worked very closely with Keith over the years to determine the magazine's content. She has also often kept things going during Keith's periods of hospitalisation, undertaking extra tasks for the magazine.
Lucy worked for the Western Mail's magazines and supplements department for seven years, and for part of that time contributed articles and reviews of folk music to the main newspaper. She has spent the last two years working as a sub-editor for a weekly local newspaper in the West Country, until the birth of her daughter in July 2007.
She is tirelessly committed to the promotion of folk music via any means possible. She plays whistles and the flute – notably with former Cardiff band Inntinn until 2002 – and double bass, and is also a clog dancer of the north western tradition.
Lucy said: "I'm honoured that the Taplas editorial board has chosen to appoint me as the new editor – and a little apprehensive of the prospect, as my daughter will be barely three months old when I take over. I'm going to need all the help I can get.
"Keith Hudson has put his life and soul into Taplas over the years – and he's going to be a very hard act to follow. I'm grateful that he's going to be staying on the Taplas staff, albeit in a lesser capacity, as his experience and knowledge are going to be invaluable.
"I have a very daunting task ahead of me, but I relish the challenge. I want Taplas to remain true to its roots, but become a medium for folk music in Wales , the borders and beyond that is truly worthy of 21st century media. I hope everyone in the Welsh traditional scene, and the wider folk music community, will work with me to help to achieve that."
November 2007


MARI LEADS INSOLE COURT PROTEST

DECEMBER 2007: For the second year, the Llantrisant Mari Lwyd will be leading a Christmas carols protest against Cardiff Council's decision to close Insole Court, Llandaff, on Friday December 14, 2007, at 7pm.

Llantrisant Folk Club member John Prior, who retired from Arts Council Wales and was awarded the MBE, will be organising the Llandaff residents' protest, which is being held to highlight and publicise the closure of the ancient and beautiful Court. Cardiff's official Welsh dance team, Cwmni Caerdydd, will be bringing their Mari Lwyd to join in the demonstration as well.

John said: "Insole Court has now been closed for a full year. The Friends of Insole Court are gathering once again after a year's campaigning to sing "Carols For The Closed Court II" - an anniversary repeat of last year's rally and carol service when the Llantrisant and Caerdydd maris both turned out to lead marches of carollers to the house via the North and South drives. Come along and give your support for the campaign to get Cardiff Council to be true to their undertaking to reopen by September 2008

The Llantrisant Mari and her supporters should gather at the Vaughan Avenue entrance at 6.45pm to parade up the South Drive on the signal at 7pm. The Caerdydd Mari will be at the North Gates on Fairwater Road, opposite Rookwood Hospital.

"Wrap up warm, bring candles and bring some friends. Gather at the gates, either at Fairwater Road or at Vaughan Avenue. Let's walk and sing to welcome Christmas in the cold at Insole Court."

News Story published early December 2007


MARI LWYD CHRISTMAS & NOS GALAN TOURS: The Llantrisant Mari Lwyd celebrates with her Christmas tour on Sunday, December 23, 2007 when the Mari Party visits the Old Town and surrounding villages. If you are joining the Mari Party, of if you want to see the spectacular sights the Mari entering all the pubs and singing the Can y Fari, please gather at the Castle Mynach, Mwyndy at 12.15pm; the Dynevor, Groes Faen (1pm); the Penny Farthing, Southgate (2pm); the New Inn, Llantrisant (2.45pm); Llantrisant Workingmens' Club (3pm); the Bear Inn (3.15pm); the Wheatsheaf (3.30pm-ish) and the Cross Inn (4pm). Once we get to Llantrisant all these times are approximate, because we don't know what will happen to us on the way round!
On Nos Galan (New Year's Eve) 2007, The Mari Lwyd journeys up the Cynon Valley where the Mari Party will sing out the Old Year at the Mountain Ash Nos Galan races and sing in the New Year at The Falcon, Godreraman. Rhondda Cynon Tâf organiser Stuart Williams wants the Mari Party to meet in the Rugby Club at 12 Oxford Street, where the Mari can parade down the street in front of the crowds. There's some welcome news at The Temple Bar, which was just about to close - now 23-year-old landlady Laura Banyard has restored it, and offers a changing rotation of three real ales. The Mari's timetable is very approximate; Contact Mike Greenwood (02920 700170, mike@communitydesign.demon.co.uk) or Debbie Cribb (01443 476104, debracribb@btconnect.com).
News story published December 2007 - tour took place December 31st


MINI-REVIEW - DICK GAUGHAN, 21.11.07: Dick Gaughan is a mighty singer, a breathtaking guitarist and a sizzling artist. Apart from that, he makes you think, think, think again about corporate and greedy avarice, and money and power and the grey suits that run it, about hope, fun, life and the government bureaucrats that want to tax you to the hilt. But a Gaughan concert doesn't make you angry or depressed; you come out charged, aware, completely joyous. He's a wondrous songwriter, too, and he took and shook The Devil And Pastor Jack, The Hunter Dunne and Brian McNeill's No Gods And Precious Few Heroes until he'd wrung every drop of emotion from his performance. The bar was packed, of course; Dick didn't win the crowd over - he steamrollered them, and the shouts, yells and calls for an encore came from the audience's heart. (MT)


MINI-REVIEW - MIKE NICHOLSON, 24.10.07: Mike Nicholson sings songs. Well, he doesn't sing them – he fashions, moulds and polishes them so each proud gem comes alive with its own special sparkle. He lives in Sussex, where the late Bob Copper (of the Copper Family) liked and loved his workmanship – and that is praise indeed. Mike chose two really delightful sets, and he immediately took the audience on with a hilarious and complicated northern ditty about a whippet that wouldn't run. Mike selected songs by Graham Miles, Mike O'Connor, Stan Rodgers and even The Moody Blues. You wouldn't believe how he coaxed the Club to harmonise on that corniest chestnut of all, Nights In White Satin – but I know, and I was there! Mike is a true artisan and a fine artist, and that's saying something. (MT)


MINI-REVIEW - RAY JOSEPH, 17.10.07: Wonderful, are our Showcase nights – all these performers just lining up to show us their wares. And then we get the real oddball, someone who is so completely off-the-wall that the audience doesn't know whether to like him or loathe him. Ray Joseph is a case in point: Is he a genius, or what? Born in Newport and living high up on the Penrhys estate, Ray works hard to make this community believe in itself. He started off his set with canned music and a microphone, but his highly individual songs, his intelligent patter, his jokes and his love of the Welsh valleys soon won the Club over. A few walked out but many stayed, and Ray can consider it a job well done – they'll certainly remember him! (MT)


MINI-REVIEW - COCKERSDALE, 26.09.07: John O'Hagan, veteran singer with Cockersdale, sat down beside me at the end of the group's first half and ventured: "Give me your honest opinion – we were crap, weren't we?" Now, John, even if the trio were not very good, then I'd walk to hell and back to listen to them, to learn from them, to revel in their stunning, pure, a capella harmony sound, to quiz them about intelligent, satisfying songs melded together to make a perfect set. John, Val Marsden and Graham Pirt can certainly turn the magic on by the ladleful – they offered nothing but their own unaccompanied voices, and the audience lapped it up in droves. The trio gave a pleasing sample of the late songwriter Keith Marsden's wares - Keith formed Cockersdale to be a vehicle for the marvellous songs he was writing, and the group ended with Keith's anthem Bring Us A Barrel, lovingly sung the whole world over. A captivating, wonderful night. (MT)


MINI-REVIEW: GYPSY REEL, 06.05.08: We've lost count of the number of times that Llantrisant Folk Club has been truly mesmerised and thoroughly swept away by Gypsy Reel's joyous and energetic wall of sound – is it nine times, or is it 11? We'll leave it to Ned to ponder over the statistics – meanwhile yelps and whoops of delight and appreciation persuaded them into doing another encore. Seated this time, they started out rather shakily – but in no time at all the band found elegant form, put the pedal to the metal and were really flying. I love Camille Parker's astounding voice, but it's her chunky, syncopated mandolin that gives the quartet its unique full-of-fun pedigree. Combined with hot banjoist/guitarist Claudine Langille's fine harmonies, the two women just about melted my spine – what a delicious feeling! Gypsy Reel may insist that they are a Celtic band; they hit the high spots with some Irish tunes and two beautiful songs (traditional and Waterboys), but most of the time they were busy just being Gypsy Reel – guitarist Jon Scaife and fiddler Graham Parker, two very fine musicians, built the band's raison-d'etre with rock-solid flair and originality, and Gypsy Reel skipped between Jon's input (a tune inspired by his house in Crete, and The Indian Lass) through a myriad of material which included the old Lindisfarne chestnut Meet Me On The Corner. The fascinating thing is that it triumphantly worked. Memo to Pat: Be sure to book them next time around! (MT).

Page last updated 15 June 2008
Copyright © 1999 Mari Arts